National Vaccination: Over 20.82 lakh gets the first jab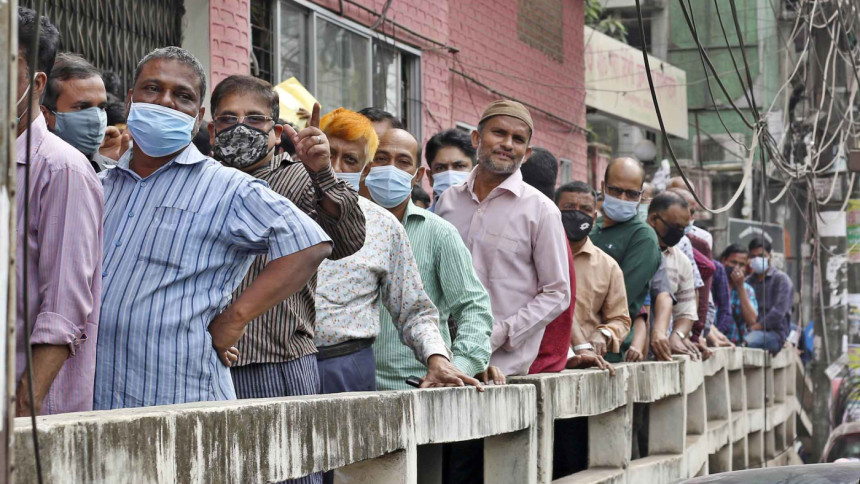 Some 1.5 percent of the target people have been inoculated with Covid-19 vaccines as 2,34,564 new people received the first jab yesterday.
The number of people who have received the first shot is now 20,82,877. The government has planned to inoculate 13.68 crore to attain herd immunity.
The countrywide vaccination was kicked off on February 7. More than 1,000 vaccination centres are inoculating people with 50 lakh doses of Oxford-AstraZeneca's Covid-19 vaccines purchased from the Serum Institute of India and 20 lakh doses of the same vaccines sent by the Indian government as gift.
The vaccination centers are open from 8:00am to 2:00pm every day, except holidays.
On January 26 and 27, a total of 567 frontline workers were vaccinated as part of a seven-day observation programme.
Of those who were vaccinated yesterday, 41 recipients showed side-effects, taking the total figure to 578 since the beginning of the campaign, according to a press release from the health directorate.
Zero death and no serious side-effects linked to the Covid-19 vaccination have been reported so far.
Of all vaccine recipients, around 13.78 lakh were males while around 7.04 lakh were females.
Meanwhile, a total of 31,36,976 people registered with www.surokkha.gov.bd to receive Covid-19 vaccines.
RECOVERY RATE 90.4 PERCENT
Five people have died from Covid-19 in 24 hours until 8:00am yesterday, according to a press release issued by the Directorate General of Health Services (DGHS).
With this, the total number of deaths reached 8,342 and the death rate stands at 1.54 percent.
At least 350 new infections were recorded in the meantime, taking the total number of people infected to 5,43,024, added the release.
Against a total of 11,148 tests, the current positivity rate is 3.14 percent while the total positivity rate is at 13.80 percent.
At least 424 Covid-19 patients recovered during the period.
With this, the total number of people recovered rose to 4,90,892 and the recovery rate to 90.4 percent.
One of the deceased was aged between 51 and 60 years and four were above 60, according to the release.
Among the five deceased, three were male.