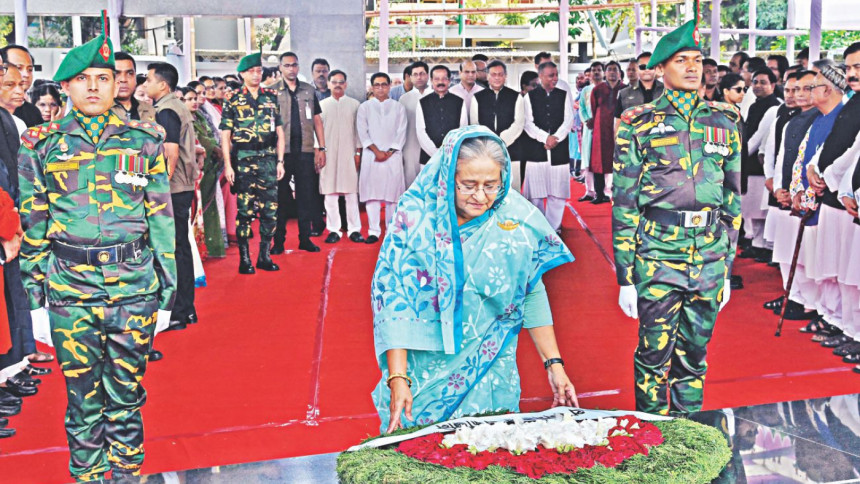 The Mujibnagar Day was observed through different programmes yesterday, recalling significant memories of the first government of Bangladesh.
On the same day in 1971, the provisional Mujibnagar Government was constituted in Meherpur's Baidyanathtala, which was later renamed as Mujibnagar.
The village witnessed the ceremonial formation of the provisional government and millions of freedom loving people listened to the announcement over radio.
The Mujibnagar Government was constituted with Father of the Nation Bangabandhu Sheikh Mujibur Rahman as the president, Syed Nazul Islam as acting president, and Tajuddin Ahmed as the prime minister.
This core cabinet steered the liberation war to victory on December 16 that year.
Valiant freedom fighter and former commander of Meherpur district Mukijoddha Sangsad Bashir Ahmed, Liberation War Affairs Secretary of Meherpur district Awami League Ataul Hakim Lal Mia and author of Meherpurer Itihas O Oytijya Tozammel Azam told BSS about the initial preparation of the formation of Mujibnagar Government.
Along with the rest of the country, the Mujibnagar Day was observed in Meherpur coinciding with national programmes.
Marking the day, deputy commissioner of Meherpur and superintendent of police hoisted the national flag atop the memorial monument at Mujibnagar in the morning.