Liver Transplant: BSMMU does it, first by a public hospital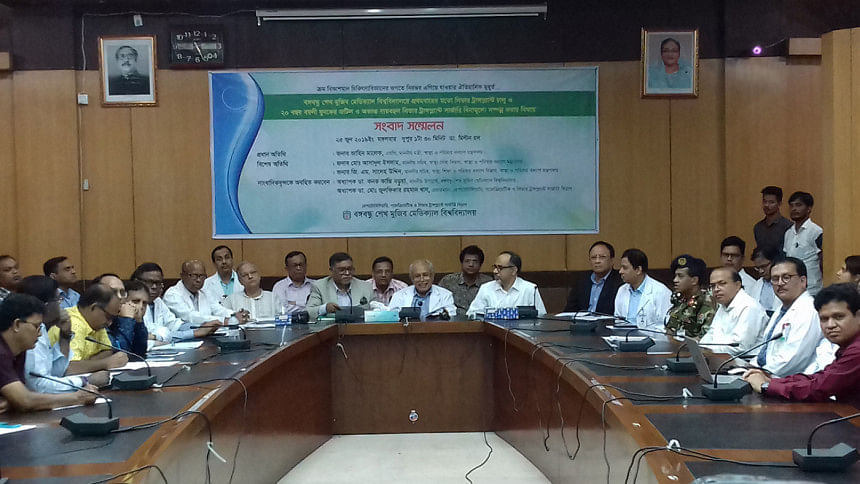 Surgeons at Bangabandhu Sheikh Mujib Medical University (BSMMU) have successfully performed liver transplant for the first time at a government hospital in the country.
A team of 50 doctors conducted simultaneous surgeries on a 20-year-old man and his 47-year-old mother, who donated a portion of liver, said the surgeons at a press conference at the BSMMU yesterday.
The team started the surgery at 6:00am on Monday and it took around 18 hours to complete the operation.
Prof Zulfiqur Rahman Khan, chairman of the department of Hepatobiliary, Pancreatic and Liver Transplantation Surgery at BSMMU, led the team.
Prof Zulfiqur said the youth was diagnosed with Liver Cirrhosis in 2017.
Both the recipient and the donor are under post-operative care now, he added.
"They are in a very good condition till now. We would be able to provide update on their status after seven days of observation," he further said.
"It's a milestone in the healthcare sector of Bangladesh. We are very proud of this success. It will pave the way for the patients who would require liver transplantation in an affordable cost," Health and Family Welfare Minister Zahid Maleque told reporters.
Previously, four other liver transplants were performed in two private hospitals in the country. Success rate in those hospitals is 50 percent.
According to physicians, liver transplant at a private hospital in Bangladesh costs about Tk 35 lakh to Tk 50 lakh. In India, it is between Tk 1 crore and Tk 2 crore, and in Singapore it is around Tk 2.5 crore.
"This is just the beginning. We can establish world class liver transplantation unit in the country if we can continue such surgeries," he added.
Prof Zulfiqar said, "We need all kinds of necessary equipment for a full-fledged transplantation unit."
Minister Zahid assured that the government will provide the hospital with all necessary support to run a fully-equipped transplantation unit.
Health ministry's Health Services Division Secretary Md Ashadul Islam, Medical Education & Family Welfare Division Secretary GM Saleh Uddin, BSMMU Vice Chancellor Prof Kanak Kanti Barua and members of the surgery team were present among others.