Landslide kills two in Rangamati
Two people, including a child, were killed and five others injured in a landslide triggered by heavy rainfall yesterday in KPM Kalabagan area of Rangamati's Kaptai upazila.
The incident occurred around 12:30pm.
The dead were identified as Tahmina Akhter, 25, and Shurjo Mallik, 5. Their bodies were recovered from the debris.
The injured are Sunil Das, 55, Babul Mallik, 35, Abdul Gafur, 55, Khadeja Begum, 45 and Ratna Mallik, 35.
Quoting locals, police said around an 80-foot hilltop collapsed on two houses during heavy rainfall. When the seven people were buried under the debris, other family members and locals started searching for them.
After around a 20-minute search, they found Tahmina dead on the spot and six others injured. They were rushed to a local hospital, police said.
Contacted, Shiolo Mong Chak, senior medical officer of Chandroghona Mission Hospital, said, "Six patients were brought to the hospital. When we checked them, we found that Shurjo was already dead."
Speaking to The Daily Star, Tahmina's father Muhammd Abdul Gafur said, "We were in the house. Tahmina was cooking at that time. Suddenly, a huge chunk of land fell on our house."
Contacted, Nayan Akhter, member of Chandroghona union parishad, said the accident took place due to a lack of awareness among the locals. If the people living on hillocks had been shifted to anywhere else, such causalities could have been avoided.
Some families were evacuated from the hill slopes, said local upazila nirbahi officer (UNO) Ashraf Ahmed Russel.
Meanwhile, our correspondents from two other hilly districts -- Bandarban and Khagrachari -- reported that many people were still living on the slopes of hills, which posed a risk to their lives. 
In Khagrachari, local municipal authorities have identified some 673 families living on hill slopes in Sadar uapzila.
During a visit to Sabujbag, Salbagan, Mollah para, Islampur, Moddhoshalban and its adjacent areas in the upazila, many families were found to be still living on hill slopes.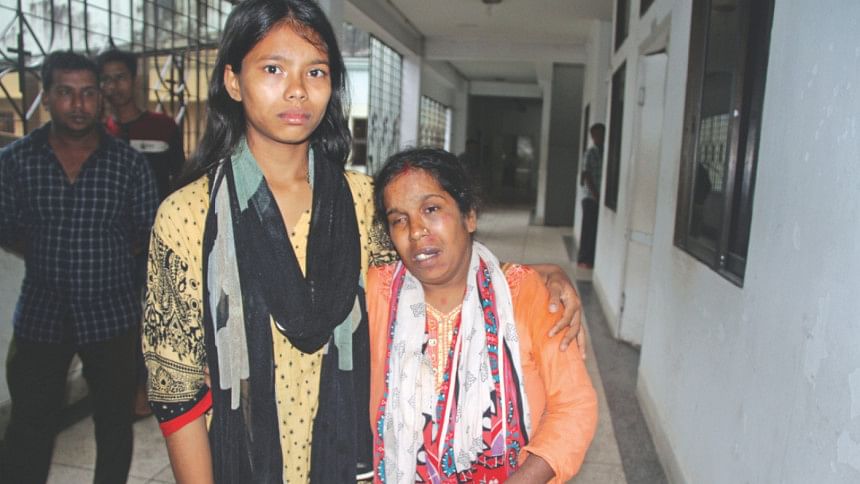 Most of the residents on those slopes do not want to leave their homes, despite repeated requests from the local administration and municipal authorities to leave the places and relocate to safer shelters.
"If we leave our homes, criminals would rob our valuables. We will not leave our homes," said Amena Begum, a resident of Moddhoshalbon area.
Meanwhile, staffers of the local municipality were seen using loudspeakers to urge families to remain alert and leave their residences as heavy rain was ongoing.
"We are repeatedly requesting the people to go to safe places. We are making the people cautious through loud speakers about the dangers of landslides. We have already kept a safe shelter ready for them," said Rafiqul Alam, mayor of Khagrachari municipality, while talking to The Daily Star yesterday.
In Bandarban, there were landslides in three areas of the district yesterday due to heavy rain. However, no one was injured in the incident.
Two houses were destroyed in landslides in Islampur area in Sadar upazila around 2:00pm. 
The road connecting Thanchi to Ruma upazilas were blocked due to a landslide in Chimbuk area, which cut off road communication from 10:30am to 4:00pm.
Another landside occurred in Lungipara area in Sadar upazila causing commuters to suffer.
Visiting the town and its adjacent areas, around 2,000 families were found living on hill slopes.
Members of the district administration were also seen using loud speakers to request people to leave the slopes.
"Where will I go, leaving my house empty? We will stay here no matter our fate is," said Sabrina Khatun, a resident of Islampur area.
Our Rangamati, Bandarban and Khagrachari correspondents contributed to the story.