Supplies, prices not normal yet
Essentials get costlier in Rangamati as road transport still not smooth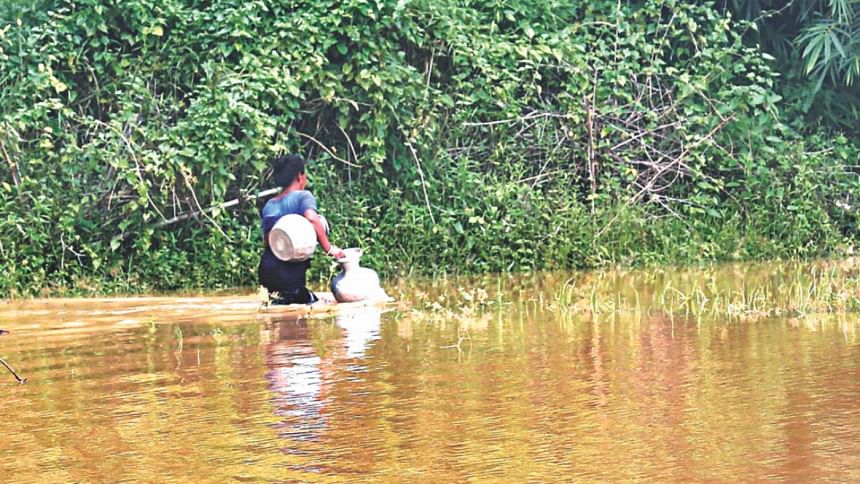 Four days after deadly landslides hit Rangamati killing at least 114 people, the supply of essentials, including food, was yet to become normal yesterday.
Most of the daily essentials were still selling at higher prices despite market monitoring by the district administration. However, the prices were lower than they were in previous three days.
These correspondents yesterday visited all three kitchen markets in the town -- Banarupa, Debasishnagar and New Market -- where potatoes were selling at around Tk 40 a kg. The price, which was earlier Tk 20-25, rose to Tk 70 on Friday and Thursday.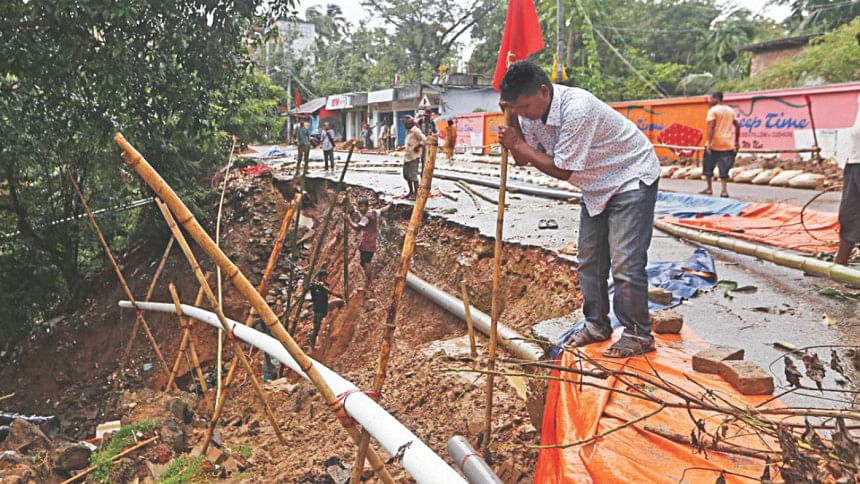 Similarly, green chillies were selling at Tk 160 a kg, which was Tk 60 before the landslides. It went up to Tk 200 a couple of days ago.
The prices of rice swelled to Tk 45-55 from Tk 40-50 and lentil to Tk 80-120 from Tk 70-80.
The prices of cooking oil, salt and onion increased by Tk 5 to 10.
Pranab Dey, a grocer, said, "My rice stocks ran out yesterday. I have other essentials for two to three days."
He claimed the cost of carrying goods through waterways contributed to the price hike as transportations through roads were yet to become smooth. 
Mohammed Hamidul, a wholesaler at Banarupa, said they have brought goods via water routes. "I think there won't be any crisis of essentials now."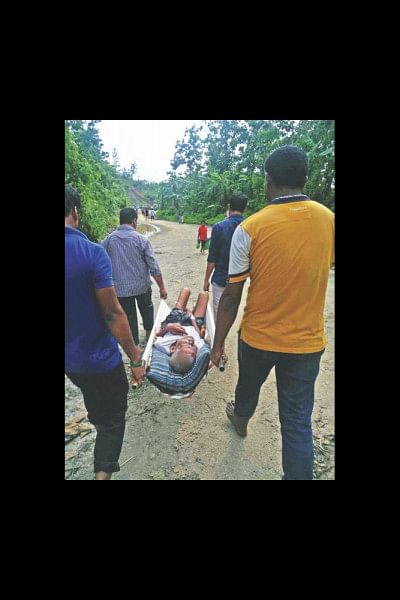 Mohammed Nasir, a buyer at the kitchen market, said, "I used to buy onions for Tk 25 to 30. But today they charged me Tk 40."
Deputy Commissioner Mohammad Manzarul Mannan yesterday at a meeting with business leaders urged all to keep prices and supply of essentials normal. 
Acting general secretary of Rangamati Chamber of Commerce and Industry, Md Moinul Kader, told The Daily Star after the meeting that there was adequate supply of everyday essentials in the district as road transportations resumed yesterday.
These correspondents visited the Rangamati-Chittagong highway and saw transportation of goods on a limited scale.
Goods were being brought to Shapchhari point of the highway by mini trucks from Chittagong. Around half a kilometre portion of the road there was badly damaged by landslides and not suitable for vehicles.
Some 20 day labourers were carrying goods through the affected stretch and then pickup vans or three-wheelers were taking those to Rangamati.
Army personnel already started to repair the point.
To transport passengers and goods through waterways, launch services began on Rangamati-Kaptai route on Friday.
But the goods handling at Kaptai jetty point was being hampered as, according to business leaders, local labourers were not allowing labourers from Rangamati to work.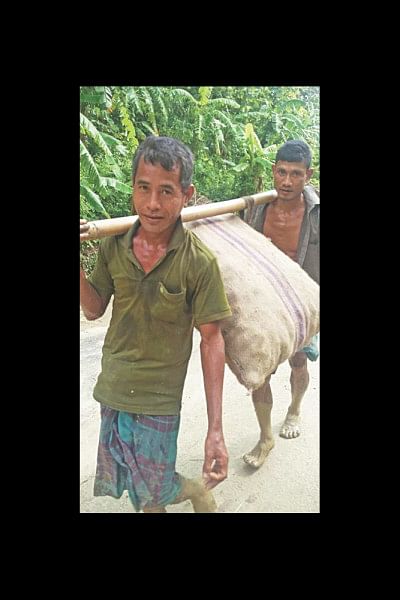 Meanwhile, fuel supply resumed yesterday evening, 48 hours after stocks ran out.
Padma, Meghna and Jamuna oil companies supplied sufficient amount of fuel through waterways, district administration's disaster control room spokesperson KM Ikhtiar Uddin Arafat told The Daily Star.
He said 29,000 litres of fuel reached Rangamati yesterday.
The spokesperson also said four market monitoring teams were working to check price hike. Mobile courts sentenced a trader to seven days in jail and fined another Tk 1,000 for creating an artificial crisis and charging extra.
Some 12 medical teams have been deployed in 16 shelter centres where 2,100 people have been living in dismal conditions with limited access to medicine, food and water.
The death toll rose to 114 in Rangamati yesterday.
The district administration received information of the burial of a youth who reportedly died in Tuesday's landslides. The dead, Nur Nabi, 24, was not on the list of the administration until yesterday.
Besides, Sejan, a 14-month-old baby who was injured in the landslides, died at JK Memorial Hospital at Gohira in Chittagong yesterday afternoon.