Living in fear of landslide
Some 600 families still residing on 31 risky hills in Rangamati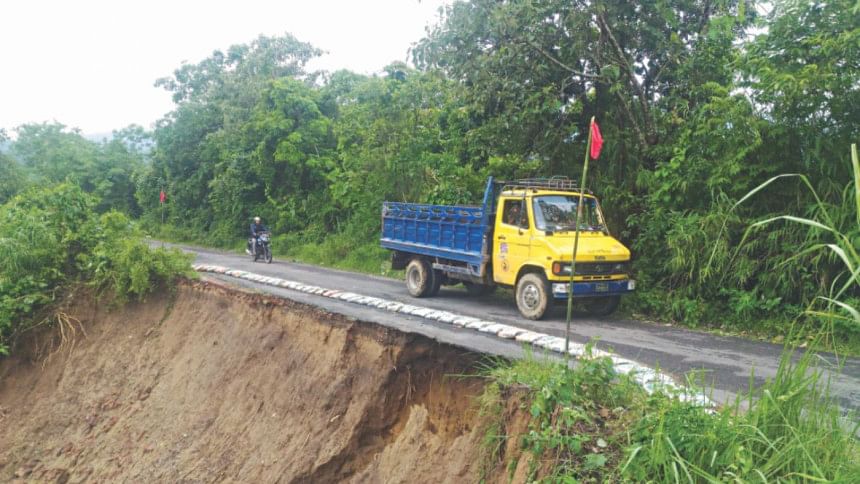 Rangamati residents have been overcome with anxiety as they anticipate another heavy shower bringing more tragedies.
The district administration identified 31 hills facing risks of landslides over a month ago. The hills are home to nearly 600 families, most of whom do not have the means to move elsewhere in a short notice.
"I do not have a second home. I'll have to accept whatever fate has in store for me," said Rohima Akhter, a resident of Notun Para, a neighbourhood in one of risky areas.
In some parts of the town, residents yesterday held vigils in memory of the people killed in the landslides on Monday and last year.
AKM Mamunur Rashid, Rangamati deputy commissioner, said officials put up warning signs in the risky areas and had been campaigning to raise awareness regarding the issue.
Municipality officials of the district said only about 2,000 of the nearly 18,000 houses in the town had the authorities' permission. They added that most houses were built without proper assessment of the risks involved.
Exactly a year ago, a series of massive landslides in the hills claimed at least 150 lives. Before the families could mourn their dead on its first anniversary, another tragedy struck Naniarchar upazila on Monday night, killing at least 11.
People who took shelter in the 23 centres opened by the administration have begun to return to their homes as the rain stopped on Tuesday evening. Only about 3-4 shelters are still occupied.
The rains had also left Rangamnati-Khagrachhari link road damaged.
The 74-km Rangamati-Chittagong road has also been damaged at about 20 places due to landslides causing the road to close to traffic.
Abu Musa, sub-assistant engineer of roads and highways department, said it would take a few days to fully restore the road.
Saiful Islam, a resident of Rupnogor, said his family of three took shelter in Television Bhaban in the town.
"We go there at night but come back home in the morning. As our home is risky, we don't spend the night there," he added.