Landslides in hills kill 11
Disaster strikes again just a year after as no lessons learnt from past tragedy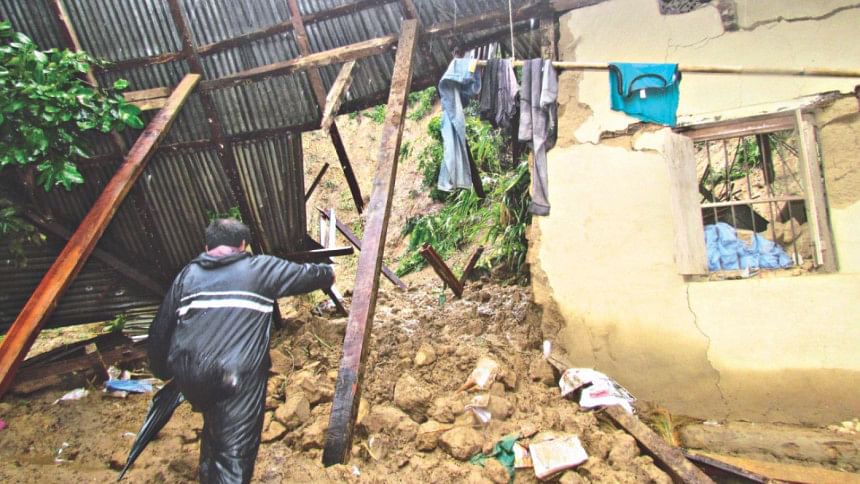 It was written on the wall.
Exactly a year ago, a series of massive landslides in the hills claimed at least 150 lives. Before the families could mourn their dead on its first anniversary, another tragedy struck Naniarchar upazila of Rangamati on Monday night, killing at least 11.
Another person was buried alive, also in a landslide, early hours yesterday in Moheshkhali upazila of Cox's Bazar, police said.
Soon after last year's landslides in five districts, including in Rangamati, many people returned to their shanties on risky hill slopes as they had no place else to go.
This year, the landslides took place in five Rangamati villages in Naniarchar following incessant downpour overnight. 
Similar rains are expected in the next two days, the Met office said.
One of the villages struck is Dharmacharon Para in Burihat union, around 70km from the Rangamati town. Four members of a family, including a two-month-old child, died after being hit by a landslide from an adjacent hill.
The victims are Ful Debi Chakma, 55, Eti Dewan, 19, Smrity Chakma, 23, and Ayub Dewan, just two months old. 
Visiting the village, our Rangamati correspondent saw the house was built on a slope under the hill top. Top soil of the hill, around 100 feet high, came crashing down on their house.
Rigen Dewan, husband of Ful Debi, survived although he was inside the house at the time.
It was around 10:00pm and the family was preparing to go to bed.
"It was raining heavily. Suddenly we heard a huge sound of landslide. All my family members were under the mud," Rigen said.
Along with some neighbours, he tried to rescue them at night, but failed. More people joined the search efforts yesterday morning, recovering the bodies.
"I lost all I had. I am all alone," Rigen said.
Boropul Para is another village in Naniarchar union where three members of a family perished.
They are Surendra Chakma, 55, his wife Rajya Debi Chakma, 50, and their daughter Sonali Chakma, 14.
The other victims are Romen Chakma, 14, from Borokul Para; Ripel Chakma, 14, from Hatimari village under Bhumighat union; and Rita Chakma, 8, and Bishketu Chakma, 60, from Chowdhurychhara.
Irfan Uddin, officer-in-charge (investigation) of Naniarchar Police Station, said the bodies were handed over to the families without autopsies. 
Rangamati saw the worst disaster last year when 120 people were killed in landslides, considered the worst landslide since 2007 which claimed 127 lives.
The heavy rainfall for the last couple of days put the residents of Rangamati in utter distress with many houses and crops damaged.
"My two houses and a shop have been damaged by a hilly stream. Now I have nothing. I don't know how my five-member family will survive. The shop was my only source of income," said Abdul Mottaleb, a villager of Kolabagan in the district. 
Abadullah Al Mamun Talukdar, Upazila Nirbahi Officer of Naniarchar, said, "The casualty could have been higher if we had not alerted people to move away in the event of torrential rains."
Those killed in the landslide lived in relatively safe areas; but fed by two days' torrential rain, the hilly stream gathered pace and came down at a high speed, hitting areas even far away.
Mamun said they took up several programmes since February to warn people about the landslide and torrential rains, asking them not to stay on the hill slopes during rains.
Such awareness campaigns prevented many deaths, he said, adding that they also made some temporary shelters.
The UNO said they already gave Tk 20,000 to the victim families and would provide compensation after assessing the loss.
Meanwhile, the landslide damaged and blocked Rangamati-Khagrachhari link road, snapping road communications between the two districts for the entire day.
Rangamati Roads and Highway Department officials said the landslide blocked around half a kilometre, while damaging the road at 10-15 spots.
"We are trying to repair the road but it will take three to four days for the vehicles to ply," said an official.
Mohammad Amdad Hossen, executive engineer of Roads and Highways Department in Rangamati, said the damaged place would be repaired soon.
"We will work round the clock on the link road to resume the vehicular movement as quick as possible," he said.
After the last year's landslide, experts had pointed out that the way people felled trees, cleared forest for commercial plantation and cultivation, and built houses on hill slopes in Chittagong region, something disastrous was bound to happen.
They called for the protection of the environment in the hilly areas by taking up long-term plans.
They said manmade reasons like unabated cutting of hills, deforestation and development activities without precautionary measures triggered frequent landslides in the areas. 
[Anvil Chakma from Rangamati contributed to this report]