Save hills, save lives
Following fatal landslides in June, UNDP finds out causes, makes a set of recommendations to prevent disaster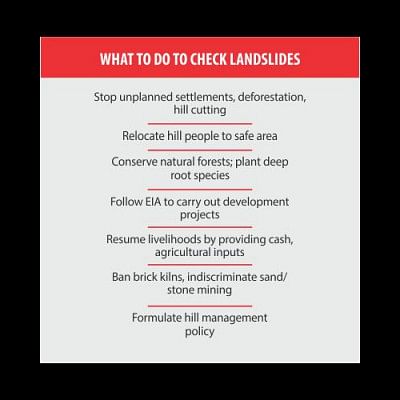 Unplanned settlement, deforestation, lack of guidelines for constructions in the hill region, development interventions, and heavy rainfall were among the causes of the devastating landslides in the Chittagong Hill Tracts over one and a half months ago, according to a UNDP report.   
The UN body also blamed various constructions obstructing natural water flow, leasing of forest lands for commercial crops, lack of building code and lack of understanding of hill ecology for such a major disaster. 
The United Nations Development Programme (UNDP) came up with the report five weeks after the series of landslides on June 13 claimed over 160 lives in Rangamati, Bandarban and Chittagong. Of them, 120 people died in Rangamati alone.
After making assessments of the three hill districts from July 2 to 16, the UNDP on July 19 sent the report titled "Chittagong Hill Tracts Post-Landslides and Flash Floods Recovery Assessment" to the disaster management and relief ministry.
The development partner made 27 recommendations outlining immediate (up to six months), mid-term (seven to 12 months) and long-term (beyond 12 months) action plans for the government to prevent the recurrence of landslides.
Recommendations for immediate actions include ensuring basic assistances like food, water, health care, protection and safety of women and girls, reconstruction of houses, resumption of livelihoods by providing cash, agricultural inputs or by building skills and access to clean drinking water.
"Monsoon is not over yet. Make sure that people living in unsafe locations are identified and monitored or given early warning," the report suggested.
It further recommended rehabilitation of schools and other essential community infrastructures.
The UNDP recommended stopping deforestation, hill cutting, banning brick kilns, indiscriminate sand and stone mining, halting illegal or unplanned settlements in the hills and taking coordinated actions to stop illegal encroachments.
It also asked the government to relocate the hill people to safe areas, carry out development projects or construction works after making environment impact assessments (EIS) and use appropriate technology suitable for hill topography.
The report also suggested drawing up an appropriate land use plan, designing an appropriate drainage system, ensuring early warning from the Met department to the local authorities and vulnerable population.
The UNDP called for building environmental awareness among local communities through traditional institutions, and integrating environmental education in the school curriculum. 
It recommended ensuring climate resilience funding for the climate change mitigation/adaptation projects and nurturing the local beliefs and practices that sustain the environment.
LONG-TERM ACTIONS
The UN body suggested setting up a dedicated Disaster Risk Management Cell for the three hill districts and training officials in the districts on hill development and management aspects.
It also suggested formulating a hill management policy based on the experiences and lessons from the neighboring counties, allocating at least five percent of the annual national budget for conservation of the hills and forests, and promoting social-cohesion and implementation of CHT Peace Accord.
The report, however, said rebuilding houses, resumption of livelihoods and foods were the top current priorities in the hills.