Several BNP leaders including Fakhrul hurt

5 vehicles vandalised at Ichhakhali Bazar

Rangamati trip cancelled

Demo tomorrow, Khaleda condemns attack
BNP Secretary General Mirza Fakhrul Islam Alamgir and his motorcade came under attack in Chittagong's Rangunia this morning when he was en route to visit the landslide-affected areas.
Terming the attack "an example of the government's intolerance", Fakhrul said it does not want to give BNP any scope to stand by the people, Fakhrul alleged.

The attack seemed like an attempt to kill, said BNP standing committee member Amir Khasru Mahmud Chowdhury, who was with Fakhrul inside the vehicle.

Amid heavy rain, the youths started hitting the vehicles with sharp weapons, iron rods and big stones, he said.
ALSO READ: Heavy rains hit Rangamati, increases sufferings further
7 BNP men detained in Dhaka during protest
Police today picked up seven activists of BNP during a protest in Nayapaltan area of Dhaka.
Leaders and activists of BNP brought out a procession in front of its Nayapaltan office to protest the attack on the party's secretary general Mirza Fakhrul Islam Alamgir and his motorcade in Chittagong.
READ more: 4 killed as fresh landslides hit Khagrachhari, Moulvibazar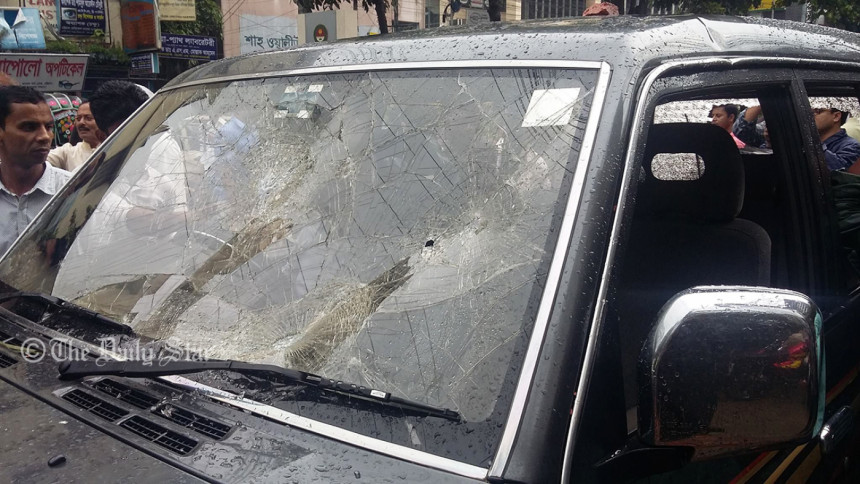 During the protest, law enforcers detained six to seven activists to clear obstacles on the roads, said Shiblee Noman, additional deputy commissioner (Motijheel division) of Dhaka Metropolitan Police.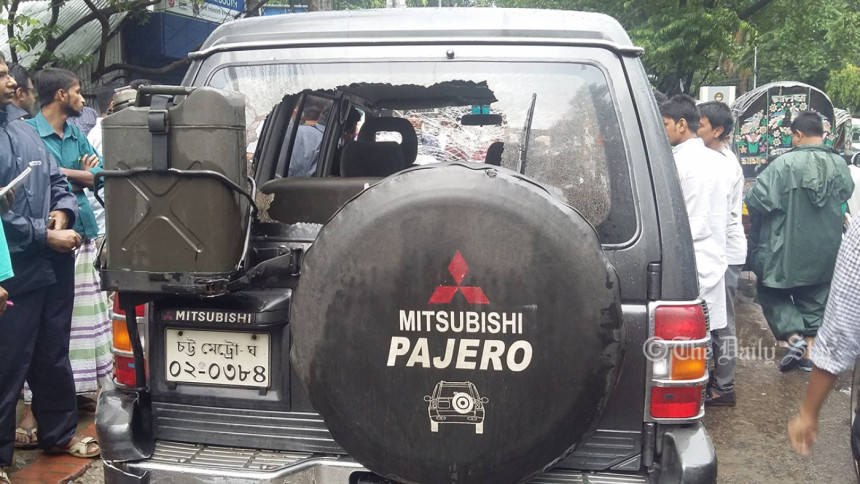 BNP demo tomorrow
The BNP will stage demonstration across the country tomorrow protesting the attack on Fakhrul's motorcade.

The party will stage demonstration in district and thana headquarters, Ruhul Kabir Rizvi, BNP senior joint secretary general, made the announcement at a press briefing in Comilla district BNP office this afternoon.

He said, "This attack is an alarming sign for the democracy. The heinous attack was launched on the BNP leaders so that they cannot see the failure of the government in the Chittagong Hill Tracts."
Contacted, Imtiaz Bhuyan, officer-in-charge (OC) of Rangunia Police Station, told the daily that law enforcers had information that a BNP delegation would visit Rangamati today but they are yet to gather details of the attack.

The death toll in landslides stood at 153 in five hill districts including Rangamati, the worst affected area where 115 people died so far.