'Khaleda's condition improving'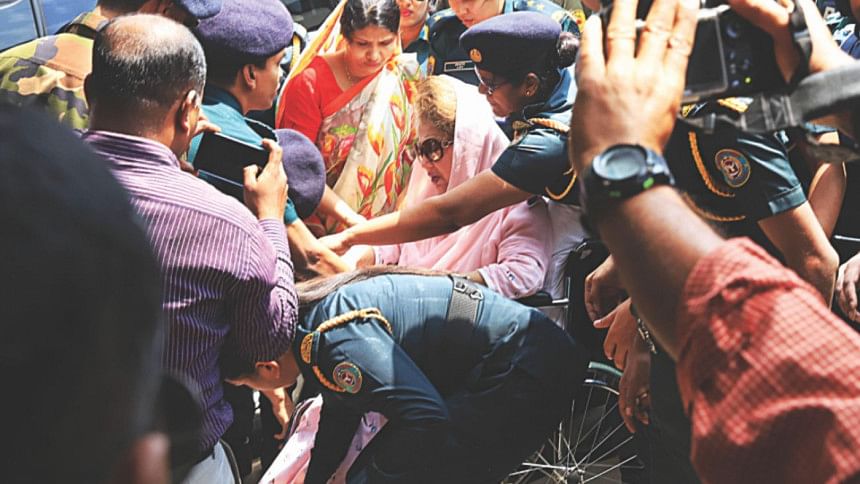 The physical condition of BNP Chairperson Khaleda Zia is gradually improving, said doctors at Bangabandhu Sheikh Mujib Medical University.
BSMMU Director Brig Gen AK Mahbubul Haque said, "She [Khaleda] is doing better than yesterday.
"After further evaluation, we will decide on further medical attention that she would need."
The statement came a day after the three-time former prime minister was shifted to BSMMU.
Asked about BNP's allegation that Khaleda was not properly treated at BSMMU last year, Brig Gen Mahbubul said, "I joined here [BSMMU] only two weeks ago. I cannot make a comment over it without knowing anything.
"I think she is satisfied with the service we have given her. She is fluently talking with us and receiving us in a cordial manner."
Last year, a debate raged between the government and the BNP about whether Khaleda would be treated at BSMMU or her preferred United Hospital.
Though the BNP chief initially refused to take treatment at BSMMU, she finally agreed and was shifted there on October 6 that year.
Khaleda has been in jail since February 8 last year when a special court awarded her five years in prison in the Zia Orphanage Trust graft case.
The High Court later extended her jail term to 10 years in the case. She was also convicted in the Zia Charitable Trust graft case and handed a seven-year term.