Khaleda refuses to be treated at BSMMU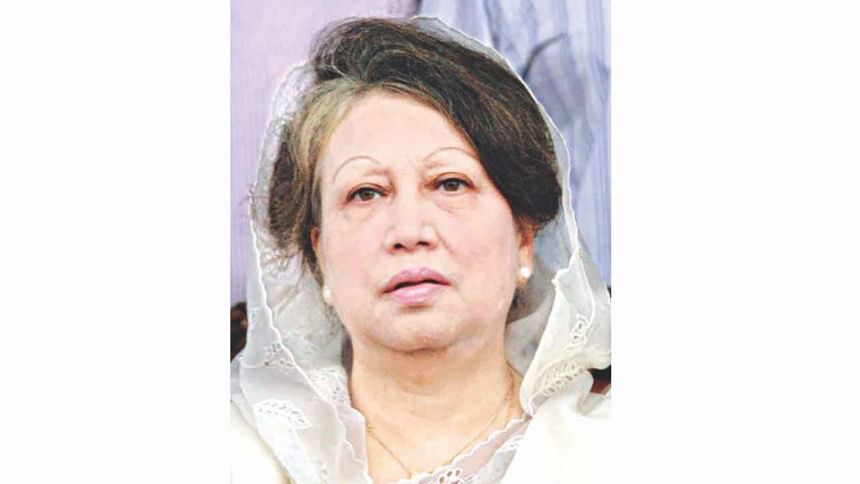 Imprisoned BNP Chairperson Khaleda Zia yesterday once again refused to be treated at Bangabandhu Sheikh Mujib Medical University.
The former prime minister said "no" though the authorities had made all preparations to take her there, Mahbubul Islam, jailer of Dhaka Central Jail, told The Daily Star yesterday. 
A hospital cabin was ready for her, said BSMMU Director Brig General Abdullah Al-Harun.
Security beefed up in and around the hospital in the morning was withdrawn following her refusal in the afternoon.
"It is not like that she has no confidence in BSMMU doctors, but the matter is that due course of treatment was not followed while she was treated there beforehand," said Khaleda's personal physician Prof AZM Zahid Hossain.
For this reason, she preferred to be treated in hospitals like United Hospital, Square Hospital and Labaid Hospital, he added.   
Whether Khaleda's treatment will be at the BSMMU or her preferred United Hospital was a debated issue between the government and the BNP last year.
Though the BNP chief initially refused to take treatment at the BSMMU, she finally agreed and was shifted there on October 6 last year.
Doctors of the hospital then said, "Her main illness is pain in joints due to rheumatoid arthritis. She has uncontrolled diabetes and arthritis."
This time, the issue of Khaleda's shifting to the BSMMU came on March 5 when a six-member BNP delegation, led by its Secretary General Mirza Fakhrul Islam Alamgir, met Home Minister Asaduzzaman Khan and talked about Khaleda's illness and her proper treatment. 
The minister said the BNP chief would soon be taken to the BSMMU for checkups and tests.
Khaleda has been in jail since February 8 last year when a special court awarded her five years in prison in the Zia Orphanage Trust graft case.
The High Court later extended her jail term to 10 years in the case. She was also convicted in the Zia Charitable Trust graft case and handed a seven-year term.