Jute workers postpone demo
Decide to start work today, wait for official word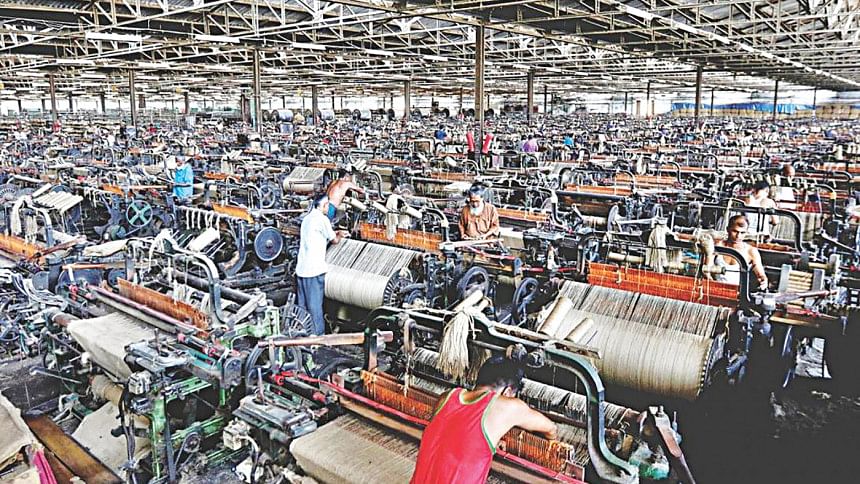 Workers of nine state-owned jute mills in the Khulna region last night postponed their demonstrations demanding cancellation of the decision to close all government jute mills.
Bangladesh Jute Workers Protection CBA and Non-CBA Sangram Committee said workers would join their work today as they did not receive any letter from the authorities concerned regarding closure of the jute mills.
Earlier in the day, the workers staged a sit-in with their family members in front of their factories. They demonstrated for the second consecutive day.
Over 30,000 permanent and temporary workers of five jute mills in Khulna city, two mills in Khulna's Atra industrial area and two mills in Jashore are taking part in the protest.
There are 8,100 permanent workers in these jute mills, while the number of temporary workers is 30,000.
Visiting at least four jute mills, including Crescent and Platinum, in the city's Khalishpur area, this correspondent found hundreds of workers were demonstrating on their respective mill premises.
They were chanting slogans against the government decision.
At the protest rally, workers' leaders said if the government decision was not revoked by yesterday, the workers would go on a hunger strike along with their family members at their respective mill gates from July 1.
Sahana Sharmin, president of Platinum Jute Mill Workers Union, told The Daily Star that they would continue their demonstration until the government cancelled its decision.
Over three crore people are involved in the jute sector directly and indirectly. If the mills are closed, they with their family members will have to suffer immensely, she said.
Sardar Abdul Hamid, convener of Bangladesh Jute Workers Protection CBA and Non-CBA Sangram Committee, said the decision to close 25 government jute mills was taken at an inter-ministerial meeting on June 25.
If the decision is not changed, the workers and their family members will start a hunger strike from July 1, he said.
Asked, Boniz Uddin Miah, Khulna regional coordinator of Bangladesh Jute Mills Corporation, told this newspaper that they were observing the situation and informing it to their higher authorities. They would make decisions as per the higher authorities' instructions, he said.