Integration the key
Say experts on synchronising Dhaka metro rail with conventional transport modes from Uttara north to Agargaon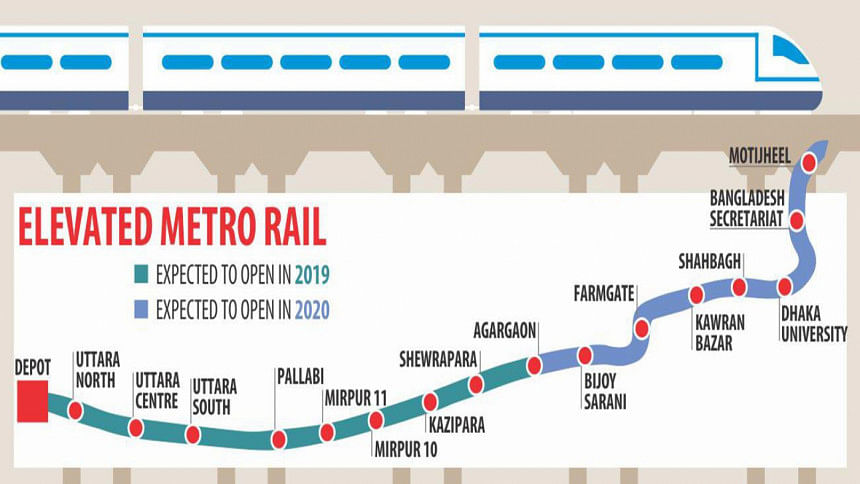 Once the much-hyped metro rail starts operation between Uttara north and Agargaon later this year, it will not bring a significant change in Dhaka city's transport service unless it is integrated with conventional transport modes, experts said.
People heading to the city centre from Uttara would get off at Agargaon and they would need transport for which no traffic and transport management system has been planned.
"The possible traffic disarray at Agargaon may even lead to the collapse of the traditional transport service there, as the area has not been prepared for handling an estimated 60,000 metro passengers every hour," said Prof Moazzem Hossain, a former director of the government-owned Dhaka Mass Transit Company Ltd (DMTCL).
The success and benefit of the metro rail primarily depend on its integration with other traditional modes, said the Buet civil engineering professor.
"Sadly, no such plan is there while the construction of metro rail is progressing fast."
With the promises of saving the city dwellers from the menace of perennial traffic chaos and protecting the environment, the DMTCL is going ahead at full throttle with the Tk 22,000 crore maiden metro rail project.
The 20km-long metro rail line-6 with 16 stations would connect north Uttara to Motijheel via Rokeya Sarani, Farmgate and Dhaka University. The stretch between north Uttara and Agargaon (12km) has a deadline of December 2019.
Prof Shamsul Hoque, another expert, echoed Prof Moazzem and added that metro rail's success would depend on its coordination with Dhaka's existing transport services.
"Metro rail may stand as an isolated facility" unless transport facilities for people's access to and disperse from stations are ensured, he said.
The huge number of passengers offloaded at a time by the trains would spill over streets and pavements leading to further traffic deterioration, he said.      
The experts said terminating the metro service temporarily at Agargaon would create an awful chaos there. Farmgate, one station away and a transport hub, is not prepared or improved for handling the increased number of metro passengers either. The junction itself is already awfully chocked with perpetual traffic mess and space constraint, they said. 
DMTCL Managing Director MAN Siddique said they would be able to open the metro rail service up to Motijheel by the end of 2020. 
As to how traffic in Agargaon would work with metro service just a year away, Siddique said, "There is nothing like preparing Agargaon for metro service. We are preparing the entire metro line. Shuttle buses will remain lined-up on existing roads to transfer metro passengers to nearby Farmgate."
When asked how the buses would stop, offload and take passengers and turn around at congested Farmgate, he, without elaborating, said, "There is a traffic plan on it." 
 "When metro service will be in place, people will go for it automatically being demand-driven," he said.
"Access to metro stations will depend on how traffic police manage it. I don't know whether rickshaws will have access."
Dhaka Transport Coordination Authority (DTCA) would take care of metro rail's coordination with other modes, he said. 
DTCA Executive Director Khandakar Rakibur Rahman said, "We have not been able to do justice to transport coordination in Dhaka city thanks to lack of manpower and the DTCA is nowhere near to what such an organisation around the world is like."
"We have just recruited 14 officials for the first time since the authority was formed and we will coordinate transport with the new recruits once they are trained," he said.       
The government undertook the metro scheme in light of the recommendation made by Japan International Cooperation Agency following a 2010 survey and Strategic Transport Plan. 
As of October this year, the 12km first-phase of the maiden metro rail up to Agargaon has made one-fourth progress with 300 metres viaducts visible in Diabari.