Gatco Case: Khaleda not produced at court for illness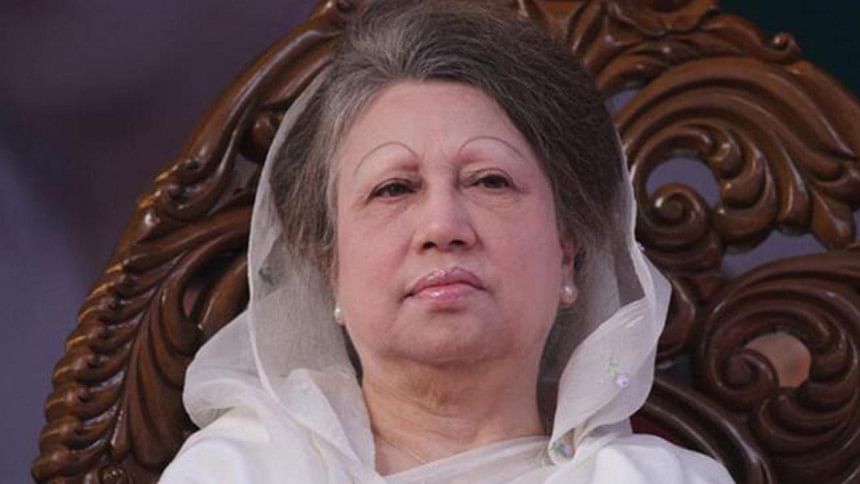 A Dhaka court yesterday deferred until April 17 the hearing on charge framing against BNP Chairperson Khaleda Zia and 16 others in the Gatco graft case as she was not produced before it due to illness.
Md Mahmudur Rahman, assistant civil surgeon of Keraniganj Central Jail, sent a custody warrant to the Special Judge's Court-3, informing Judge Abu Syed Diljar Hossain about Khaleda's illness.
During yesterday's hearing, Khaleda's lawyer Masud Ahmed Talukder told the makeshift court at Alia Madrasa in Bakshibazar that the hearing should be adjourned as all the accused, including the BNP chief, were not present.  
Moreover, the authorities were yet to hand over some important case documents to the defence lawyers, which were needed for their preparation to place arguments. 
ACC Public Prosecutor Mosharraf Hossain Kajol told the court that there was no bar to starting the hearing on charge framing.
Thirteen accused, including former BNP ministers Khandaker Mosharraf Hossain and AKM Mosharraf Hossain, were present at the court while Khaleda and former BNP minister Amir Khasru Mahmud Chowdhury absent.  
Two other accused have been absconding since the filing of the case on September 2, 2007.
The Anti-Corruption Commission had filed the case with Tejgaon Police Station, accusing Khaleda and several others of misappropriating around Tk 1,000 crore while dealing with Global Agro Trade (Pvt) Company Ltd (Gatco).
On May 13, 2008, the anti-graft watchdog had pressed charges against Khaleda and 23 others.
The names of seven accused, including Khaleda's younger son Arafat Rahman Koko, were dropped from the charge sheet following their deaths.
The BNP chief landed in jail in February last year after a Dhaka court had handed five-year jail term to her in the Zia Orphanage Trust corruption case.
Later, she was also convicted in the Zia Charitable Trust graft case.
Khaleda lost her appeal with the High Court as it increased her punishment in the Zia Orphanage graft case to 10 years in prison.