'AG's comment on Hawa Bhaban politically motivated'
Says Khaleda's lawyer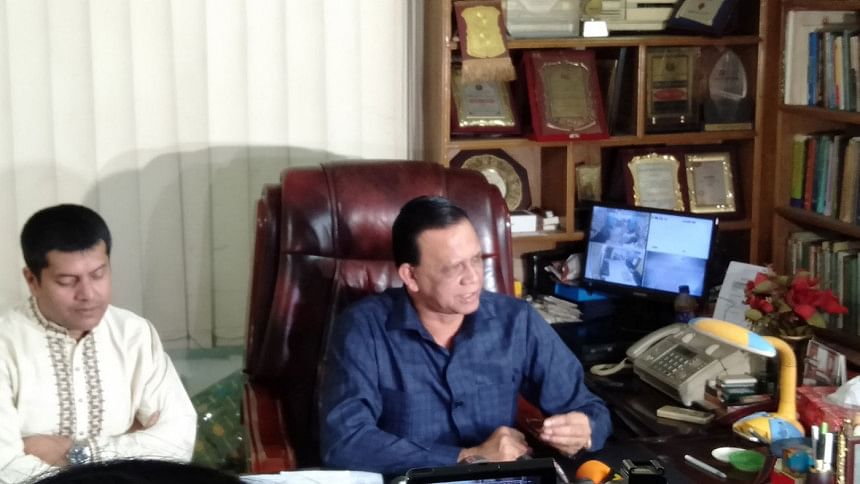 BNP Chairperson Khaleda Zia's lawyer Barrister AM Mahbub Uddin Khokon today said the attorney general's statement about Niko corruption case involving Hawa Bhaban is illegal, arbitrary and politically motivated.
The public prosecutor concerned is supposed to conduct any corruption case at the trial court as per the Anti-Corruption Commission law, but Attorney General Mahbubey Alam is making statement about the Niko case and is also trying to influence its proceedings in violation of the law, he said.
The lawyer made the remark at a press briefing at his Dhanmondi chamber in Dhaka. 
Attorney General Mahbubey Alam on Thursday night at a press briefing claimed that investigations by FBI and Canadian Police have found involvement of Hawa Bhaban (BNP chief's previous political office) in the Niko corruption case.
Earlier in the day (Thursday), the AG submitted a petition to a Dhaka court seeking permission to produce three witnesses, including an FBI special agent, before it in connection with the Niko corruption case filed against BNP Chairperson Khaleda Zia and 10 others.
Judge Md Mahmoodul Kabir of the Special Judge's Court-9 of Dhaka fixed December 9 for hearing of the petition.
Yesterday, Barrister Mahbub Uddin Khokon told the media that the attorney general made the move regarding the Niko case in order to damage the reputation of BNP Chairperson Khaleda Zia ahead of the upcoming parliamentary election.
The lawyer also said the Niko deal was signed when Prime Minister Sheikh Hasina assumed the state powers for the first time and later on the Khaleda Zia-led government had approved the relevant file.
On December 9, 2007, the ACC filed the Niko corruption case with Tejgaon Police Station, accusing Khaleda and 10 others of abusing power to award a gas exploration and extraction deal to Canadian company Niko during her tenure as prime minister.
In 2011, FBI operative Debra Laprevotte had helped ACC in its probe against Tarique Rahman, son of BNP Chief Khaleda Zia, and Giausuddin Al Mamun in a money-laundering case.
The same year, she also testified before a Dhaka court against the duo in the money laundering case. Tarique and Mamun were later sentenced to different terms of imprisonment.