Combo deal for Dhaka dwellers
ISP to launch high-speed internet, IPTV, VoD, IP telephony in one cable from Pahela Baishakh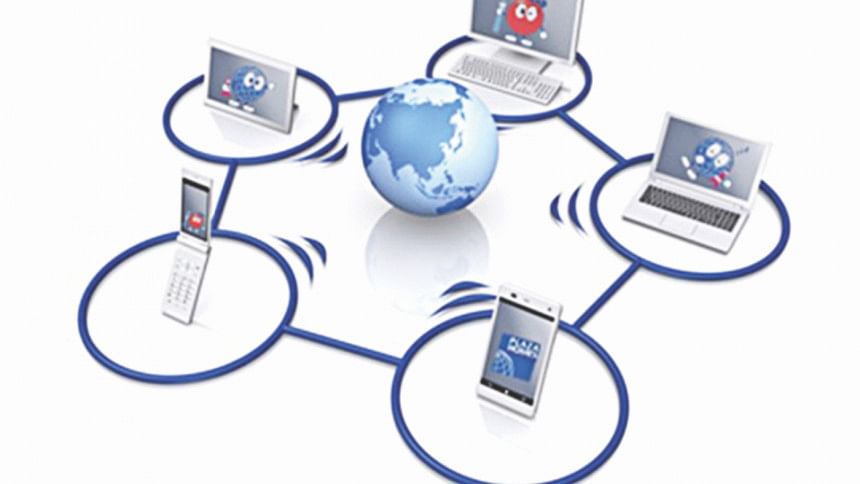 At least three times the typical high-end broadband speed, TV service, video-on-demand, and internet telephony through a single cable from this Pahela Baishakh is what a local company is promising Dhaka dwellers.
BDCom, one of the oldest internet service providers (ISPs) of the country, announced this at a press conference at the La Vinci Hotel in the city yesterday. Similar combined services are available in the West but this is a first in Bangladesh.
The service touted "Broadband360°" aims at home and business users, said SM Golam Faruk Alamgir Arman, managing director of the company.
The company said they would provide home users with 75Mbps internet speed, internet protocol TV (IPTV) service with around 120 channels and IP telephony for as low as Tk 2,999 a month. A customer could also pay Tk 3,999 and get the 100Mbps package, four times faster than a typical high-end broadband speed other companies offer.
"We have had IP telephony and internet service for years and after getting permission from the telecom regulator, we are now launching IPTV. The IPTV service will have 120 digital television channels from home and abroad," said Arman.
The company has two content providers for its IPTV service.
BDCom at the press conference yesterday laid emphasis on internet security and spoke about how their services would help customers protect their privacy and internet security.
Arman said their service would allow parents to have control over their underaged children's internet use. They would be able to set schedule, time and data limits on their ward's devices.
They would be able to block certain sites as well.
With the service, people would be able to use 57 parental-control features and their internet service would be much safer, said Gazi Zehadul Kabir, a general manager of the company.
Within the next month, other companies may also launch IPTV and video on demand services alongside high-speed internet and telephone services as 13 ISPs got permission for launching these, said a senior official of Bangladesh Telecommunication Regulatory Commission.
In December, the BTRC removed the restriction it had imposed two years ago on IPTV and video-on-demand services.
When this service is available across the country, customers' experience would improve. They will get much higher speeds and TV picture quality will improve, said MA Hakim, president of the Internet Service Providers Association of Bangladesh.
The ISPs are stepping on the cable operators' toes and the cable operators are even thinking about legal actions. 
"Definitely this service will destroy our business and we will take measures to save ourselves," said Md Luthfur Rahman, managing director of United Communication Services Ltd, market leader in the cable TV service in Dhaka.
Luthfur said they were observing the situation and were considering legal process. "If the ISPs can provide TV service then why not give us the chance to offer internet service under the existing licences?"
But at the moment, ISPs are going ahead with IPTV service.
Broadband360° is even offering businesses 75Mbps for Tk 9,999 and 100Mbps for Tk 11,999 a month.
Replying to a query about high prices, Arman said the price was not high compared to the service and facilities customers would receive.
He said they designed Broadband360° considering social responsibility, ethical business practices, and for the protection of the next generation.