ACC arrests Jubo League leader in Bandarban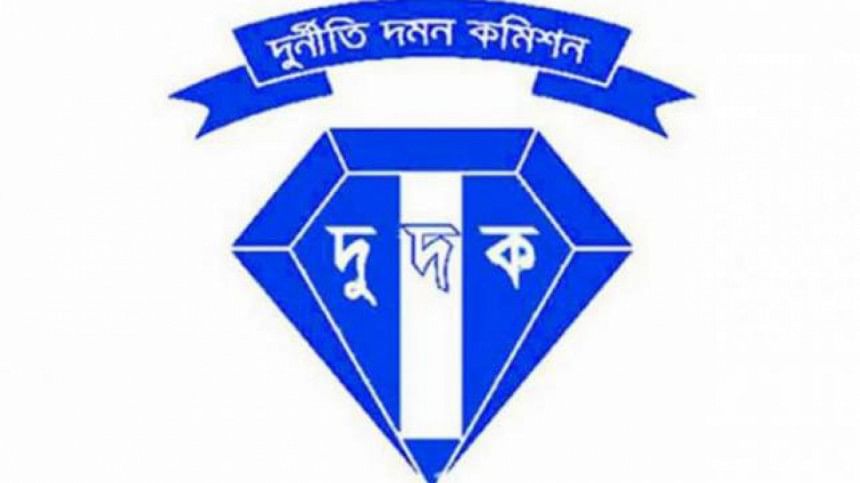 The Anti-Corruption Commission (ACC) yesterday arrested a Jubo League leader of Bandarban on charge of swindling Tk 50 lakh out of Agrani Bank Ltd.
"We arrested Kyaching Aung Marma at Bandarban district administration office premises around 11:30am," said Mohammad Jafor Sadek Shibli, deputy assistant director of ACC's district integrated office, Chattogram-2.
Kyaching, 43, is president of Jubo League's Bandarban sadar upazila unit.
In connivance with some officials of Agrani Bank's Bandarban Bazar branch, he got Tk 28.9 lakh disbursed as loan under the names of the local hill farmers in fiscal years 2011-12 and 2012-13, the ACC official said.
Five people colluded in the crime -- Kyaching, the bank's then manager of this branch Nibaran Chandra Tanchangya, 59, and three field employees, he said.
Using the identification details of the local farmers who mainly cultivate ginger and turmeric, they withdrew the money from 30 bank accounts of the hill farmers, said Bijoy Barua, assistant general manager of the branch. Of the amount, Kyaching distributed Tk 1.2 lakh among the farmers he defrauded, he added.
ACC official Jafor said the loan now amounts to Tk 50 lakh with interest.
An inquiry was launched after the victims, whose documents were used, lodged complaints with ACC. As the allegations were found true, Jafor filed the case with ACC accusing the five on July 21. ACC arrested former manager Nibaran the same day. The accused field workers are Gayan Chakma, 50, Jotish Kumar Khisa, 40, and Hirendra Lal Chakma, 47.
Meanwhile, Pai Hla Aung, president of Bandarban sadar upazila unit of Awami League (AL), said there are a lot of allegations including abduction and arms smuggling against Kyaching. 
When asked, AKM Jahangir, vice president of Bandarban district AL and sadar upazila chairman, said, "We heard about his arrest. We'll hold a meeting on the issue. If found guilty, Kyaching would face organisational action."