An 8-yr-old's agonising day at court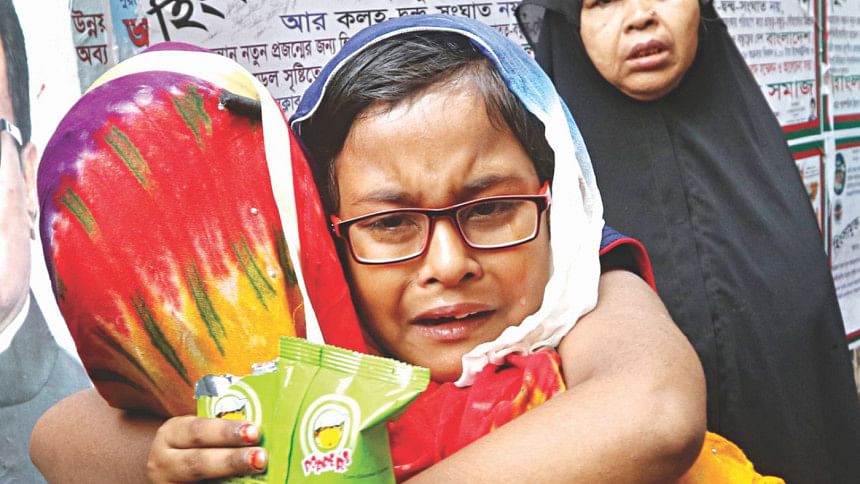 Eight-year-old Afsana, along with her mother, was waiting on a Dhaka court premises to catch a glimpse of her father Babul Hawlader.
She scanned the faces of the many people visiting the Chief Metropolitan Magistrate's Court in Dhaka since morning as her father was supposed to be produced before the court after a three-day remand.
She looked frustrated after failing to find Babul.
Finally around 2:30pm, prisoner transport vehicles started entering the court premises with the accused, most of whom were arrested from different parts of the city after the Jatiya Oikyafront rally in the capital on Tuesday.
Suddenly, Afsana heard her father call out to her from one of the vehicles. A relative picked Afsana up and raised her near the vehicle's window and the child burst into tears.
Her mother and several other families, waiting on the court premises to see their loved ones, could not hold back their tears at the emotionally-charged moment.
Afsana, a class-II student, lives with her mother in their ancestral home in Patuakhali.
Though her father Babul, a ward unit leader of BNP's front organisation Sramik Dal, was arrested in Malibagh area on Tuesday, Afsana and her mother came to know about the arrest two days later.
They came to meet Babul, a house painter by profession, from Patuakhali on Saturday.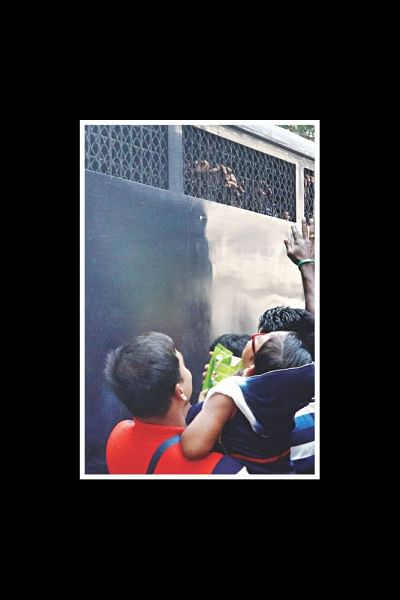 Before and after the Jatiya Oikyafront rally at Suhrawardy Udyan on Tuesday, police picked up several hundred people, mostly BNP leaders and activists, from different parts of the city. A day later, police showed around 400 arrested and produced them before different Dhaka courts.
They were charged with attacking police with brick chips, illegal assembly, creating obstacles to police duties, creating anarchy and attempt to murder.
The courts placed around 300 of them on a three-day remand. On completion of the remand period, police yesterday produced them before the courts that sent them to jail. 
Babul, who was picked by Hatirjheel police, is one such accused.