3 killed in 'gunfights'
Of them, 2 'outlawed party members', one 'drug peddler'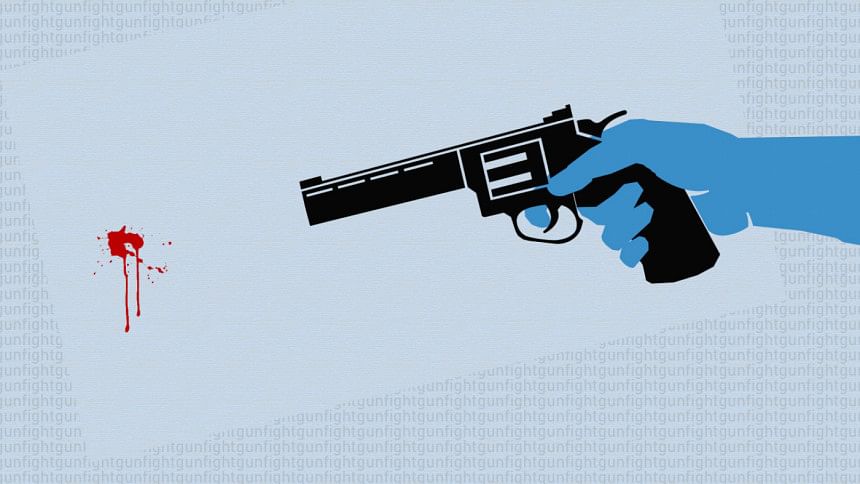 Two alleged members of the outlawed Purbo Bangla Communist Party (PBCP) were killed in a "gunfight" between two rival groups in Bogura's Sherpur upazila early yesterday, police said.
Liton Sarkar, 40, and Afsar Ali, 45, were from Sirajganj's Raiganj and Tarash upazilas respectively, said Humayan Kabir, officer-in-charge of Sherpur Police Station.
Both of them were members of the PBCP Sarbohara faction, the OC claimed. However, he could not name the other faction involved in the incident.
On information that two rival factions of the banned outfit were exchanging fire in Bhabanipur Bazar Bridge area, a team of police led by Additional Police Super Sonaton Chakraborty went to the spot around 2:00am and rescued the two with bullet injuries, the OC also said.
They were taken to Bogura's Shaheed Ziaur Rahman Medical College Hospital where duty doctors pronounced them dead, added OC Humayun.
The bodies were kept in the medical college morgue for autopsies.
Police also recovered two firearms, eight bullets, two sharp weapons and three posters of PBCP from the spot, added the OC.
Liton was accused in two cases, including a murder case, filed with Raiganj and Bagha police stations in Sirajganj and Rajshahi respectively while Afsar was accused in a murder case filed with Tarash Police Station, the OC also said.
Meanwhile, a suspected drug trader was killed in a "shootout" with police in Raysree village of Moulvibazar Sadar upazila yesterday.
Mujibur Rahman Jitu, 26, was a resident of Biraimabad area in the upazila, said Alamgir Hossen, OC of Moulvibazar Police Station, adding that he was accused in 12 drug-related cases and one case filed under Explosive Substances Act.
Tipped off that a consignment of yaba pills would be smuggled through the village, a patrol team of Detective Branch (DB) of Police took position in the area, said Rashedul Islam, additional superintendent of police in Moulvibazar.
When a gang of alleged drug traders was crossing the area with sacks full of yaba around noon, the DB team intercepted them.
The gang members opened fire on police, forcing them to fire back that triggered a "gunfight".
After an hour-long battle, when the drug traders fled the scene, police recovered injured Jitu and took him to Moulvibazar Sadar Hospital where doctors declared him dead.
Three policemen, including a sub-inspector, were also injured during the "gunfight", said OC Alamgir, adding that the team also recovered firearms and 300 yaba pills from the spot.
The OC said Jitu had earlier been arrested in a drug case, but was released on bail.
Polash Roy, residential medical officer at Moulvibazar Sadar Hospital, told this correspondent that three cops were under treatment in the hospital.
No family members or relatives of Jitu agreed to comment in this regard.
Our Bogura and Moulvibazar correspondents contributed to this report.