Nature Quest: Neelbanolata: eye-catching blue flower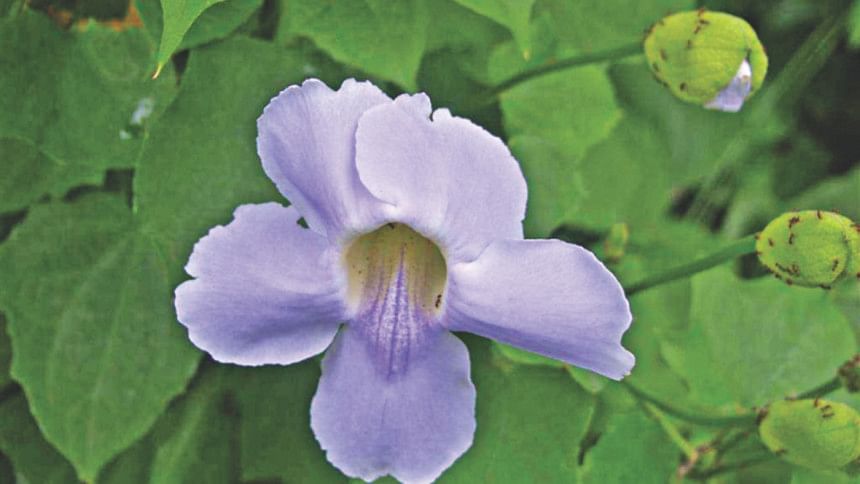 I went to Madhupur in Tangail to see a garden of medical plants. The garden is located at Telki Bazar in the upazila. A road through the forest leads to this small and rather desolate bazaar. We walked into the forest and found Hargoza (Dillenia pentagyna) with gigantic leaves. Amid tall trees were hanging eye-catching blue flowers, locally called Nilata or Nalata.  I saw the flower for the first time. Later, I saw them in Patharia hill area in Borolekha of Moulvibazar and by the lake in the Samanbag tea garden.
The flowers were shining among the Lantana and other wild plants. The calm and quiet atmosphere and the crystal clear lake water and the mixed smell of the wild shrubs created an altogether different world. Eminent botanist Prof Dwijen Sharma in his book "Phulguli Jeno Kotha" has called this flower Neelbanolata (Thunbergia grandiflora). Its common names are Bengal Clock Vine, Blue Trumpet Vine, and Blue Sky Vine.
They grow on their own in Chittagong Hill Tracts and in the Madhupur Shal forest. Their habitats, however, are facing a threat due to rapid and unabated deforestation.
Neelbanolata is native to Bangladesh and India. The trees of our evergreen forests are their favourite abode. Outside Bangladesh, they are abundant in Assam. These robust creepers may grow to a height of eight to 10 metres. The leaves have a rough surface and vary in shape. The vines flower from March to December. The fruits are robust and can grow up to 3 to 5cm. In Malaysia, the leaves are used for treating stomach ailments. Indigenous people in our country also use the leaves of this tree for treating various ailments. They breed through seeds and cutting. The hanging flowers on fences are a feast for the eyes!