Mayhem at a city hospital over death of a DU student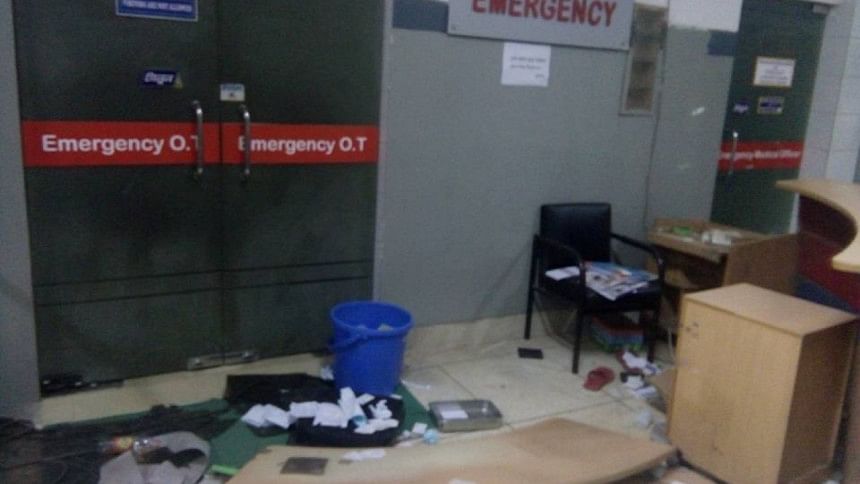 Dhaka University students yesterday vandalised Central Hospital in the capital over the death of a fellow student allegedly due to wrong treatment.
Afia Jahin Chaity, 20, a first-year student of zoology department, was admitted to the hospital on Green Road on Wednesday after doctors of the hospital diagnosed her with "acute myeloblastic leukaemia", a type of blood cancer, according to the medical file of the deceased.
But just before she died around 5:30pm yesterday, doctors confirmed that she actually had dengue fever, students claimed.
The death of Afia, from Chapainawabganj, triggered a protest among her fellows. Around 200-300 students went to the hospital and vandalised several rooms and other things on the first floor. They also demanded punishment of the doctors.
Later, police brought the situation under control.
Prof Anwarul Islam, chairman of DU's zoology department, told journalists at the scene that he also came to know about the "wrong treatment" of his student.
"I have learnt from the medical file of Afia that she was suffering from cancer, but she was basically suffering from dengue," he said.
It totally proved incompetency of a doctor and that he was not fit for treating people, Anwarul added.
Prof Matiur Rahman, consultant of Afia, also an owner of the hospital, told The Daily Star that the hospital authorities would form a three-member committee to investigate the matter.
He claimed that the doctor treated her properly, but he might have written the disease name carelessly. 
In connection with the death of Afia, Dhaka University filed a case against nine people, including director and consultant of Central Hospital, with Dhanmondi Police Station.