Hindus Displaced from Rakhine: No puja for them this time
Rashmati Sharma had celebrated Durga Puja with her family and neighbours in Myanmar with due religious fervour last year. Her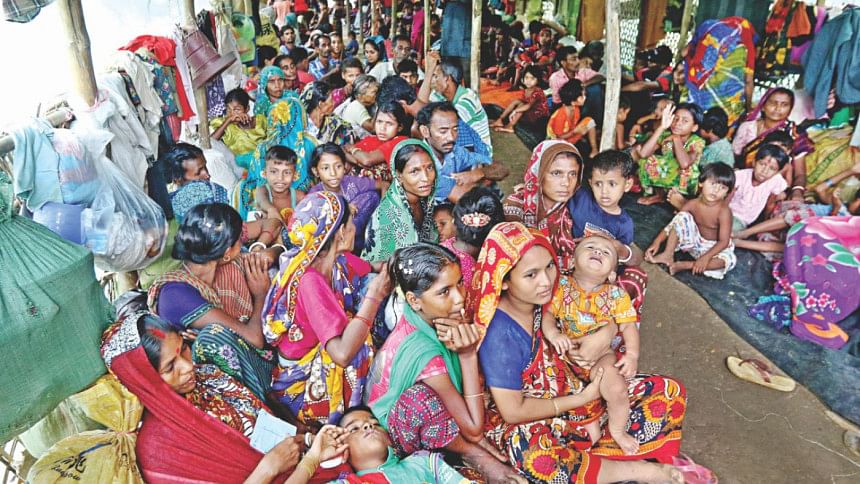 Rashmati Sharma had celebrated Durga Puja with her family and neighbours in Myanmar with due religious fervour last year. Her husband had bought her a new saree and clothes for the children ahead of their biggest festival.
But this year, Rashmati, a resident of Chikonchhari village of Maungdaw township in Myanmar, is in no position to celebrate the festival as she is going through the most difficult time of her life in another country.
"How can we celebrate Puja when we have no home and money and live off relief efforts and donations?" she asked.
Rashmati fled persecution in Myanmar with her three children and came to Bangladesh last month.
"My husband is still there and I don't know what happened to him," she told this correspondent.
While the Hindu community in Bangladesh yesterday celebrated Maha Shaptami, around 160 Hindu families at a temporary shelter in a Hindu dominated hamlet at Kutupalong in Ukhia passed the day collecting relief goods for basic needs.
"It is not possible for us to celebrate Puja when we are worrying about the next meal," said Niranjan Rudra, a priest from Rashmati's village in Myanmar.
He said he had been administering Pujas for the last 15 years in his village.
"We fled with only the clothes we had on. We could bring nothing more with us," he said.
A bulk of the Hindu refugees has taken shelter in an empty chicken farm in Kutupalong area, a couple of miles from the camp where most of the Muslim refugees are living. The Hindu refugees are being looked after by a few social workers, local organisations and well-meaning individuals. A few villagers have     even let some of them stay at their homes.
"At night we sleep in a long row with very small gaps between us. Sometimes it is hard for one to even walk amid the people crammed inside," said Bina Bala, who along with his husband and five children came to Bangladesh on August 28, pointing at the poultry farm.
Jogodish Sharma, president of Kutupalong Paschim Hindupara Sharbojonin Hari Mandir, said the hardest challenge is to arrange food for all.
He said each of the Hindu refugees was provided with a card before the prime minister's visit to the Rohingya camps, but they did not get much help.
"We need more food from the government," he said.