Main accused held in Dhaka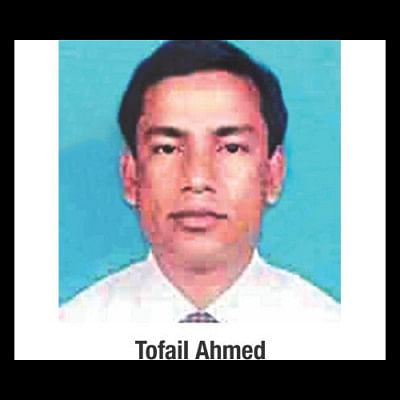 Law enforcers yesterday detained the chairman of Bandarban's Naikkhangchhari upazila in connection with the 2012 arson attacks and vandalism at Buddhist temples in Ramu.
Tofail Ahmed, who is a charge-sheeted accused in two cases filed after the incident, was arrested at Hotel Sundarban of Karwan Bazar in the capital.
A team of plainclothes men identifying them as the members of Police Bureau of Investigation (PBI) picked up Tofail from his room around 2:30am, said Abul Kalam Azad, chairman of Ali Kadam upazila in Bandarban.
Azad said he along with Tofail had gone to Dhaka to take part in a workshop organised by the LGRD ministry.
Tofail stands accused in 11 cases.
Sources said he was a leader of Islami Chhatra Shibir, student wing of Jamaat-e-Islami, when he was a student of Chittagong University. He had later got involved in Jamaat politics, they added.
Earlier in 2012, Tofail denied his involvement with Jamaat but admitted that he was a Shibir member at CU.
He went into hiding following the mindless arson attacks on the Buddhist temples and Buddhist community in Ramu on September 29, 2012.
Detectives, however, arrested him in November 2013, but he was elected upazila chairman for the second time as he contested the polls from jail.
He later obtained a bail from the High Court and was discharging his duties as the chairman.
The LGRD ministry suspended him in October last year after a court had taken the charges against him into cognisance. Tofail, however, was reinstated following an HC order that came in response to his writ petition.
Fanatics attacked the Buddhist houses and temples in Ramu, Ukhia, Teknaf and Sadar upazilas of Cox's Bazar following a fake Facebook post demeaning the holy Quran.
Nineteen cases were filed with different police stations in the district in connection with the attacks. The police pressed charges in 18 cases to different courts.
The other case was withdrawn following a settlement between the complainant and the defence.