Longadu Attack: Many victim families yet to return home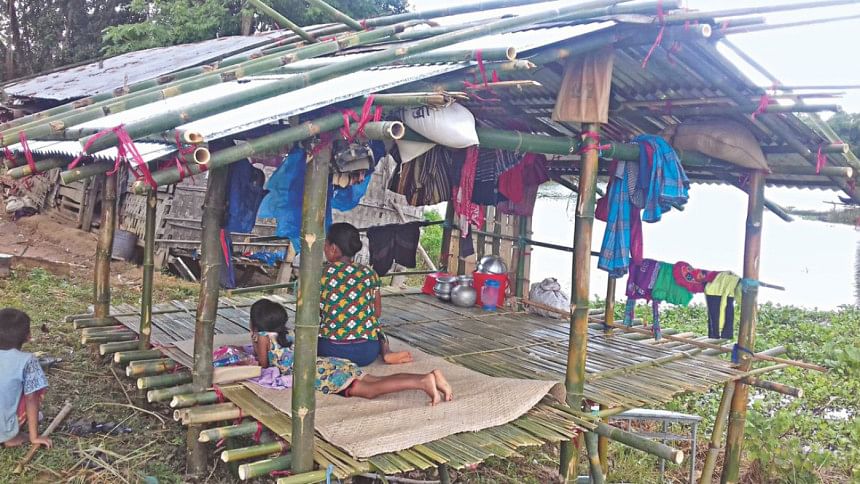 The indigenous families in Rangamati's Longadu could not return home even a month after the attack on them on June 2. They are living in local schools, Buddhist monasteries, and small huts they have built in deep jungles in the hills. They look to the administration for their quick rehabilitation.
Meanwhile, the schools in the affected areas opened on Sunday, but the students from the affected families were yet to join them. Their books and uniforms were also burnt in the attack.
A couple of days ago, this correspondent visited several indigenous families in Manikjowr Chhara Government Primary School in Tintila village and some other victims from Battya Para village who took shelter in nearby jungles.
As the school has opened, most of those living there were making tents and other temporary homes with bamboo on the campus.
Talking to The Daily Star, Kiran Chakma from Tintila village said their sufferings increased manifold due to the recent rain.
"Whenever it rains, rainwater enters the school compound and makes everything damp. We feel disgusted. We want new homes," he said.  
Sipra Chakma, a student of class-IV in Tintila village, said she wanted to attend classes, but all her books and the school uniform were burnt in the attack.
Atarak Chhara Union Parishad Chairman Mangal Kanti Chakma said the government seemed to be "insincere in rehabilitating the victims".
Many senior government officials visited the victims and assured them of building new homes at the earliest. But they were not rehabilitated even a month after the attack, he said. 
He called for prompt government action in this regard.
Longadu Upazila Nirbahi Officer Mosaddek Mehdi Imam said, "We have written to the higher authorities for rehabilitation of the victims. But we have not received any response yet. We want the victims to get their homes back as soon as possible."
On June 1, the body of local Jubo League leader Nurul Islam Nayan was found four miles away from Khagrachhari Sadar on Dighinalana-Khagrachhari road.
The next day, Bangalees, carrying the body, brought out a procession from Battya Para. Later, some rowdy men vandalised and set fire to over 200 homes in three villages of Longadu, alleging that Nayan was murdered by some indigenous men there.