Long wait gets longer
Eight months on, promise to Longadu arson attack victims for new houses not yet fulfilled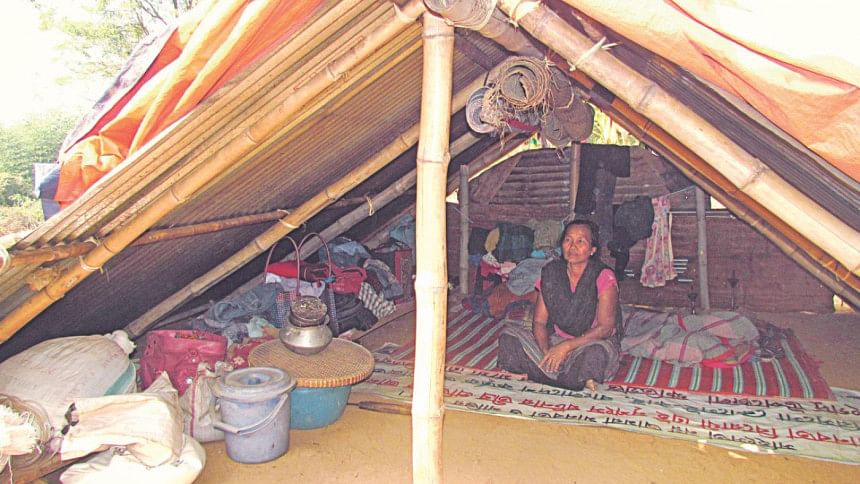 Eight long months after the notorious arson attack by Bangalee settlers on indigenous homes and shops in Rangamati's Longadu upazila, many victims continue to live in makeshift conditions. Promised rehabilitation by the government they still wait, increasingly concerned that what shelter they have now will not withstand the approaching monsoon.
"The government seems to be insincere about victim rehabilitation," says Sanchita Chakma from Tintila village who continues to live on the roof of Manikjowr Chara Primary School. "Many government officials gave us assurances that new homes would be built quickly. But still we are waiting."
Another affected Tintila resident, Kala Chan Chakma, 55, said, "I had hoped our family would be settled in a new house before winter. Winter has come and gone. Soon enough the monsoon will arrive. What will we do then? The administration should organise our new housing as soon as possible."
Hasi Chakma, 35, from Manikjowr Chara village, meanwhile, is finding it hard to maintain an eight-member family on government handouts. "The administration provides only 30 kilograms of rice per family per month. It's not enough for a large family," she says.
When The Daily Star visited the area on 6 February this year, it was observed that a good number of families from the three affected villages of Tintila Para, Manikjowr Chara and Battye Para either still live on the Manikjowr Chara school rooftop or continue to take refuge in the nearby Buddhist monastery.
Yet others, perhaps the majority, have scrambled together temporary dwellings of their own, of bamboo, wood and tents, either perched atop the ashes of their former homes or set up in jungle verges. Understandably, fear of the approaching rainy season is common.
Local officials blame the delay on rehabilitating the victims on the tender process. "The final date for submission for a tender to provide housing for Longadu arson victims was 28 December last year," says the Upazila Nirbahi Officer Mosaddek Mehdi Imam.
"Unfortunately no contractor participated. So there will be a delay. A few days ago we circulated a new tender notice for a larger number of houses. I think this time the contractors will be interested. We also want to see victims in their new homes at the earliest possibility, before the rainy season," he said.
Rangamati Deputy Commissioner Mohammad Manzarul Mannan said, "A tender to build housing for 176 families has been offered twice. There was some dispute over the price of some of the elements required for construction, so contractors didn't participate. This time the Ashrayan project tender is for more homes and the price of bricks, wood and other supplies has been adjusted. We hope these changes will attract contractors."
At the same time many victims are concerned that the perpetrators of the arson are still at large. "Some of the criminals who were involved in the attack still roam freely," says Santi Moy Chakma, a 'Karbari' village leader from Battye Para. "Anytime they can attack us again. We continue to live with that threat."
By way of response, the officer-in-charge of Longadu police station Ranjan Kumar Samonto notes that a case was filed by the police, accusing 29 people of the attack. "They have taken bail from the high court," he says. "Now they are free. But the case is ongoing. Since 10 October 2017 it is being handled by the Criminal Investigation Department in Chittagong."
On 2 June 2017, Bangalee settlers unleashed a series of arson attacks on the indigenous community in Longadu after police recovered the body of local Jubo League leader Nurul Islam Nayan. According to victims more than 200 houses and shops were looted, vandalised and torched during the unrest.