It's planned
Victims say about Longadu attack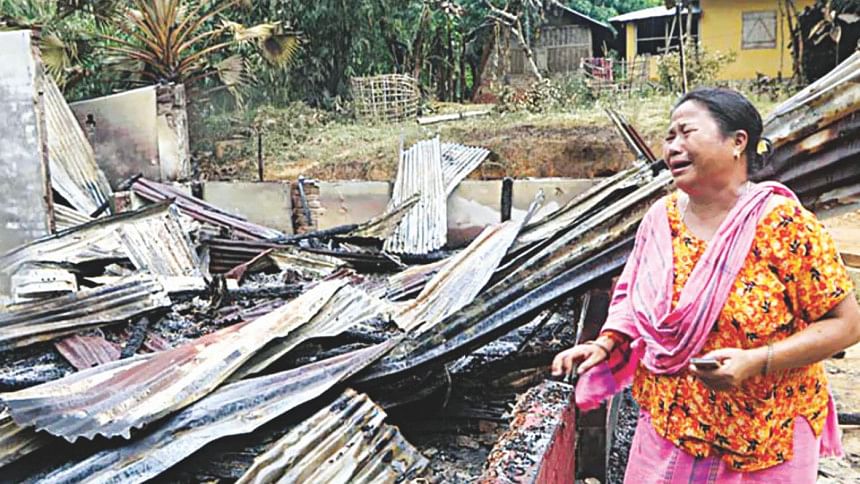 Friday's attack by Bangalee settlers in three villages of Rangamati's Longadu upazila was a planned one to drive indigenous people out of the areas, said a number of victims.  
"If it was not a planned attack, they wouldn't have brought petrol and other flammable materials with them and burnt down our houses," Kulin Mitra Chakma, chairman of Longadu Union Parishad, told The Daily Star yesterday morning.
Kulin Mitra, himself a victim, said, "Many of those who took part in the attacks carried bottles full of petrol and octane, which were hurled at our houses after looting."
He alleged that a woman who had taken shelter in his house was burnt to death as she couldn't move out.
Police, however, rejected the claim.
Following the death of a local Jubo League man, several hundred people from different Bangalee-dominated unions brought out a procession carrying the body and attacked indigenous community houses in Tintila, Manikjhor and Baittapara villages on Friday morning. 
Police on Thursday recovered the body beside the Khagrachhari-Dighinala road at Charmile in Khagrachhari.
According to indigenous leaders, around 1,500 people of some 250 families left homes and took shelter in deep forest after the Bangalee settlers wreaked mayhem. 
Witnesses said local Awami League leader Saiful Islam, Jubo League leader Jewel and an AL-backed union parishad member led the procession from where the attack was carried out.
The Daily Star couldn't contact the trio for comments.
A case over the attack mentioned the names of Saiful and Jewel. Sub-Inspector Dulal Hossain of Longadu Police Station filed it yesterday against 15 named and 300/400 unnamed persons.
Babul Das, organising secretary of the upazila unit AL, admitted that Jewel is involved with local Jubo League. But he denied Saiful's involvement with the AL.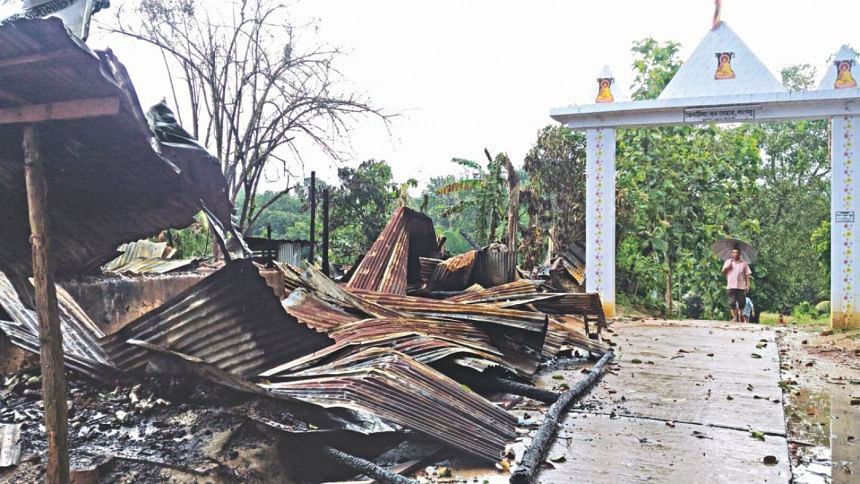 Several indigenous people said that sensing the possibility of such an attack, they had urged law enforcers to take precautions.
"They [law enforcers] repeatedly assured us of security but failed to ensure that," Kulin Mitra said. 
A day after the arson, indigenous people of the three villages were still in panic. Hundreds of them were yet to return to the areas yesterday. 
During a visit yesterday, our correspondents found only 20 to 30 persons in Tintila village, home to 1,500 to 2,000 people.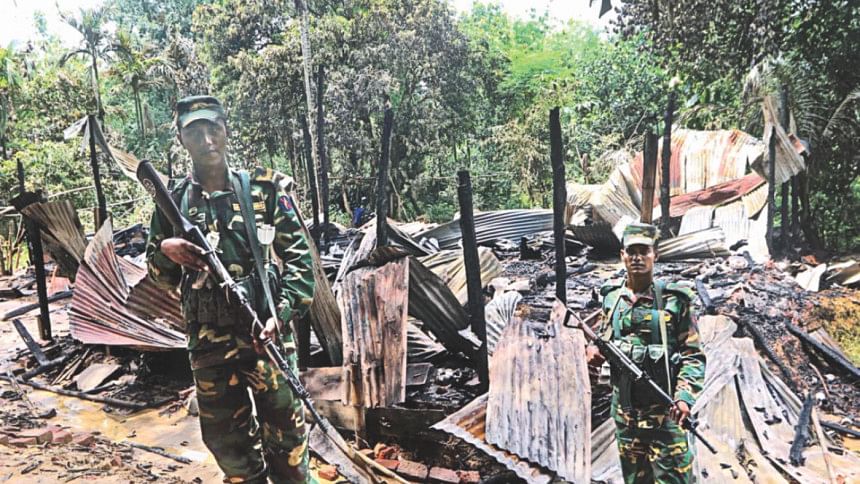 Indigenous people claimed that over 200 homes and shops were looted, vandalised and burned. An official of Longadu upazila parishad, however, put the figure at 110.
In the affected areas yesterday morning, it was seen that many houses and shops were razed to the ground. Smoke was still hovering over the burnt tin roofs.
Just at the entrance to the Tintila village, two tin-shed shops, owned by Harin Chakma and Sohel Chakma, were found completely destroyed. No indigenous people were seen in the area.
A witness said around 15 to 20 people, mostly teenagers, looted and torched the shops.
"Seeing the rowdy settlers rushing aggressively, I fled the shop and went into hiding in a nearby jungle," said Sohel. He could only save his life and the clothes he wore. Everything else in his house and shop were looted or torched.
Walking around a hundred yards along the road in Bottola area, another house was seen in a similar condition. Locals said it was the house of Punyiadhan Chakma. He too fled to the jungle after Bangalee settlers from the procession attacked his house.
Seventy-year-old Nandi Bala Chakma and her husband Buddha Kumar Chakma returned home around noon yesterday and were looking for if there was anything that was not damaged.
"The administration assured us that nothing untoward would happen. Then why did it happen to us? They had virtually killed us by destroying everything we had," she said. 
"Seeing two rowdy Bangalee settlers wielding sharp weapons, we ran to the jungle. We were there till 4:00pm when police and other Chakma people came and rescued us," she added.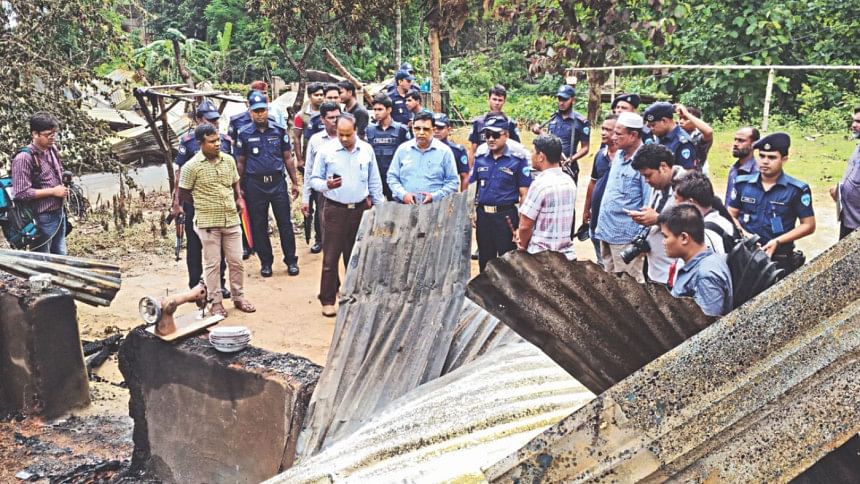 Buddha Bikash Chakma of Tintila village said it was all planned. "If not, why had they bought petrol with them in the procession?"
Another victim, Sadhan Karbari from Battay Para, said the settlers looted valuables and took those away by Mahendra pickups. "It proves that they came to loot and attack us and drive us out of the areas."
Maini Union Parishad Chairman Abdul Barek Sarkar too said the settlers brought many bottles of fuel with them and attacked indigenous people's houses.
Wishing anonymity, a number of locals in the upazila told this newspaper that the attack was carried out to grab indigenous people's land. 
Meanwhile, different organisations, including International Chittagong Hill Tracts Commission and Bangladesh Adibasi Forum, expressed deep concern over the arson attacks.
In a letter addressed to Home Minister Asaduzzaman Khan, the commission said it was "deeply shocked".
The commission also demanded the government ensure safety of the victim families and compensate them immediately.