Longadu attack: Rangamati hartal ends peacefully
Temporary police camp set up at Tintila
A half-day hartal, enforced in protest against the arson attacks on indigenous people in Longadu following death of a Jubo League leader, ended in Rangamati without any report of untoward incident.

United People's Democratic Front (UPDF), a political group of indigenous people, yesterday declared the six-hour hartal from 6:00am today, our local correspondent reports.
READ more: 3 days on, fear still runs deep among hill people

No long-haul or inter-district buses and launches left the district town during the shutdown. A few CNG-run auto-rickshaws were seen plying the roads.

Meanwhile, a temporary police camp has been set up at Tintila village to maintain law and order situation there, SM Moniruzzaman Monir, deputy inspector general of police (DIG), told journalists while visiting Tintila Ban Bihar, a Buddhist monastery, in the morning.

The DIG suspects that the attack was planned as so many housed were burnt and damaged in the incident, the correspondent said.  

He assured that the perpetrators will be brought to book.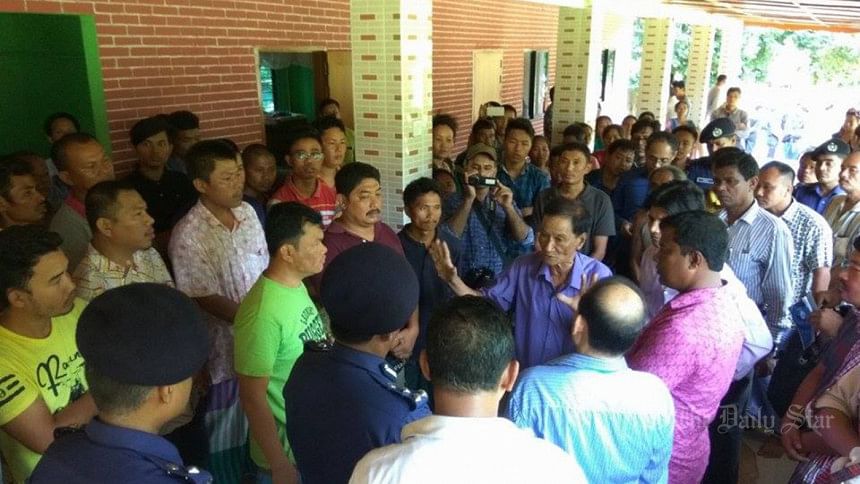 Ruhul Amin, divisional police commissioner, accompanied the DIG   

Contacted, Mangal Chakma, chairman of Atharakchhora Union Parishad, told The Daily Star that no victims came to collect government relief till this morning.

Following the death of a local Jubo League man on, several hundred people from different Bangalee-dominated unions brought out a procession carrying the body on Friday. An attack was launched on three villages in Longadu upazila from the procession.

Five Bangalee youths were arrested yesterday in connection with Friday's attacks. None of them is listed in the first information report.

Police are yet to detain Saiful, Jewel and Qayum, who allegedly led the procession from where the attack was carried out. However, Halim and Shah Alam, brothers of Saiful and Qayum respectively, are among those arrested yesterday.

Sub-Inspector Dulal Hossain of Longadu Police Station filed a case on Saturday against 15 named persons including Saiful, Jewel and Qayum. Three to four hundred unnamed persons have also been made accused in the case.

Seven other named accused were arrested on Friday.