Many houses torched in Rangamati
Attack made after Jubo League leader killing; many indigenous families flee home; section 144 imposed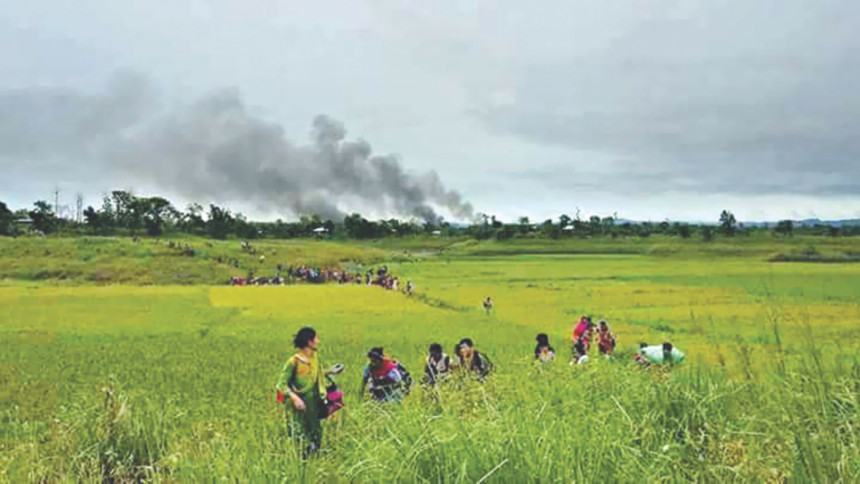 Bangalee settlers unleashed a series of arson attacks on the Chakma community in Rangamati's Longadu yesterday over the death of a local Jubo League leader, police and victims said.
Indigenous people said over 200 homes and shops were vandalised and burned to ashes after they were looted, although an official of Longadu upazila put the figure at 110.
Pulin Mitra Chakma, chairman of Longadu sadar union, said an elderly Chakma woman was hacked to death by the attackers. He identified the victim as Gunamala Chakma, 70,   of Tintila village.
However, there was no official confirmation about it and The Daily Star could not independently verify the claim.
Following the attack beginning around 10:00am, some 300 Chakma families from three villages fled their homes in panic, according to community people. 
Some unverified photos posted on Facebook show dozens of men, women and children carrying backpacks and handbags crossing a canal, presumably to safety.
The district administration has imposed section 144 in the area around noon, prohibiting large gatherings. But several attacks were reported even after that.
Tension was running high in the area since Thursday evening, after police recovered the body of Nurul Islam Nayan, lying beside a road (Khagrachhari-Dighinala) at Charmile in Khagrachhari, a bordering district of Rangamati.
Nayan was the organising secretary of Longadu sadar union Jubo League, a pro-Awami League youth body. He used to carry passengers on his bike in and outside Rangamati for living.
His body was brought to Rangamati yesterday morning from Khagracchari district hospital, where the autopsy was done.
Several hundred Bangalee people then brought out a procession in Longadu Sadar around 9:00am, carrying his body. They claimed Nayan was killed by indigenous people.
Before the procession they held a rally in Sadar area. There, Shafiul Islam, general secretary of Longadu upazila Jubo league, said two indigenous men hired Nayan's bike and that he was found dead after that.
Indigenous people refuted his claim. They said the two people who hired the bike were Bangalees.
Leaders, activists and supporters of all other political parties also attended the rally and the procession, locals said.
Later, the agitators attacked the indigenous people's homes, first in Tintila village and then in Manikjurchhara and Battyapara, community people said.
Some 80 indigenous families are believed to live in Tintila village alone.
Shafiul admitted to have brought out a "peaceful" procession but said he had no idea who carried out the attack.
Police arrested at least three people over the attack.
Talking to The Daily Star, Abu Tayeb, project implementation officer of Longadu upazila, said they were making a list of burned homes. "So far we have made a list of 110 such houses."
Mominul Islam, officer-in-charge of Longadu Police Station, told this newspaper that some Bangalee people brought out a procession accusing "Pahari (hill) people" of killing Nayan.
"The procession turned rowdy and they [protesters] carried out vandalism in different areas."
But he downplayed the scale of the attack, saying some 10 to 15 homes of "Pahari people" were vandalised and torched.
Asked about the unconfirmed reports of a number of deaths, he said, "Nobody was killed in the attack."
He added police were yet to establish who killed Nayan and why.
Kiron Prasda Chakma of Tintila said they informed the local police and the army as soon as the Bangalee people started gathering for the procession. "But police did not act fast enough."
The OC dismissed the claim, saying "Army men were deployed. But things did not happen as promised by the protesters."
Lt Col Rashidul Hasan, director, Inter-Services Public Relations Directorate (ISPR), told The Daily Star by phone that following the attack, members of joint forces were deployed to bring normalcy in the area. He, however, could not provide any detail of the attack and its degree.
Protesting the attack, the Dhaka city unit of Parbatya Chattagram Pahari Chhatra Parishad held a rally in front of the national museum.
Speaking at the programme, Ananya Chakma, who studies at Dhaka University, said she was planning to go home for summer vacation but her house was attacked.
"Where will I go now?" she said.
CONDEMNATION
Different rights organisations, including Ain o Salish Kendra, expressed deep concern over the attack and demanded the arrest and punishment of the attackers.
In a statement, ASK said the attack on the homes and shops of the hill people even after law enforcers, army and local administration were informed is unexpected.
Democratic Youth Forum in a press release said leaders of eight hill tract organisations, including Parbotto Chattagram Nari Sangho, Gonotantrik Jubo Forum and Hill Women's Federation, strongly protested and condemned the incident. 
President of Sammilita Samajik Andolon Ziauddin Tarek Ali and its General Secretary Saleh Ahmed also condemned the attack in a statement.
(Our Rangamati and Khagrachhari correspondents contributed to the story.)