It was a drama, BCL men not involved
Says law minister about attack on Mahmudur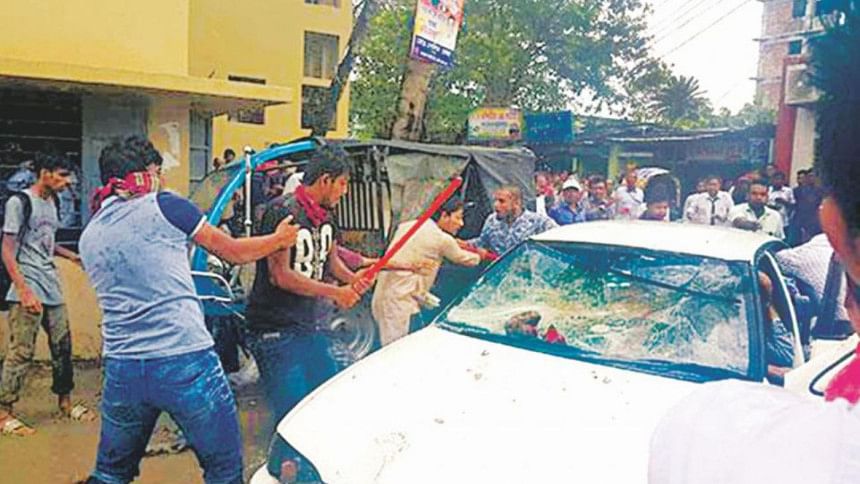 Claiming that the attack on Mahmudur Rahman was a drama, Law Minister Anisul Huq yesterday said Bangladesh Chhatra League did not attack the Amar Desh acting editor in Kushtia.  
"Chhatra League was not involved in the attack, but its name has been implicated," he said while talking to reporters after attending as the chief guest a workshop for lower court judges at Judicial Administration Training Institute in the capital.
On Sunday, Mahmudur, who is known as a pro-BNP-Jamaat intellectual, was attacked allegedly by BCL men on Kushtia court premises after he secured bail in a defamation case filed over "derogatory" remarks about Bangabandhu Sheikh Mujibur Rahman and Prime Minister Sheikh Hasina.
Earlier, Kushtia BCL refuted the allegation of attacking Mahmudur and demanded "justice" through a fair investigation.
It also held local BNP and Jamaat-e-Islami activists responsible for the attack.
Commenting further on the attack, Anisul said it was not possible for him to know how the attack happened as a minister because he had many other urgent tasks.
He made the comment as BNP Standing Committee Member Moudud Ahmed reportedly demanded his resignation over the attack.
Referring to the series bomb blasts on the court premises across the country on August 17, 2005, Anisul said Moudud was the law minister at that time. Two judges were killed. But Moudud did not resign, he added. 
Replying to a question, the law minister said Prime Minister Sheikh Hasina would inform the nation through the media in time how the shape of the election-time government would be. 
Earlier in the day, Anisul spoke at the workshop on "Utilising Mediation as Disputes Resolution" organised by the law and justice division of the law ministry, Japan International Cooperation Agency and Judicial Administration Training Institute.
Law and Justice Secretary ASSM Zahirul Haque, joint secretaries Umme Kulsum and Bikash Kumar Saha and Senior Assistant Secretary Toyebul Hasan also spoke on the occasion.
ARREST WARRANT
A Sunamganj court yesterday issued an arrest warrant for Mahmudur in a defamation case, reports our Sylhet correspondent.
Delwar Hossain, judicial magistrate of Sunamganj, issued the warrant, said Abdul Haque, lawyer of Mahmudur.
"Following a court summon, Mahmudur was supposed to appear before the court, but we appealed for an adjournment of the case proceedings as he was undergoing treatment at a hospital after the attack [in Kushtia]. The court rejected the appeal and issued the arrest warrant," he said.
On December 10 last year, Nazmul Haque Hiron, the then joint convener of Sunamganj district unit BCL, filed the case against Mahmudur over "derogatory" remarks about Bangabandhu Sheikh Mujibur Rahman and Hasina with Sunamganj Police Station.