Arrest warrant issued against Shafiq Rehman
'Plot to kill Joy': Charges against Mahmudur, Shafiq accepted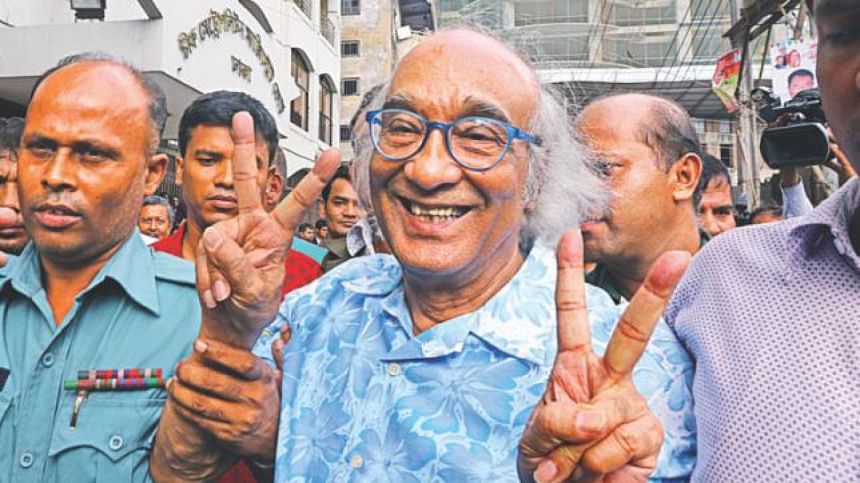 A Dhaka court today accepted the charges against Amar Desh acting Editor Mahmudur Rahman, senior journalist Shafiq Rehman and three others in connection with a case filed over plotting to kidnap and kill Prime Minister Sheikh Hasina's son Sajeeb Wazed Joy.
After accepting the charges, Metropolitan Magistrate SarafuzzamanAnsary issued arrest warrant against Shafiq Rehman and three others.
The three others accused are: Mohammad Ullah Mamun, vice-president of Jatiyatabadi Samajik Sangskritik Sangstha (Jasas), and his son Rizvi Ahmed Caesar, and Mizanur Rahman Bhuiyan, an expat businessman living in the United States.
As they were shown fugitive in the charge sheet, the court fixed April 5 to submit report on execution of arrest warrant. Mahmudur Rahman was present in the court today.
Police on February 22 pressed charges against them for plotting to kidnap and kill Joy.
Police mentioned Shafik Rehman and Mahmudur Rahman as the masterminds behind the "conspiracy to kidnap and kill PM's son Joy" in the charge sheet while Mamun aided and abetted, police said quoting the charge sheet.
Caesar collected information on Joy from the FBI and sent it to the others accused in the charge sheet. Mizanur financed, aided and abetted.
Read: 'Plot to Kidnap Joy': Charge sheet against Shafik Rehman and four others
In August 2015, the DB filed the case with Paltan Police Station in connection with attempting to abduct and murder Joy.
On April 16 the following year, detectives in plainclothes arrested Shafik at his Eskaton Garden Road home.
According to the case statement, Mamun and a number of top leaders of the BNP and its allies met in the UK, the US and various places of Bangladesh before September 2012 and conspired to abduct and kill Joy.
In March 2015, a US court convicted Caesar of bribing an FBI special agent to collect information on a Bangladeshi political figure.
The US justice department did not name the politician, but it is believed to be Joy.
In a Facebook post on March 9, 2015, Joy, also the ICT affairs adviser to the prime minister, accused BNP leaders of conspiring to abduct and kill him.
Shafik, also a British citizen, worked in various media outlets, including the BBC. He came to the limelight after becoming the editor of the weekly Jai Jai Din in 80's.
Mamun and Mizanur are on the run.