It is to know if he was involved
Says home boss about Titu's arrest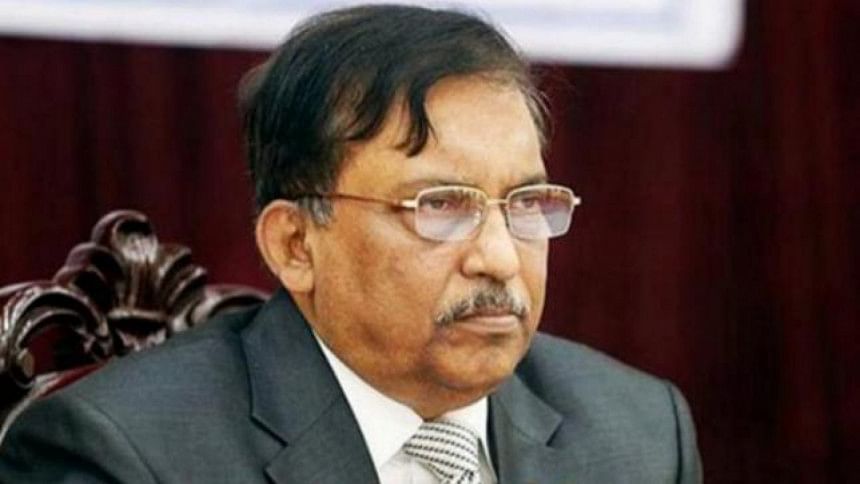 Police have arrested Titu Chandra Roy to know whether he has links to the Facebook post that allegedly led to the mayhem in Thakurbari village of Rangpur, Home Minister Asaduzzaman Khan said yesterday. 
He also said Titu, of Thakurbari village, who was arrested in connection with the Facebook post that "hurt Muslim sentiments", was living elsewhere for the last few years. 
The minister made the comments in reply to a question of journalists at a press briefing in his ministry office at the secretariat.
"A Facebook post was made from the mobile phone of Titu Chandra Roy. If he is found guilty, steps will be taken. If he is found innocent, he will be let go.
"It is true that vested quarters are trying to hatch a conspiracy in the country, but we are tackling it," the minister said.
Police arrested Titu on Tuesday in Jaldhaka of Nilphamari, and the court placed him on a four-day remand.
Earlier, Asaduzzaman said the attack on Hindu houses in Thakurbari was similar to that of Ramu in Cox's Bazar and Nasirnagar in Brahmanbaria. He said this while visiting the village in Rangpur's Gangachara upazila after the attack on November 10.
A man was killed and 20 others were injured after police fired rubber bullets and teargas shells as violence flared up in the village over the alleged Facebook post.
At least 20 Hindu houses were torched and vandalised as religious zealots ran riot there.
Meanwhile, locals raised question about the role of police and the local administration before the attack as a campaign against the Facebook post had been going on for at least five days before the incident by using loudspeakers and distributing leaflets, reports our Dinajpur correspondent.
Deputy Commissioner of Rangpur Muhammad Waheduzzaman told The Daily Star that he was totally unaware of the campaign as the UNOs did not inform him of the matter.
The DC said preventive measures could have been taken had he known about the incident.
The protesters launched the campaign, demanding punishment of Titu, aged about 40, for allegedly making the "anti-Islam" post on Facebook. 
As part of the protest, an announcement was made through the loudspeakers of Paglapir Mosque in Rangpur Sadar on November 4 evening. Protesters brought out a procession that night, locals said.
Rafiqul Islam, president of Paglapir Mosque committee, said he organised a rally on November 4 night when Sirajul Islam, the imam of Koleya Shah Bazaar Mosque, and his aide Alamgir Hossain informed him about insulting Prophet Hazrat Muhammad (pbuh) in a Facebook post.
Police arrested Sirajul on Sunday.
The following day, the campaign started in full swing in nearby villages of Thakurbari after hiring loudspeakers.