House of knowledge
Lalmonirhat student establishes library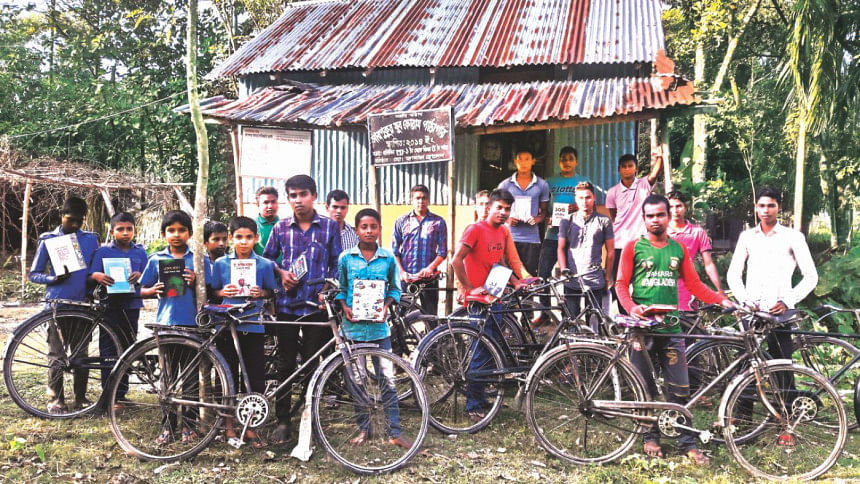 A few years ago when Jamal Hossain, from Tiparbazar village in Lalmonirhat's Aditmari upazila, was a student of class 10, he wanted to enter a literature competition. He hoped to recite a Nirmalendu Goon poem for Brac's Taray Taray Deepshika programme in Dhaka.
But there was a problem. Despite asking around, he couldn't find a copy of Goon's poetry book. Jamal realised his village had a significant problem: no public library.
"Although our village is remote there are many schools," he explains, "but no library. Without one, many students find it hard to extend their knowledge. Alone I started the journey to establish one."
His village library first opened in 2014, housed in a tin shed on land belonging to a development organisation, land designated for a farmer's club. It had 120 books. Jamal, who earns money as a tutor spent Tk 10,000 of his own earnings, and a further Tk 12,000 donated by neighbours to get things started.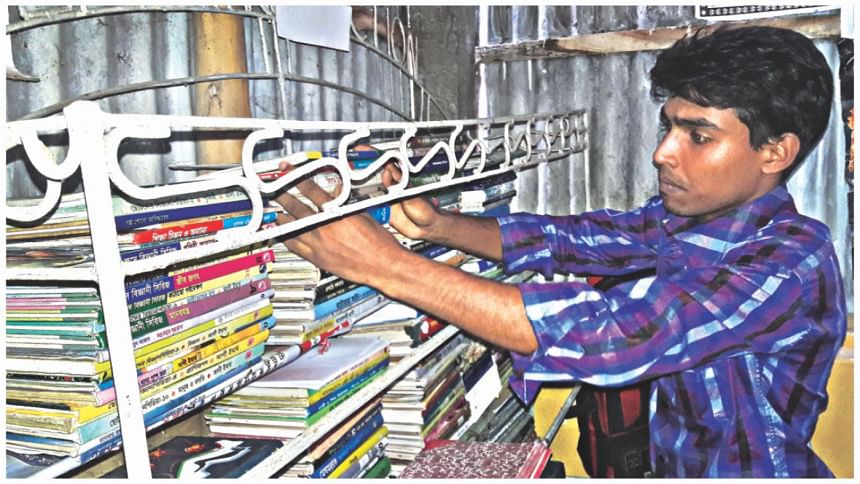 Despite such a modest beginning, the library piqued community interest. Within a year public donations, including the support of other students, had made it possible to build a larger, 96 square foot shed.
Two years later, many of the village's students can hardly imagine living without a library. The institution, open from 1:00 to 5:00pm, attracts around 150 readers daily. Its collection has grown to include 800 books on literature, science and history. Three Bengali daily newspapers are kept.
"This library is playing a vital role in my life," says college student, Mukul Roy, 20. "I visit the library every day to read books and newspapers. I'm so glad to be a member of it."
"Many students come here," says another college student from nearby Sarpukur village, Abdul Jalil Shanto, 19. "We want to improve our knowledge through reading. The library's founder is my junior but I salute him. He worked hard to set it up."
Schoolgirl Khadiza Akhter, 13, from Tiparbazar village is one of many school students who regularly visit. "The library helps us to use our leisure time wisely," she says.
"Jamal Bhai's library is playing a great role in enlightening us," says schoolboy Rumon Ali, 14. "Of course we're thrilled to have such a facility in our village."
Parents and teachers are equally impressed. "Our children are safe from antisocial activities because in their free time they are busy reading in the library," says one local guardian, Pabitra Chandra Roy, 55. "We do our level best to help the library."
"It's not only the students," observes schoolteacher Shamsul Alam, 48, "many teachers also use the library. It's become a place not only to gain new knowledge, but to share it too."
Naturally, the library is an ongoing project. Some of the sheeting of the tin shed that accommodates the library are damaged and ideally could be replaced. There are as yet no desks or chairs. More books and newspapers wouldn't go astray. And while there is an electricity connection, the library has no ceiling fan.
"The needs of the library have been discussed among our library members," says Jamal. "We hope to further develop it. I will spend my own money and also collect funds from other library members and locals as I can."
Yet even at its current stage of development, Jamal is rightly pleased. "I feel proud when I see students busy reading books and newspapers," he says.