For the love of books
Manikganj councillor sets up library as a gift to his community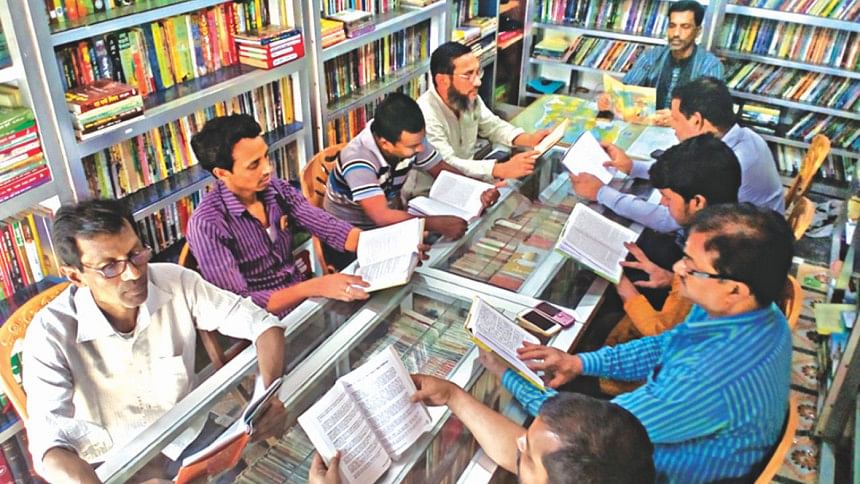 To build an ideal society, it takes ideal citizens. So says Rafiqul Islam, a councillor at Shibalaya Model Union in Manikganj who has served for three consecutive terms. To make an ideal citizen, says the 40-year-old, it takes books. With this in mind, in mid-2006 Rafiqul founded a public library at Aricha Ghat. To share the biographies of past luminary citizens, he believes, is the path to creating enlightened citizens of the future.
"Since childhood I wanted to do something for the society," Rafiqul explains. "Developing the library has fulfilled my dream."
Open every day from 3:00pm to 10:00pm, the library that Rafiqul named "Rohan Pathagar" after his son Raisul Islam Rohan, is housed in a two-storey, 20-by-20-foot building. Its collection features around 10,000 volumes.
From the literature of Rabindranath Tagore and Kazi Nazrul Islam to songbooks of Lalon Shah's creations; from law books to books on ethical journalism and historic Liberation War, the library's shelves stock a good topic range. There are religious texts, children's books, cookery books, scientific works and numerous biographies.
With something for everyone, it can be no surprise that the library is popular. It attracts readers of all ages, both men and women.
"Whenever I get time I go there to read," says local journalist Shahjahan Biswas. "It clears the mind! Every day hundreds of people visit Rafiqul's library."
"So many people have the chance to read books easily thanks to this library," remarks Iqbal Hossain, the president of Manikganj Book Dealers' Association. "There are many well-to-do people in our society who took no such initiative but Rafiqul is not wealthy. Yet he has managed to collect books worth about Tk 10 lakh for the public good. His efforts set an example for us all."
The oldest of three brothers, Rafiqul passed his Secondary School Certificate in 1993, but sadly, his family's economic circumstances did not permit him to pursue his Higher School Certificate. Nevertheless, as a youth Rafiqul was busy. He was involved in several community theatre productions and an active member of the Scout Movement.
"Sports and cultural activities can also encourage young people to participate in the overall welfare of society," says Rafiqul. "But when it comes to a library there is no substitute. People who read gain knowledge. Young people who read are less likely to destroy their lives with drugs. They are less likely to fall into the trap of militancy.
"In the library there are valuable ideas to be discovered, about the state and society," he continues. "Readers can learn about the past struggles and successes of eminent contributors to public life. Such knowledge can improve the quality of today's society. It promotes peace and happiness."
"I am unaware of this particular initiative," says the deputy commissioner in Manikganj, Md Nazmus Sadat Selim, "but libraries are immensely valuable. A library can eradicate superstition from society."