Heritage neglected
Call for preservation of Ananda Mohan Bose's ancestral home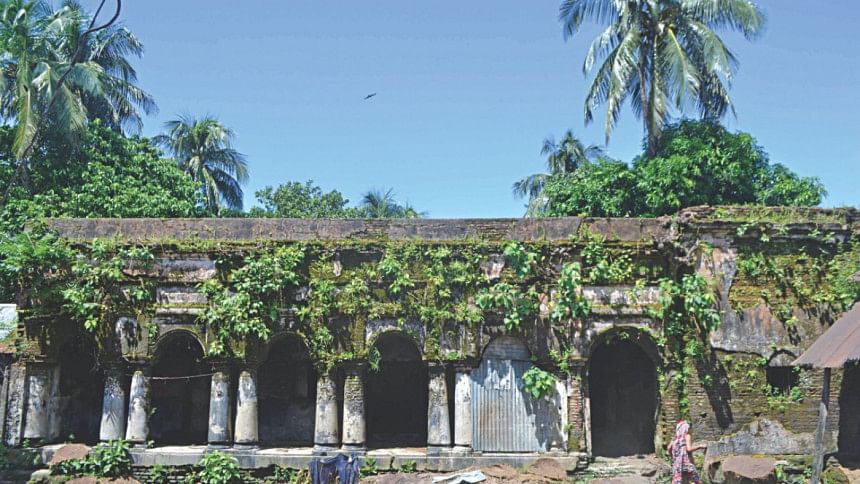 Most visitors who want to see the boyhood home of eminent nineteenth-century social reformer, nationalist and Brahmo religious leader Ananda Mohan Bose in Jaysiddhi village in Kishoreganj's Itna upazila leave disappointed.
The property, said to have originally consisted of seven acres, is currently in the possession of a union-level Awami League leader and his brothers. The homestead isn't well-preserved.
Born in 1847, Bose's achievements can scarcely be overestimated. He was the first Indian to achieve the distinction of "Wrangler" at Cambridge University by attaining first-class honours in mathematics. He was active in organising Indian students to effectively agitate against the colonial regime. His lobbying efforts proved crucial in having Calcutta University recognised as a teaching institution and the university, in turn, nominated him for membership of the Bengal Legislative Council.
Closer to his village home, Bose founded the Ananda Mohan College and City Collegiate School in Mymensingh town. He was committed to the eradication of illiteracy and championed women's education.
"Jaysiddhi village is named after Bose's ancestors Jayram and Siddhiram Bose," says former parliamentarian Fazlur Rahman. "During the 1965 war the Bose family were driven out. That's when Amir Uddin took possession of the land."
Amir Uddin, who died about eight years ago, is a controversial figure. He is the father of the property's current occupants. Fazlur says he was an anti-liberation leader from adjacent Algapara.
"Amir was a local Peace Committee leader during the Liberation War," agrees Itna upazila's freedom fighter commander Nazrul Islam Thakur.
"At first Amir took a 'lease' on the property," Fazlur states. "During the mass upsurge of 1969 the community briefly evicted him; during Yahya Khan's rule he returned."
"Many valuables were looted from the home during the Liberation War," he continues. "Hundreds of books from Bose's library were burned. There used to be two large ponds in front of the home but those were filled in over the years."
Many people in the community want the Bose property preserved as a public heritage site. "On various occasions there have been protests to free the homestead," says Roushan Ali Rossow, a writer and retired schoolteacher from nearby Chilni village. "As influential quarters have an interest, it has never happened."
"If there is any lease it should be cancelled," agrees Moazzem Hossain Babul, former vice-president of the Ananda Mohan College Students' Union and Awami League's district-level secretary. "The Bose property should be freed from occupation. That land is priceless heritage for greater Mymensingh and should be used for public purpose. We will soon launch an agitation to free it."
Kishoreganj district's freedom fighter commander Md Asad Ullah likewise calls for the property to be recovered and developed as a museum.
"A memorandum demanding release of the homestead was submitted to the prime minister last year," says Kamrul Hasan Khan Jewel, convenor of local organisation Jagorito Itna.
Abul Hye, one of Amir's sons and also Jaysiddhi union AL president, refuted the allegation that his father worked against liberation. "My father took out a lease on around two acres, including the Bose homestead, in 1967," he says. "After the Liberation War, the lease was renewed for 99 years. My father wasn't involved with the local Peace Committee. There is no such report in the area."
Md Moshiur Rahman Khan, Itna upazila nirbahi officer, says no allegation concerning the legality of the lease has been raised. "As far as I know the two-acre land was taken on lease, so it is not land grabbing," he says. "As no allegation has been made I have no scope to investigate."
Rakhi Roy, regional director at the archaeology department, says the property is not listed with the department. "We will send a team to the site soon to submit a report to the cultural affairs ministry. If the place is deemed to have preservation merit we will proceed accordingly."