Hard to get safe water
20,000 people in Patuakhali coastal islands face drinking water crisis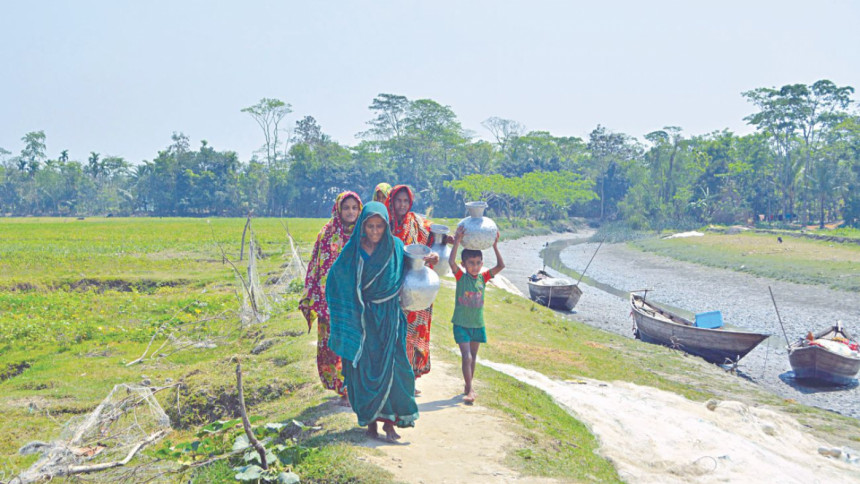 The shifting geography of the country's southern coast creates both opportunity and challenge. Eight remote shoals twenty kilometres east of Bauphal upazila town in Patuakhali, which have hosted basic farming and fishing communities for about sixty years, were in 2014 formalised into a new administrative unit: Chandradip union. Despite formal recognition as a new community, the islands with a population of around 20,000 people retain many frontier challenges. Foremost among them is safe drinking water.
In Chandradip there are 27 tube wells, eight of which are in a state of disrepair. For many residents, using river or pond water for drinking is still the only practical option.
"We have to collect drinking water from the Tentulia River," says Rahima Begum, a housewife from one of the shoals, Char Kachua. "The only tube well is around half a kilometre from my house but for the last two years that has been out of order." She purifies the river water with potassium alum, known locally as 'fitkiri'.
"We often suffer diseases like diarrhoea and dysentery from the water we drink," says Begumjan, another housewife from the same shoal. "We drink impure river water year-round."
Indeed, all 300 residents of their village similarly rely on river water.
In another part of Char Kachua, villagers draw water not from the river but from the lone pond at Ismail Howlader's house. During the dry months pond water becomes scarce and particularly discoloured.
"We use this water for all household work," says Idris Matbor, a local tea stall proprietor. "Bathing, washing and drinking: all is done with pond water. We have urged our council members and the union chairman to install a tube well, but in vain."
"This is a remote area," says the local chairman Md Anamul Haq Mollah. "People in our community are deprived of many rights including access to pure drinking water. We face a shortage of tube wells."
Yet the shoals of Chandradip are not alone. Shoal-dwellers in other unions within Bauphal upazila, and in neighbouring Rangabali and Galachipa upazilas as well, face the same drinking-water problem.
"We are planning to address the water crisis across the shoals," says the local executive engineer for the public health and engineering department, Mohammad Mahmud Khan. "We hope the plan can be implemented as a matter of priority."
In the meantime life on the frontier shoals continues to harbour struggle. Water is not the only issue. Health and education facilities could also be improved.
It may be that Bangladeshis are rightly described as indefatigable. It may be that those who live on the shoals between mainland and sea are among the most resilient of all. Still it is to be hoped that the hardship of daily lives in such remote communities may soon find a little respite, the respite that access to safe drinking water can bring.