Fresh quota demo from Sunday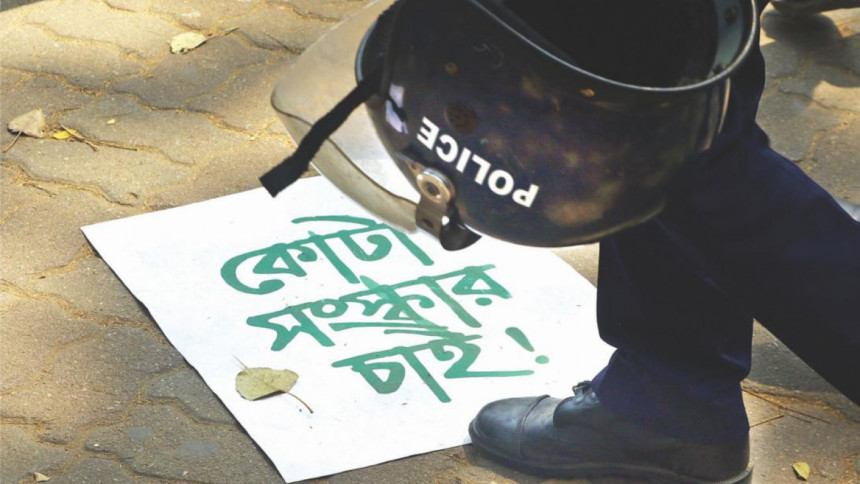 Jobseekers will launch fresh demonstration from Sunday demanding a gazette on abolition or reformation of the quota system in public service.
"We have been demonstrating since February 27 to press home our five-point demand. The prime minister on April 11 said the quota system would be abolished. She reiterated that after returning from Australia. But there is no progress in publishing the gazette yet," Nurul Haque Nur, joint convener of Bangladesh Shadharan Chhatra Adhikar Sangrakkhan Parishad, told The Daily Star.
Meanwhile, Senior Secretary of Public Administration Ministry Mozammel Haque Khan said a proposal for forming a committee in this regard was sent to the Prime Minister's Office.
"The committee will be formed after the PM's approval. The next step will be known after the committee submits its report," he said.
Nurul Haque Nur, however, said the government was trying to stage a "new drama".
"We all know that there is no need to form a committee to publish a gazette. The government is now trying to foil a legitimate movement of the students," he said.
He added that the demonstrations would continue until their demands were met.
Students and jobseekers across the country launched widespread demonstrations under the banner of Bangladesh Shadharan Chhatra Adhikar Sangrakkhan Parishad on February 17 to press home their five-point demand including reduction of the quota privilege to 10 percent from the existing 56 percent.
Students of public and private universities across the country took to the streets in support of the demand. The protesters blocked key points in the capital and roads and highways elsewhere.
Amid mass protests, Prime Minister Sheikh Hasina in parliament on April 11 declared that the quota system would be scrapped. Protesters called off their agitation the following day.
The quota system was introduced through an executive order in 1972 and has been amended several times since.