Flash floods hit greater Sylhet dists
Part of embankment washed away; Boro crops damaged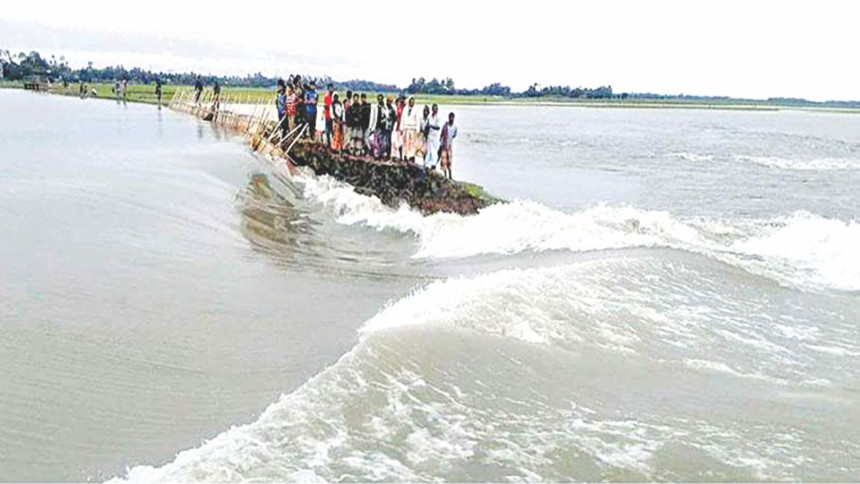 Incessant rain for the last nine days coupled with the onrush of water from the hills in bordering areas have triggered flash floods in the greater Sylhet region and adjacent districts, inundating vast areas of farmland and causing sufferings to Boro farmers.
The rainfall in Sylhet from March 28 till yesterday was four times more than it had rained in those days last year, Abdul Mannan, a meteorologist from the Bangladesh Meteorological Department, told The Daily Star.
Heavy rainfall was also recorded in the bordering Indian states of Meghalaya and Assam, causing the flash floods, said Sazzad Hossain, an executive engineer of Flood Forecasting and Warning Centre.
Such flash floods usually strike the hilly areas of greater Sylhet in the second half of April, but they have come early this year, Mannan said, adding, "As far as my knowledge goes, such early flash floods had last hit the regions six to seven years back."
The early strike has left the local farmers with no chance to harvest their crops, mainly Boro. 
"We were hoping to have a good yield this year. But the flash flood has shattered all our hopes," said Lokman Ahmed, a Boro farmer of Dharmapasha in Sunamganj.
Thousands of farmers in Sylhet, Moulvibazar and Habiganj suffered the same fate. They were about to cut the harvest within a couple of weeks.
This year, the government had fixed a target to produce 35 lakh tonnes of Boro in 456,714 hectares of land in the four districts of Sylhet division, according to Department of Agricultural Extension (DAE) data.
However, almost 129,172 hectares have already been inundated till Tuesday evening, said Mamun-Ur-Rashid, deputy director of DAE in Sylhet.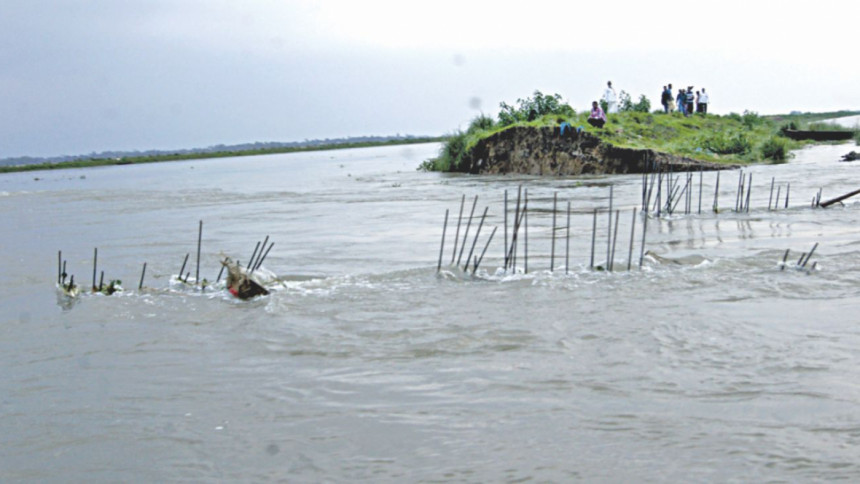 The worst-affected areas are Dharmapasha, Tahirpur, Bishwambarpur, Jagannathpur and Chhatak upazilas of Sunamganj; Companiganj and Gowainghat upazilas of Sylhet and Hakaluki Haor basin of Moulvibazar.
Sylhet Divisional Commissioner Nazmanara Khanom said early flash flood in haor areas caused a huge loss to Boro farmers.
According to the statistics of Haor Advocacy Platform, farmers of the low-lying Haor areas could not harvest crops seven times between 2001 and 2016.
Kasmir Reza, president of Paribesh and Haor Unnayan Sangstha, said, "Without dredging rivers, crops of the Haor cannot be protected."
In Moulvibazar, flash floods hit the vast areas of Barlekha, Kulaura and Juri upazilas, reports our correspondent.
Many places in Barlekha Sadar, Kathaltoli, Dakhinbag, Tetli village and Hakaluki Haor went under water amid continued rain till yesterday.
Meanwhile, Bilash Chandra Pal, deputy director of in DAE, Netrakona, said, 16,880 hectares out of 184,320 targeted for Boro cultivation in eight upazilas of the district went under water.
Mohammed Tofael Ahmed, upazila nirbahi officer of the district's Khaliajury upazila, said 23 small and large dams had been damaged till yesterday, reports our correspondent there.
The situation took a turn for the worse after the "Kirtankhola Dam" was washed away at a point on Monday.
Abu Taher, executive engineer of Water Development Board in Netrakona, said heavy pressure of water from the Dhanu and Surma rivers destroyed a part of the 51-kilometre dam.
In Kishoreganj, 19,730 hectares out of 165,515 targeted for Boro cultivation were flooded in last two days, said Shafiqul Islam, deputy director of DAE in the district.
RAIL LINK DISRUPTED
Sylhet's rail communications with Dhaka and Chittagong remained suspended since 2:30pm yesterday after a bridge connecting Srimangal and Sathgaon railway stations was damaged. Rain washed away some mud around the pillar of the bridge, said railway sources.
The authorities were working to fix it, said Station Master Jahangir Alam of Srimangal Railway Station.