Five children buried alive in Cox's Bazar landslides
Five children, including four siblings, were killed in landslides triggered by torrential rain in Cox's Bazar yesterday.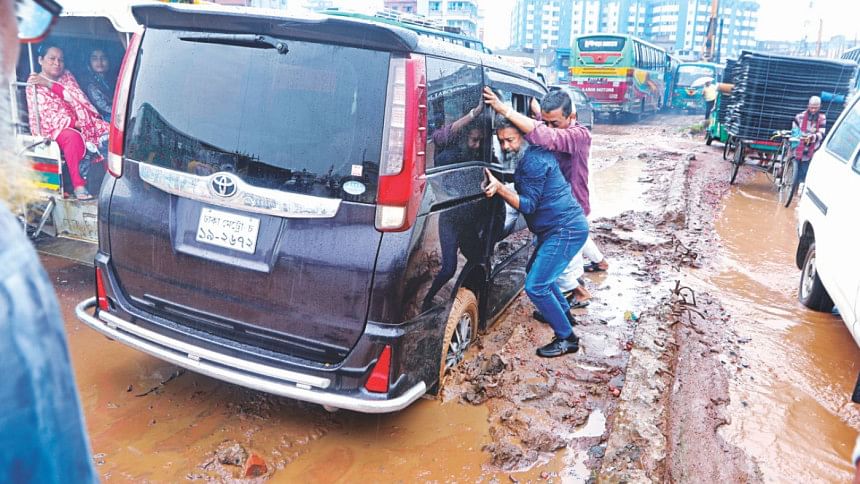 Five children, including four siblings, were killed in landslides triggered by torrential rain in Cox's Bazar yesterday.
A huge chunk of mud from a nearby hill fell on the house of Jamal Uddin, who works in Malaysia, and buried his four children alive when they were asleep at Bachamiar Ghona in Cox's Bazar town around 6:00am.
The four are Marjia Begum, 15, Papiya Begum, 10, Abdul Hye, 8, and Khairunnessa, 6, said Farid Uddin Khandaker, officer-in-charge of Cox's Bazar Model Police Station.
In another landslide, Morshed Alam, 6, son of Zakir Hossain of Panerchhara in Ramu upazila, was killed when a chunk of earth collapsed on their house around 3:30am.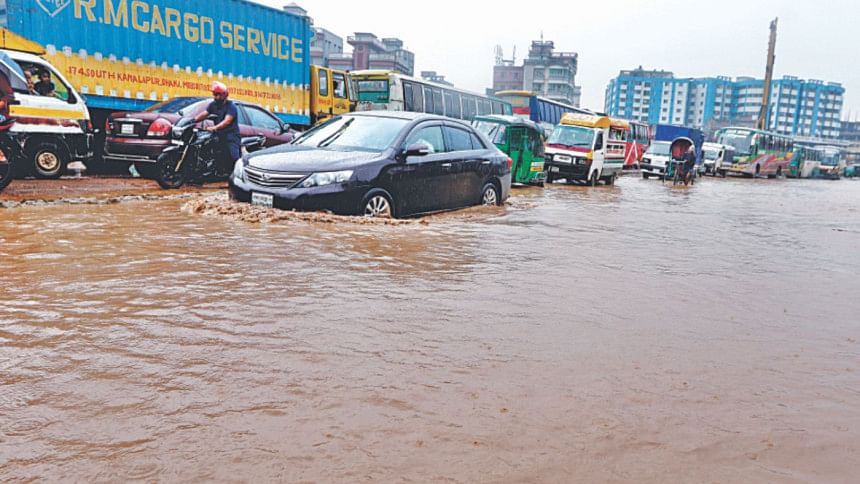 Meanwhile, heavy rain caused waterlogging in different parts of the capital, disrupting city life.
Kazi Abdur Rahman, acting deputy commissioner of Cox's Bazar, said they already gave Tk 20,000 to each of the two affected families. 
They have started their activities of relocating the people who are living in risky areas, he added.
Around 228mm of rain has been recorded in the district in 24 hours till 6:00am yesterday, the highest rainfall in a single day this monsoon, according to Cox's Bazar Met office.
Amid heavy rains in June last year, over 150 people were killed in landslides in Rangamati, Chittagong, Bandarban, Cox's Bazar, Khagrachhari and Moulvibazar.
The two landslides in Cox's Bazar happened yesterday, hours before Environment and Forest Minister Anisul Islam Mahmud sought deputy commissioners' help in preventing landslides. 
The minister made the call while holding a meeting with the DCs at the secretariat.
Anisul said some 5,000 acres of forest in Cox's Bazar had been destroyed, and the government had been working to see how it could go for plantation in those areas. 
He requested the DCs to remain more cautious as the risks of landslide are high during the rainy season. The risks have increased in Cox's Bazar as over seven lakh Rohingyas, who fled violence in Myanmar's Rakhine State since August 25 last year, are now living in makeshift camps.
In fear of landslides, some 37,000 Rohingyas have already been relocated.   
Talking to reporters after the meeting with the DCs, Anisul said major factor behind the landslides was mindless felling of trees and illegal housing on hill slopes.
"The problem of landslides will continue if illegal structures are not removed from the hills," he said, adding that illegal hill cutting too must end.
The minister also requested the DCs to check river grabbing, sand and stone extraction, setting up of new brickkilns and spread of polythene.
WATERLOGGING DISRUPTS CITY LIFE
In the capital, waterlogging amid heavy rains until yesterday afternoon caused traffic jams in various parts of the city.
Office-goers had to come out of their houses with umbrellas in the morning and they had to be on streets for hours as vehicles got stuck in traffic jams or became slow in many places due to waterlogged streets.
Mohammad Jamil, who travelled to his office in Tejgaon from Old Dhaka, said he experienced congestion in Motijheel area due to waterlogging.
Saurav Dey, an executive of a private firm, said it took him nearly two hours to go to Gulshan in the morning. When he returned home in Mohammadpur at noon, he got stuck in traffic for nearly an hour at Bijoy Sarani intersection.
Meanwhile, Met office yesterday said monsoon was active over Bangladesh and moderate over the North Bay, and light to moderate rain or thunder showers accompanied by temporary gusty wind was likely to occur at most places in Rajshahi, Rangpur, Dhaka, Mymensingh, Khulna, Barisal, Chittagong and Sylhet divisions.
"Moderately heavy to very heavy rainfalls may occur at places over the country," says a Met office bulletin forecast for 24 hours until 9:00am today.
Our Cox's Bazar correspondent contributed to this story.