Fighting for a good cause
Freedom fighter uses part of his allowance to keep afloat school he founded in 1999, seeks govt help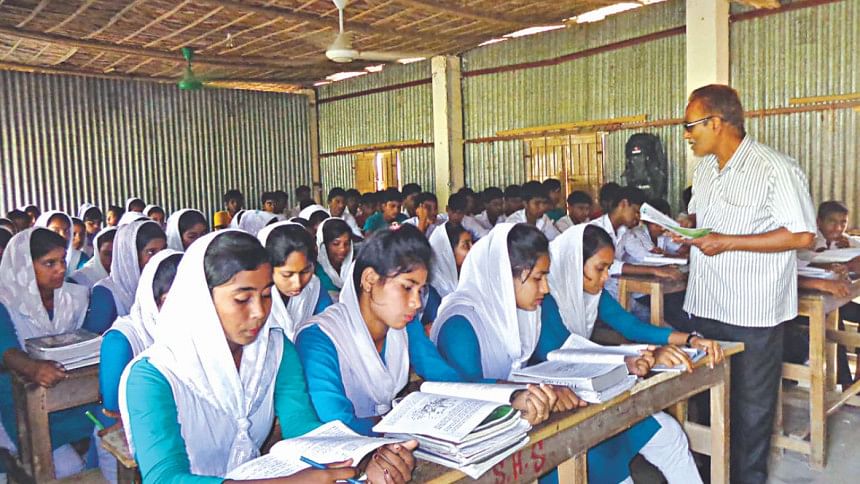 Freedom fighter Hafizur Rahman of Tangail's Dhanbari village was gearing up for his Secondary School Certificate exams when the Liberation War began. It might be the reason that, when liberation finally dawned, he dreamt to establish a high school for disadvantaged children. It took a long time to realise his dream. Now, on the eve of his retirement, the challenge is to keep the Shalgram High School he founded on a Jamuna river shoal in Sirajganj running.
On the morning of March 26, 1971, when Hafizur heard via radio news broadcast of the first attack of the conflict that had occurred the previous night, he resolved at once to join the liberation cause. The farmer's son was boarding in Dhaka at the time, preparing for his exams which were scheduled to take place in April. Events led him instead to return to his village home, where he organised with 11 other youths to join the war, which they did under sector-11 from June 1971 until victory was achieved.
Thereafter, Hafizur was able to continue his study, ultimately graduating in 1977 with a Bachelor of Commerce. "As a freedom fighter I was able to take a government job without difficulty," says Hafizur, adding, "But I thought more about the families living on the Jamuna river shoals. Their children were often deprived of the education I had enjoyed, because in many shoal areas there was no high school."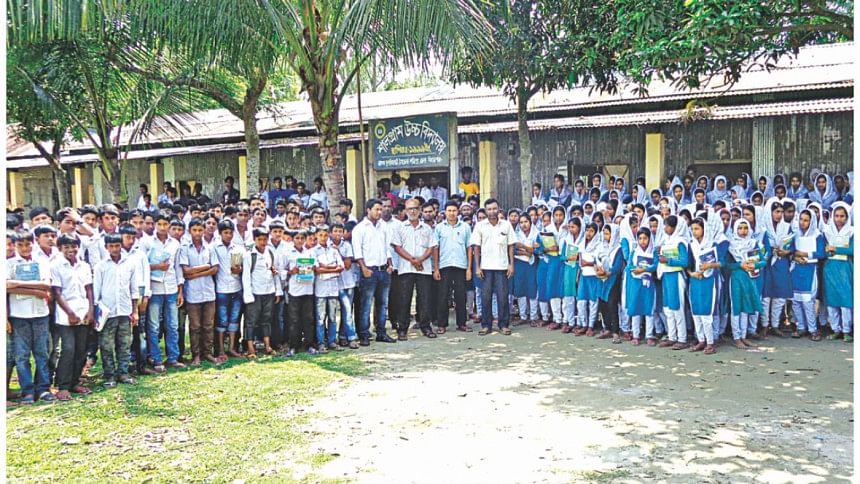 He tried on several occasions to start a high school but found little cooperation from solvent members of the local shoal communities. Eventually, with the support of the villagers of remote Shalgram in Munsur Nagar union of Kazipur upazila, his dream high school opened its doors in 1999.
That first year the school had just 35 students with Hafizur as both founder and head teacher. Nowadays, there are 550 students, among them 247 girls, enrolled in classes six through to 10. The high school has 13 staff including the 10 teachers.
"For the past 18 years Shalgram High School has given children from the Jamuna shoals the chance to be educated," says Abdur Razzak, president of the school's management committee.
The first students of the school appeared for their Secondary School Certificate examinations under the Rajshahi Board in 2010. "Results have been good since then," says Hafizur. "Now the students, many of whom are from poor families, have reasonable access to secondary education. They can pursue higher education more easily too."
Nonetheless, Hafizur is worried about his school. "We are yet to become a beneficiary of the government's monthly payment orders despite repeated requests to the authorities concerned," he sighs. "The teachers and other staff are working hard but suffering from severe financial hardship. At times I cannot pay them fully because our students can't always pay their tuition fees."
Sometimes Hafizur uses money from his freedom fighter allowance to keep the school running. "I can do that until October this year which is when I have to retire," he says. "I don't know what will happen to the school after that."
Hafizur yet hopes the government will support the school via monthly payment order. "If that could happen before I retire, my lifelong dream will be secure," he says.