Fallout from Inter-Faith Marriage: Police move to end family's sufferings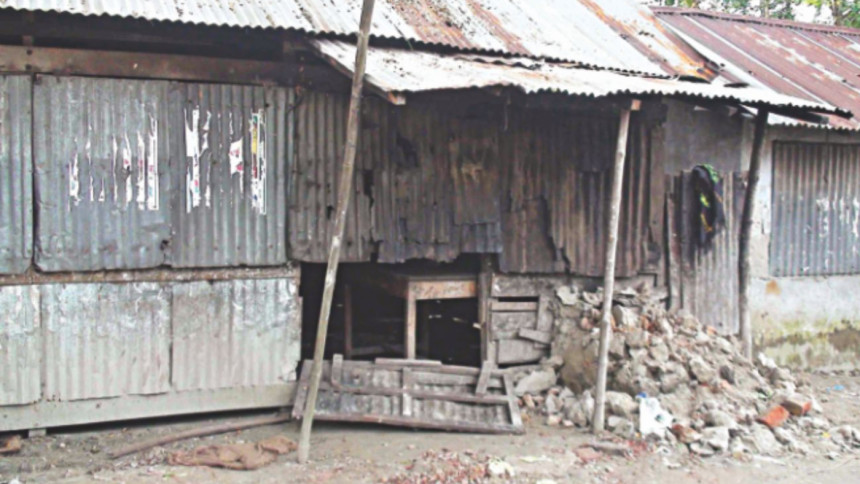 Police yesterday reopened the tea stall whose owner was forced to close it for over three months by local UP chairman in Pirojpur's Nesarabad upazila.
Victim Nurul Haque alleged that Mahmud Kabir Talukder alias Sabur, chairman of Samudoykathi Union Parishad, pressurised him to shut down the shop as Nurul's daughter developed a relationship with a Hindu youth, who converted to Islam and married her.
Police reopened the shop following a written complaint from Nurul in this regard, said Shahidul Islam, officer-in-charge (investigation) of Nesarabad Police Station.
Nurul, 60, from Rajbari village of the upazila, said he had been living with his family in Sagarkanda Bazaar for over 20 years.
He has four children -- three daughters and a son.
Nurul said around six or seven months ago, his second daughter Sonia Akter, 20, fell in love with a Hindu youth, Sumon Mondal, 32, of Shashid village in the upazila.
After learning of the relationship, influential locals, including UP Chairman Sabur, became angry with the family.
They held a village arbitration at the bazaar over three months ago and asked Nurul to shut down his tea stall, the only source of income of the family. 
"For over three months, I could not earn any money," said Nurul, adding that they had to pass many days without food.
He already sold his goats and hens to run the family.
"Almost every day over the last three months, I went to the chairman and requested him to let us reopen the tea stall. But he did not pay heed," said Shadida Begum, 40, wife of Nurul.
Their son, Nahid Sheikh, 15, is a class nine student and youngest daughter Sumaiya took part in this year's Primary Terminal Examinations. Their education was hampered as they could not fulfil the children's needs due to the financial problem, Shahida added.
On November 23, Sumon Mondal converted to Islam from Hinduism. Three days later, he married Nurul's daughter Sonia and started living with his in-laws. 
On Saturday, Nurul reopened his tea stall for the first time with the help of some locals.
Nurul said hearing it, the UP chairman summoned Nurul to his house and asked him why he reopened the shop. At one stage, he began to beat him up.
On Saturday night, some supporters of the chairman vandalised the tea stall, he alleged.
Talking to The Daily Star, Mujibur Rahman, a supporter of the chairman, said the whole society became angry with Nurul's family following the incident of a Muslim girl marrying a Hindu boy. 
He said that to keep the situation calm, they asked Nurul to close his shop as per the decision of the village arbitration.
Contacted, UP Chairman Sabur had said on Wednesday they would allow him to reopen the shop within a few days.
But he denied the allegations of assaulting Nurul and vandalising his shop.
Sabur also claimed that the local police station knew of the incident of shutting down the shop. 
Shahidul Islam, officer-in-charge (investigation) of Nesarabad Police Station, termed the chairman's claim baseless.