College teacher hacked at home
One of three attackers caught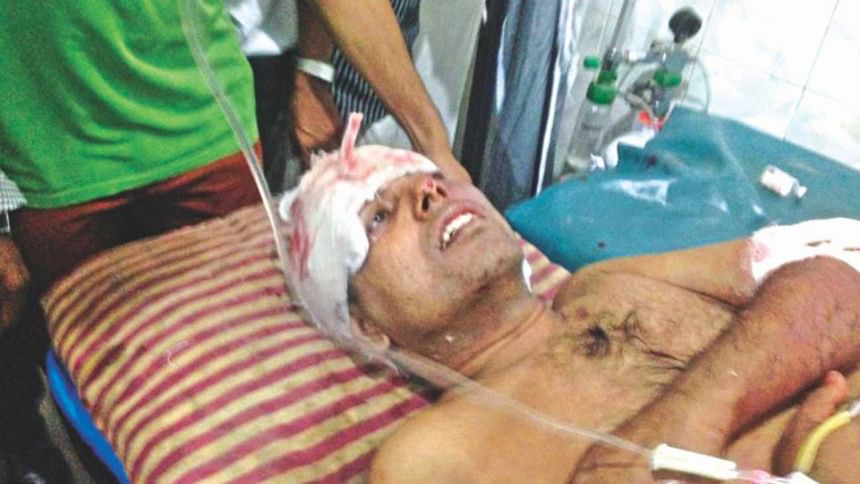 A college teacher was badly hacked inside his home in Madaripur yesterday, amid a countrywide crackdown against militants and criminals.
Three men took part in the attack and one of them was caught by locals while fleeing. They later handed him over to the police. Police identified him as Golam Faizullah, of Chapainawabganj.   
Ripon Chakraborty, a lecturer of mathematics department at Government Nazimuddin University College in Madaripur, was taking treatment at Barisal Sher-e-Bangla Medical College Hospital.
Doctors there operated on him for his head injuries and said he was "out of danger".
He suffered four deep wounds in his head and one in one hand, one doctor said, asking not to be named.
The attack happened around 4:30pm at Ripon's rented house near the college's main gate.
Monimala Roy, the victim's wife, said Ripon was taken to the post-operative care unit. He is out of danger now.
"As far as I know, my husband has no enemy," Monimala, also a teacher of Gouranadi High School, added.
A top police official, who did not want to be named, said the attack bore similarities to the ones carried out by militants.
Over the last three years, suspected militants have attacked and killed university professors, writers, publishers, secular bloggers, gay rights activists, foreigners, policemen and members of religious minorities, including Shia and Sufi Muslims, Christians and Hindus. About 50 people have become victims of such targeted killings since February 2013.
Reportedly, Islamic State claimed responsibilities for many of the attacks. But the government maintains the group has no presence in the country, and blames the opposition parties for those.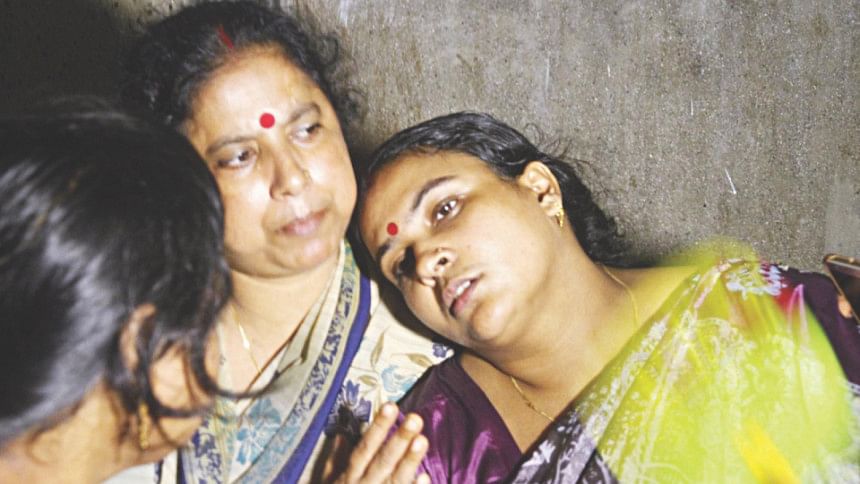 Faizullah, son of Golam Faruque of Dighirpar village in Chapainawabganj, is now in police custody, police said, adding that he went to Madaripur from Dhaka.
They, however, could not say why and when he went there or why he took part in the attack.
"We are quizzing him to know whether he is a member of any militant organisation," said Moniruzzaman Fakir, assistant superintendent of police of Madaripur circle.
Ripon is from Bilugram of Gouranadi upazila in Barisal. He lives on the ground floor of the house owned by Sobhan Munshi.
Sobhan said that after returning from the college around noon, Ripon was in his room. Around 4:30pm, three youths knocked on the door. As soon as he opened the door, they swooped on him with sharp weapons.
Hearing his screams, locals rushed to the spot and caught Faizullah.
Meanwhile, Education Minister Nurul Islam Nahid condemned the attack and asked the local authorities to immediately find those responsible. He also directed the Barisal Medical College Hospital authorities to ensure Ripon's proper treatment.