Hacking of Madaripur College Teacher
'Attacker says he is Hizb-ut Tahrir man'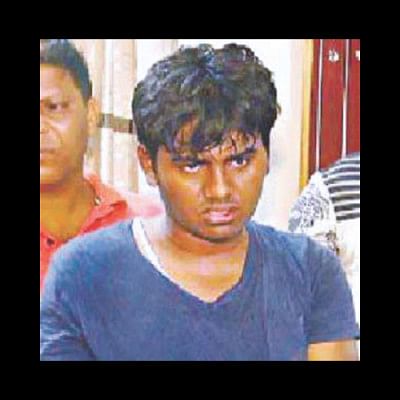 Golam Faizullah Fahim, one of the three attackers who badly hacked a Madaripur college teacher on Wednesday, has admitted to be a member of banned militant outfit Hizb-ut Tahrir, says the district police chief.
Faizullah told interrogators that he had joined Hizb-ut Tahrir very recently. Some "former students" of Uttara High School and College in Dhaka and two staff of a book shop near the college persuaded him into joining the organisation. 
He was suffering from some sort of mental depression when he came in touch with the former students, including one named Jubayer Ahmed, and the book shop staff.
Under their influence, he gradually became radicalised, Madaripur Superintendent of Police Sarwar Hossain told The Daily Star yesterday.
Faizullah also said Jubayer and some other militants at a meeting decided to kill Ripon Chakraborty, a lecturer of mathematics at Government Nazimuddin University College.
As per the decision, Faizullah and two others went to Madaripur to carry out the mission. They always avoided cellphone conversation and maintained communications through SMS.
Although the two other attackers managed to flee after Ripon was hacked in his home, Faizullah was chased down and caught by locals. 
The attack came amid a countrywide police crackdown on militancy.
Over the last three years, suspected militants have attacked and killed university professors, writers, publishers, secular bloggers, gay rights activists, foreigners, policemen and members of religious minorities, including Shia and Sufi Muslims, Christians and Hindus.
About 50 people have become victims of such targeted killings since February 2013.
Responsibility for most of the murders was reportedly claimed by either Islamic State or Ansar al Islam (Bangladesh Chapter of al-Qaeda in Indian Sub-continent).
This is for the first time the name of Hizb-ut Tahrir came up in connection with such an attack. The government banned all activities of this outfit in October 2009 in the interests of public security, saying the organisation had been carrying out anti-state, anti-government, anti-people and anti-democratic activities for long.
According to police sources, Faizullah looked "hypnotised" during interrogation. In the face of extensive quizzing, he often said "whatever he had done was for Islam and Allah", added the sources.    
On Saturday, Faizullah went out of his house around 9:30am, saying he was going to a friend's in Tongi to take preparation for his HSC practical examinations. He did not return since then.
Within an hour of his leaving, the father received an SMS purportedly from his son. It read that Faizullah was going aboard and will meet his family again if he remains alive, according to the investigation office of the general diary the father filed on Saturday night.
Police teams from Madaripur and Detective Branch in Dhaka yesterday raided Faizullah's house at TIC Colony of Faidabad in Dakkhin Khan in the capital and different places in the city's Uttara but could not arrest those named by him.
DB police picked up his mother Kamrunnahar and seized a computer and some documents from the residence, said Asaduzzaman, brother-in-law of the house owner Nazimuddin.
Faizullah's father Golam Faruq, who works at a garment factory, was not found in his Faidabad home -- a first-floor apartment in a five-storey building. His cellphone was switched off. 
Asaduzzaman said the rent of Faruq's house is Tk 13,500 a month. He met Faizullah once or twice and the youth had no friends in the neighbourhood.  
A woman from the next flat, wishing anonymity, said Faruq's family rented the flat one and a half years ago but she has not seen Faizullah yet.
Afrin Aktar, one of his teachers at Uttara High School and College, said Faizullah was regular in class and obtained GPA-5 in SSC.
He was an HSC examinee from this institution and remained absent in last day of theory tests on Saturday, said the teacher.  
Faizullah's village home is at Dariapur in Chapainawabganj municipal area. There, his uncle Emdadul Haque told our correspondent that the youth was born in Dhaka and he used to visit the village with parents once or twice a year.
Police picked up Emdadul on Wednesday night but freed him after quizzing. He said another uncle of Faizullah is a top official who had served as a police commissioner at a metropolitan city.
Faizullah, who was with police during the raids in Dhaka, was taken back to Madaripur last night as he would be produced before a court today.
No case was filed in connection with the attack on the teacher till 8:00pm yesterday, said Additional SP of Madaripur Uttam Kumar Paul. As the victim's family members are busy with his treatment, they are taking time to file the case. 
Kamrul Islam, officer-in-charge of Madaripur DB police, said they seized a machete used in the attack near the place of occurrence early yesterday.
Ripon Chakraborty, who is undergoing treatment at Barisal Sher-e-Bangla Medical College Hospital, had suffered injuries in the head and shoulders.
His condition is improving, doctors say. 
"After examining the CT scan report, we have found that the teacher is out of danger," said Associate Professor Dr Nazimul Haque of Surgery-2 unit.
Two of the four injuries in the head were serious, added the doctor.  
In his statement before a detective team from Madaripur yesterday around 1:00pm, Ripon said, "I don't know who they were. I think they followed me from my college. When I crossed my gate, they followed me and suddenly started chopping".
Different organisations demonstrated in front of his college and the residence of deputy commissioner of Madaripur around 11:00am yesterday, protesting the attack and demanding arrest and punishment to the attackers.
[Shaheen Mollah and Rabiul Hasan Dollar also contributed to this report]