Autorickshaw Strike
City people suffer badly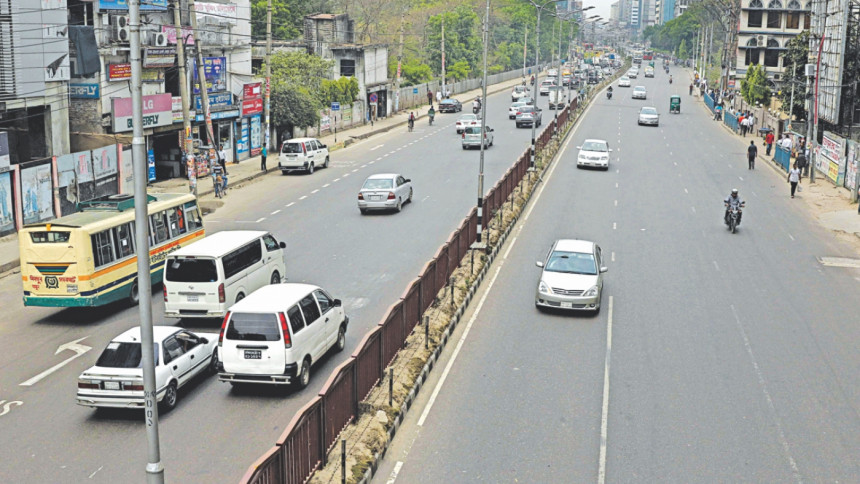 City dwellers had to endure transport crisis yesterday, especially during the morning rush hour, as a section of the CNG-run auto-rickshaw drivers went on a 24-hour strike.
The situation however started to become normal towards the afternoon.
Dhaka District Four-Stroke Auto-Rickshaw Drivers Union observed the strike from 6:00am to press home their 7-point demand that included ending "harassment" by traffic police, collection of higher deposits than the government-fixed rate of Tk 900 per day, and release of drivers in jail.
Another section of the driver's union -- Dhaka Auto-Rickshaw Sramik Union -- and owners' body Dhaka Mahanagar CNG Owners Association termed the demands "illogical".  
Taking the advantage of the crisis, some drivers who defied the strike demanded sky high fares from helpless passengers trying to get to work. Many passengers yielded to their demands.
Sajib, one such victim of the exorbitant fare, had to wait outside of Dhaka Medical College Hospital for 30 minutes before he could get an auto-rickshaw.
He was asked Tk 250 to go to Mohakhali. He boarded the vehicle cursing the driver.
"Will their demand ever stop?" asked Mohammad Malek, who used to go to his Uttara office with colleagues from Bakshi Bazar on auto-rickshaw.
"On most days we negotiate a price with the driver since they are reluctant to go by the meter. Now they've come up with new demands," he said.
After failing to find an auto-rickshaw, he got on a bus to Shahbagh.
Civil servant Aklima Khatun waited half an hour to get an auto-rickshaw to Square Hospitals from Bangla Motor yesterday. Not seeing any auto-rickshaw on the street in front of her house around 10:00am, the pregnant woman had to arrange alternative means to make it to her doctor's appointment.
Yesterday, the protesters prevented the other auto-rickshaw drivers from getting out with their vehicles at many places, including Satrasta intersection, Madhubagh, Motijheel, and Gulistan.
Several drivers, who are not observing the strike, claimed that they were assaulted by the drivers on strike, reported our correspondent. Auto-rickshaws on the street were vandalised during the strike at Satrasta intersection and Bangabazar, the correspondent added.
Sumon, a driver, told The Daily Star correspondent that he was stopped by protesters at Satrasta and Madhubagh but he somehow managed to get away.
President of Dhaka District Four-Stroke Auto-Rickshaw (CNG) Drivers' Union, Rafiqul Islam, said imposing fines frequently and sending drivers to jail should be stopped. He said around 200-300 drivers in jail must be released.
Asked whether it was an intervention in the legal system, he said 65 drivers were arrested from Sadarghat Launch Terminal area and it was not justified.
The Daily Star talked to passenger Sobhan Mia who uses the terminal regularly. "Usually our launch anchors around 5:00am. At that time, I've never found any CNG driver to agree to go to Shanti Nagar on meter."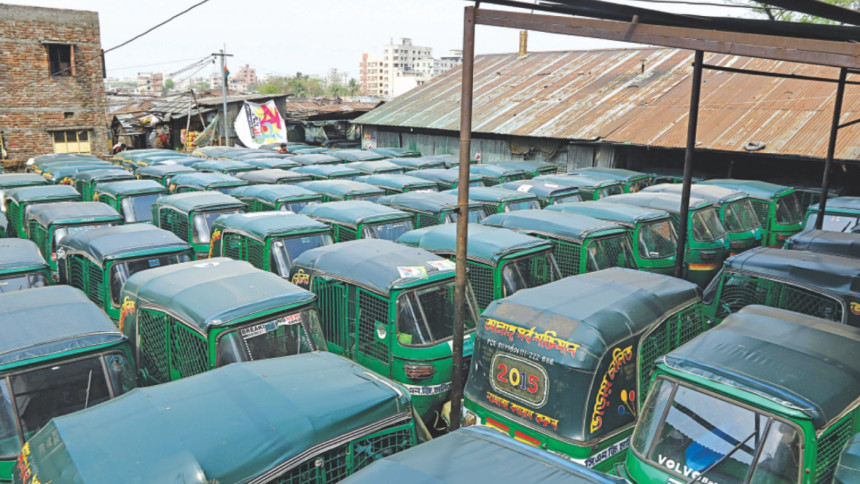 Asked, Rafiqul said there are many auto-rickshaw drivers. "One or two may not want to go on meter," he said, admitting that they have no monitoring system to check whether drivers were operating on meter.
For CNG auto-rickshaws, the government fixed Tk 40 for the first two kilometres and Tk 12 for each next kilometre. Waiting charge has been made Tk 2 per minute. The drivers will have to pay Tk 900 daily to the owners of the vehicle. It was made effective from November 1.
Rafiqul said though the government fixed Tk 900 as daily deposit, the owners run the auto-rickshaws in two shifts and collect at least Tk 1400-1500 from drivers.
Terming the demands unfair, Dhaka Mahanagar CNG Owners Association President Barkat Ullah Bulu said the rate was fixed in a meeting where owners, labours, drivers, BRTA and CAB representatives were present.
He claimed that owners who collect more than the government fixed deposit were either fined or were in jail. "Most of them were fined where one or two were jailed for taking more than Tk 900 from drivers," he said.
Saying that they were not aware of the strike, he said if the organisation that went on strike does anything like this in future, they would seek help of the administration and the police.
Hanif Khokon, general secretary of the Dhaka Auto-Rickshaw Sramik Union, said protesters stopped their auto-rickshaws at many places and resorted to vandalism.
Communications Minister Obaidul Quader at the Secretariat told the media yesterday that drivers and owners must follow the law.
Around 13,000 CNG-run auto-rickshaws ply the streets of the capital and there are around a dozen of workers' organisations.