Change Maker: For the love of learning
Chapainawabganj curd seller establishes, runs village library for 48 years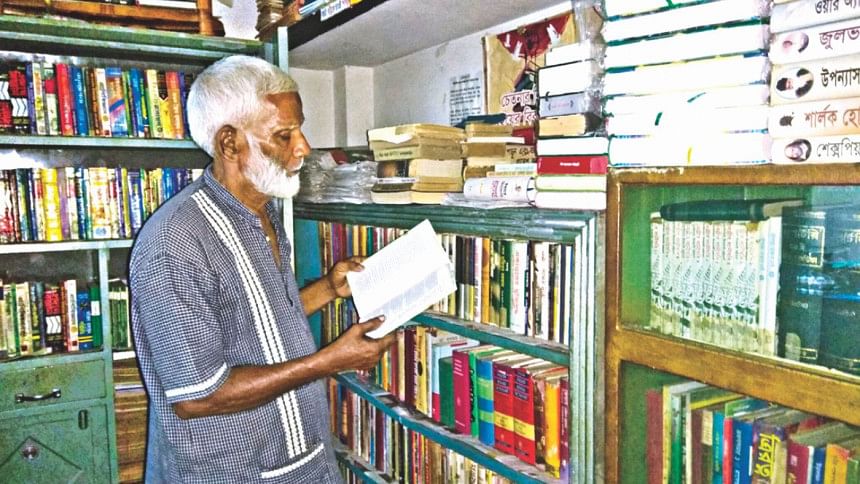 When 81-year-old Ziaul Haque was young, just one taka and two annas
was
all he needed to start class-VI. For his father, a curd seller with a wife and four children to consider, it was too expensive. Unable to
enrol
, Ziaul
harbours
a lifetime of regret. Instead, at age 19 he joined the family business; and to
tantalise
his interest in learning, some years later he founded a village library.
"I sell curd and buy books," says Ziaul, originally from Chama-Mushribhuja village in Daldali union of Bholahat upazila in Chapainawabganj. "I couldn't continue my own studies. I don't want other children to experience that. I don't want anyone to leave school because they can't afford books."
For almost 62 years Ziaul has been selling homemade curd. He rises at dawn to sell the product through the day, working until dusk. "I earn up to Tk 25,000 per month," he says. "I save as much as I can. Last October I went to Rajshahi and spent Tk 13,000 on books. The library currently has around 14,000 titles. I have also donated more than 4,000 books to different educational institutions over the years."
Biographies, history, general knowledge and religion: the books at the Ziaul Haque Library cover many topics. There are books on freedom fighters, books about computing, books for study and books for leisure. Open between 4:00pm and 8:00pm daily, Ziaul's library, which first opened in 1969, regularly attracts around 20 students at a time.
Originally the library was situated in his ancestral village, but 23 years ago Ziaul moved to neighbouring Bot Tala-Mushribhuja village and took his library with him. He has a three-room, single-storey home that he shares with his second wife and son; one room serves as the public library. It has two steel cabinets and multiple bookshelves for the collection, with two reading tables where visitors can peruse books, magazines or the daily newspapers.
"My wife supports the library," says Ziaul. "She always encourages me to buy books."
Bot Tala-Mushribhuja is a small farming community. It's not the sort of place one would expect to find a library. As such, Ziaul's establishment is, to local students who would otherwise have to do without, a prized asset.
"I often visit," says Mehedy Hasan, a student at nearby Rohonpur Yousuf Ali College. "Many students do. The library helps us to learn. It's a good place to study."
The library attracts visitors from further afield too. Sometimes people arrive from elsewhere in the country, even overseas. In 2006 multinational Unilever Bangladesh Limited awarded Ziaul a medal in recognition of his efforts.
"Ziaul's library plays an important role in our area," remarks Asgar Ali, the acting principal of Mushribhuja High School and College. "It has a bigger collection than many libraries. It promotes a literary environment and attracts people of all ages, with all levels of reading ability."
Ziaul, who has also been made a member of the college's governing committee, believes his library may have social benefits too. "These days many young people get caught up with drugs," he says. "I always hope that instead they will spend time with books to improve their lives, rather than destroying them."
"The library teaches important life skills," says the chairman of Daldali's local council, Majharul Islam. "Students learn how to locate and analyse information. They learn to think creatively and critically. They gain new knowledge, offering an opportunity to develop a lifelong learning habit."
Yet sadly, within his own family Ziaul hasn't always been quite as virtuous. While his son from his second marriage studies in class six, his daughters from his first were married at a tender age and thereafter unable to complete their schooling.