Defying age for schooling
Six on cloud nine after graduating to class-II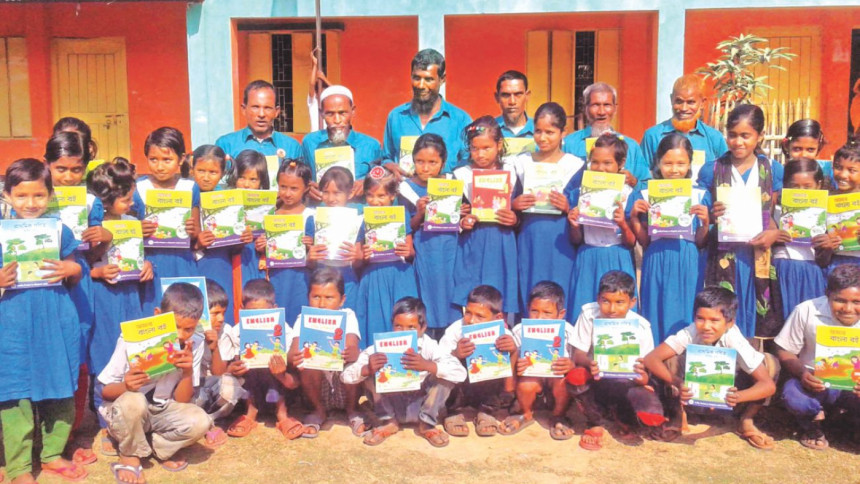 Like most other grandfathers, Bodiuzzaman, 61, walks his granddaughter to school. On their way, they are joined by their other friends. As they enter the classroom together, they prepare themselves for a day of learning. But Bodiuzzaman doesn't leave.
He is no more a grandfather at that point, he is her classmate.
Abul Khayer Mohammad Jenajul Haidar headmaster of Mahmudpur Government Primary School said that in the month of January last year, Badsha Mia, 51, Asad Mia, 47, Bodiuzzaman 61, Harun Ur Rashid, 56, Ilias Mia, 71, Siddique Mia, 66, Shahinur Alam, 47, Abdul Latif, 49, Lal Mia, 47, Bazlur Rashid, 54, and Abdur Razzak, 60, from different villages Nawabganj upazila of Dinajpur enrolled themselves in his school.
These men, while having to sign documents and use their intellect in different areas and aspects of their lives, realised that education has no alternative. And so, they took the leap and began shaping their futures immediately.
Six of them-- Siddique Mia, Bazlur Rashid, Shahinur Alam, Abdul Latif, Badsha Mia and Bodiuzzaman-- successfully completed their class one education from Mahmudpur Government Primary School and have now graduated onto class two. Clad proudly in their school uniforms, they went to their school with their younger classmates on Monday, January 1, 2018, to collect the textbooks for their new class.
"It's a great day for us! We have never had such an experience before," said an ecstatic Badsha Mia, after collecting his new textbooks. Talking to The Daily Star, Badsha, a day labourer in the area, said he began studying after it dawned upon him that life is next to nothing for an illiterate man.
"I used to use my fingerprint, but now I can actually make signatures to sign documents!" he said.
According to their teachers, these men rarely ever missed their classes, including physical education, throughout their first year at school. They are also known to be warm and friendly with their younger classmates.
"I learned how to sing our national anthem in school," said Shahinur Alam who wishes to continue studying for as long as he lives. "The teachers and our classmates are so very helpful", he said, extending heartfelt gratitude towards them.
Taking care of his family since he was just a teenager, Harun Ur Rashid, could never attend a school. "But here I am, at the age of 55."
Those who could not pass, on the other hand, did not lose hope in the slightest. Instead, they have gained inspiration from the others to try harder at their next attempt. "So what we didn't pass at our first try? We will keep trying. We will keep moving ahead," said Asad Mia.
They say it's never too late to chase your dreams, and these 11 men stand as a perfect testament to that.