Bengal classical fest reaches crescendo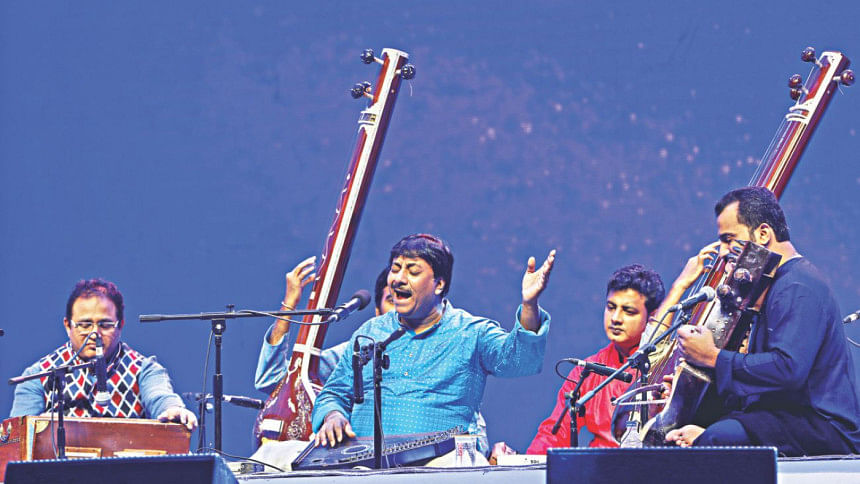 The sixth edition of the Bengal Classical Music Festival reached its high point on its fourth day, with some of the biggest names of this year's bill performing on the night and the crowd numbers swelling to capacity.
Ustad Rashid Khan, one of the foremost exponents of khyal vocals in the world, enthralled the audience in a magnetic performance featuring exquisite ragdari, with his presentation of Raga Puria and Raga Madhuvanti. He later performed a romantic thumri set on Mishra Pahadi to cap off his presentation.
People from all walks of life took advantage of the relaxed weekend traffic to arrive at the venue early in anticipation of a memorable night, and well before midnight the Abahani ground filled up to capacity.
The evening was set off by six talented Bangladeshi young dancers -- Sudeshna Swayamaprabha, Sweety Das, Amit Chowdhury, Zuairiyah Mouli, Mehraj Haque Tushar and Snata Shahrin. The presentation titled "Nritya Chirantan" was performed in three sections displaying three different classical dance forms -- Manipuri, Bharatnatyam and Kathak. All six of them came back to the stage together for a group performance set to a Tagore song "Nrityero Taale Taale".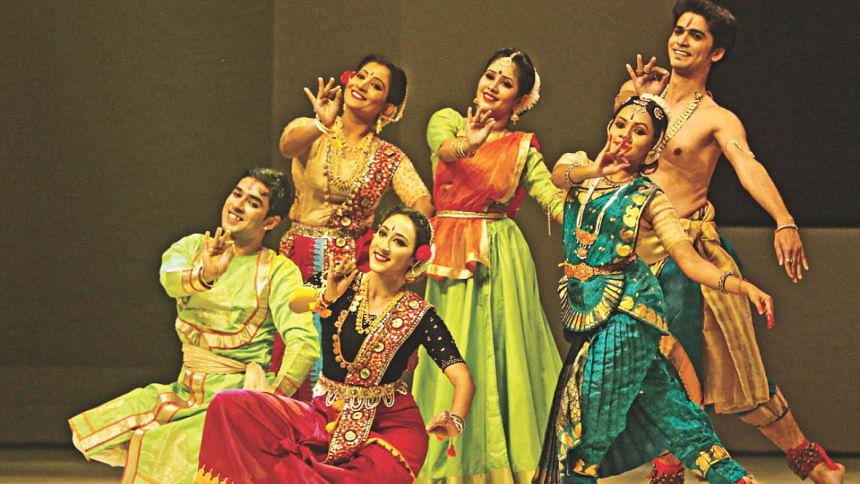 The second presentation of the night was sarod by students of Bengal Parampara Sangeetalay. Four students of Pt Tejendra Narayan Majumdar performed a composition on Raga Bhopali.
Ustad Rashid Khan, one of the most famous khyal vocalists in the world belonging to the Rampur-Sahaswan gharana, took the stage as the report was being filed, much to the excitement of festival attendees.
A fiery jugalbandi of Hindustani (North Indian) and Carnatic (South Indian) performance followed, by accomplished musicians Pt Tejendra Narayan Majumdar (on sarod) and Dr Mysore Manjunath (violin). On the Carnatic Raga Simhendramadhyamam, the duo lit up the festival with their fast yet emotion-filled recital.
Yet to perform on the night was bona fide festival headliner Pandit Jasraj, the khyal legend from the Mewati gharana. Saskia Rao-de Haas would later come on to perform Indian classical music on the cello and the night was scheduled to end with a sitar presentation by Pt Budhaditya Mukherjee.
The five-day Bengal Classical Music Festival, organised by Bengal Foundation, comes to a close tonight.