BENGAL CLASSICAL MUSIC FESTIVAL
Memorable debuts, and a familiar storm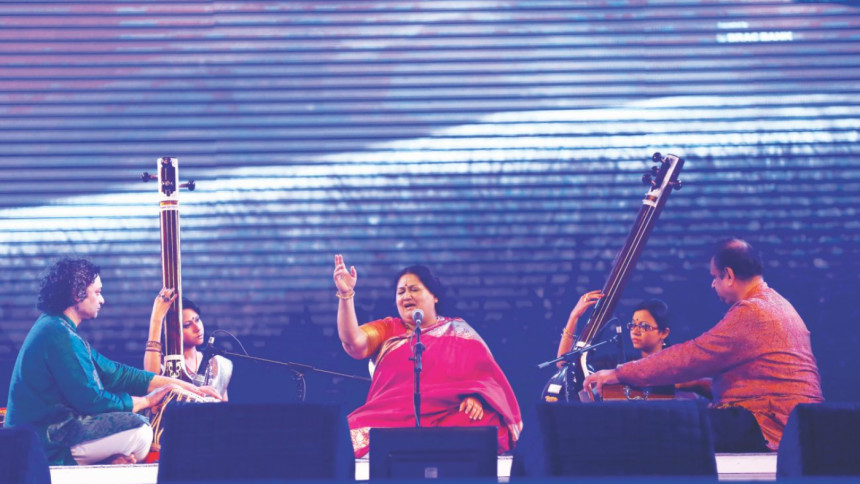 The third night of the Bengal Classical Music Fest bore witness to a number of memorable debuts, most notably of the legendary Vidushi Shubha Mudgal, after a veritable torrent of Carnatic beats stirred up a drowsy crowd. 
After a colourful display of Manipuri dance by Warda Rihab's troupe, the first sarod performance of this year's festival, by Bangladesh's own Yousuf Khan, took place. Presenting Raga Kirwani, a common choice of instrumentalists, he presented a short alap before moving on to an expressive recital in madhya and drut laya, supported well by Iftekhar Alam Pradhan. 
Ustad Wasifuddin Dagar also gave his first performance at the Bengal stage, opening with the romantic Raga Behag. His prowess in the lower octave with gamaki sargam taan was balanced with the softness of some parts in the vocal. He then presented a piece on Raga Shankara, before closing with a short showcasing of Raga Sohni.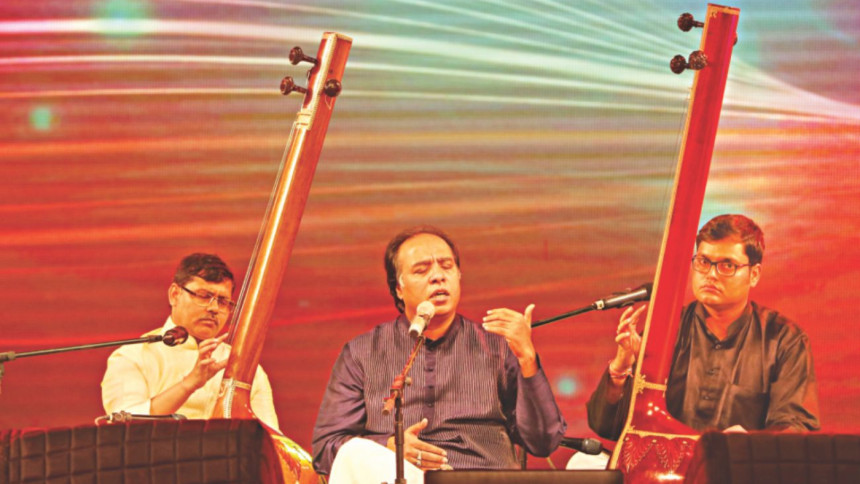 Dr. N Rajam brought the Hindustani violin in all its glory to the Dhaka stage, in a family quartet that featured her daughter Dr. Sangeeta Shankar and granddaughters -- Ragini and Nandini Shankar. With nimble bow-and-finger work, the group performed brilliantly in unison and in their solo sections, displaying speed and embellishments with dexterity. The veteran also explained her gayaki-ang (vocal style) violin playing, distinguishing it from tantrakari-ang (instrumental style) with examples. The quartet then presented a beautiful Banarasi thumri in Raga Khamaj, and put the icing on the cake with a violin rendition of Nazrul Sangeet "Brojogopi Khele Holi". 
Shruti Sadolikar, also on her first encounter with the Army Stadium audience, presented khayals in Raga Nand and the complex Raga Kaushiki Kanada, before closing with a Begum Akhter thumri in Raga Tilak Kamod – "Ab Ke Sawan Ghar Aaja". 
The only artiste of the evening -- who had performed here before, revered mridangam exponent Guru Karaikudi Mani, took the stage with his ensemble of Carnatic percussionists. After heartily praising the Dhaka audience, the quartet – also featuring ghatam, khanjira and morsing – presented a laya vinyasam. But it did not matter what it was technically, because the crowd were left absolutely awestruck. The complexity of it was beyond comprehension of almost the entire audience, but its entertainment value was immeasurable.  Each of the players expressed themselves fully, in a display of amazing tempo and technicality. 
After the storm came the calm, as the imposing figure of Vidushi Shubha Mudgal walked on to the stage (with her husband Aneesh Pradhan on tabla), and effortlessly held the audience captive in a memorable recital. There was something in her voice and her ornamentations that drew in even the most casual listener, and that is what made her special. She opened with Raga Bhatiyar, presenting a khayal composed by her teacher Ramashreya Jha (commonly known as Ramrang). Her closing piece, in Raga Bhairavi, was a fitting end to a beautiful night of melodies and rhythm.