Bangladesh on Graft Index: Slightly better, still a long way to go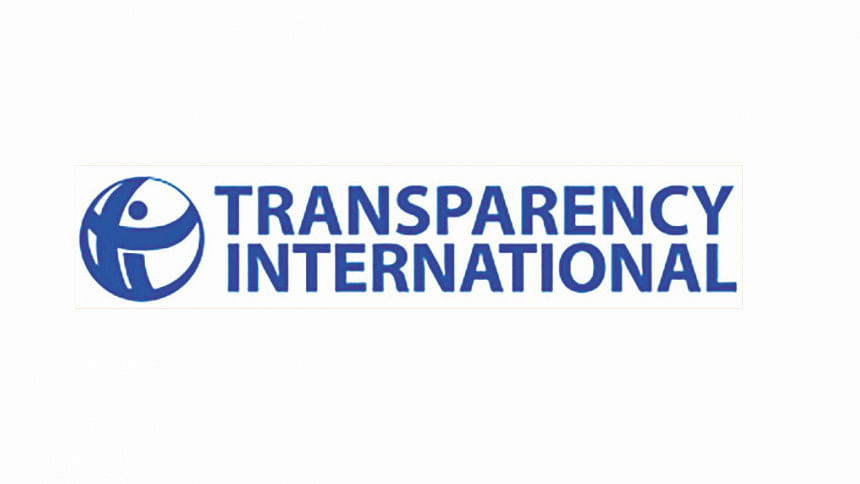 Bangladesh has moved two notches up in the global Corruption Perceptions Index of 2017, but the scale of corruption in the country remains alarming, according to the Transparency International.
Among the 180 countries surveyed, Bangladesh ranked 143rd (17th from bottom), securing 28 points out of 100. The global average score is 43. 
In 2016, Bangladesh stood 145th among the 176 countries surveyed.
The latest score is the highest so far by Bangladesh since 2001, when the country was included in the index for the first time. Earlier in 2013, Bangladesh scored 27.
New Zealand scored the highest, 89, to top the 2017 list, followed by Denmark and Finland that scored 88 and 85.
Somalia became the most corrupt country for the eleventh time, scoring only nine. South Sudan and Syria secured 12 and 14 points to become second and third most corrupt countries.
The Transparency International, Bangladesh (TIB), the Bangladesh chapter of the Berlin-based graft watchdog, shared the findings of the global survey at a press conference at its office in the capital's Dhanmondi yesterday.
"This year's findings can give us some relief, but there is nothing to be happy about it… We are not satisfied. We have to go a long way," TIB Executive Director Iftekharuzzaman said, revealing the report.
Bangladesh is still far away from achieving the global average score of 43, he said.
Besides, Bangladesh "embarrassingly" remains second lowest both in terms of score and rank among Saarc counties, better only than Afghanistan. It is also the fourth lowest among the 31 Asia Pacific countries, he said.  "This is not acceptable at all."
The TI has been publishing the report every year since 1995. The index is based on perceived level of corruption in public sectors and misuse of public office or position.
Bangladesh was at the bottom of the TI scale for five years from 2001 to 2005.  The country started doing better in the following years with its score rising.
Bangladesh's spot this year was shared by Guatemala, Kenya, Lebanon and Mauritania. 
Bangladesh's rating is based on findings by eight globally-reputable survey sources. At least three such surveys are required to be eligible for inclusion in the TI index, he said.
The survey used data from 2016-2017, and no data generated by any of TI's local chapter was considered for the analysis or global rating.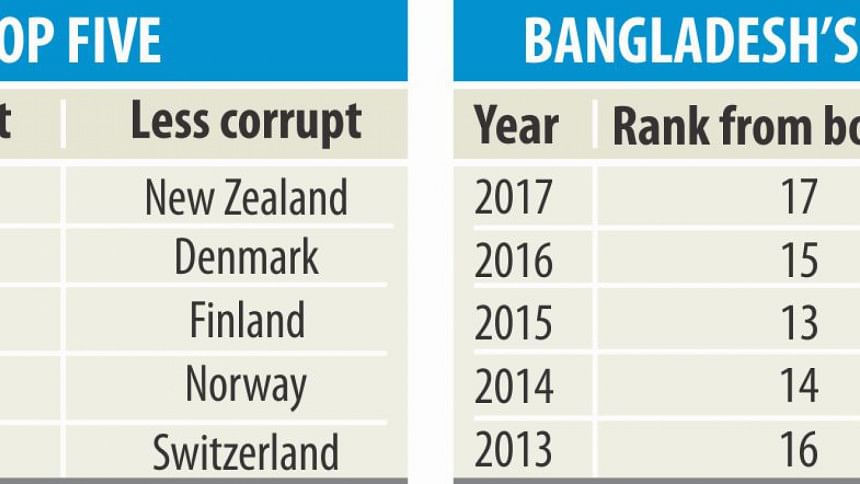 The surveys, used for rating Bangladesh, are World Economic Forum-Executive Opinion Survey, Economist Intelligence Unit-Country Risk Assessment, World Justice Project-Rule of Law Index, Political Risk Service (PRS) International Country Risk Guide, Bertelsmann Foundation Transformation Index,  Information Handling Services (HIS) Global Insight Country Risk Ratings, World Bank-Country Policy and Institutional Assessment and Varieties of Democracy Project.
REASONS,RECOMMENDATIONS
Bangladesh earned positive perceptions on potentials of legal, institutional and policy context, Iftekharuzzaman said.
Positive impression about benefits of digitisation, including e-procurement, also played a role.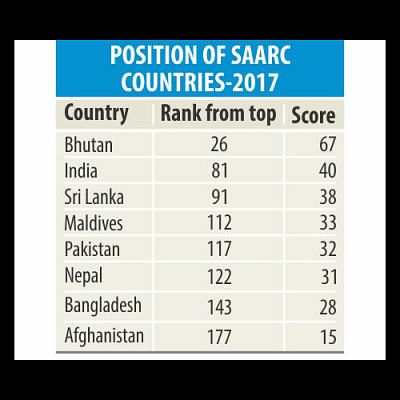 However, although Bangladesh's spot and score have seen a rise over the last few years, it lacks speed and consistency, he said.
The factors that prevented Bangladesh from doing better include non-fulfilment of government's commitment to curb corruption; high-profile corruption rarely addressed; political and government position perceived as means of enrichment; unabated land, river and waterbody grabbing; weakening accountable institutions; denial syndrome, impunity; lacking in effectiveness and independence of the Anti-Corruption Commission; and shrinking media and civil society space.
"The Anti-Corruption Commission has played a proactive role recently, especially in the last two years…. But we think the Commission has a 'dedicated off-line' when it comes to the cases of high-profile people or corruption in financial sector," he said.
It will not be possible to control corruption until parliament and its committees play active roles to hold the government accountable, he added.
For better performance, the report recommended bringing the corrupt to justice irrespective of their status or identity; building effective institutions including parliament and the ACC; ensuring robust access to information; and increasing space for citizens, the media, civil society and NGOs.
GLOBAL PERSPECTIVE
None of the 180 countries surveyed scored 100, meaning corruption remains a major challenge for every country, said Iftekharuzzaman.
Of the total, 124 countries (69%) scored below 50 while 107 countries (59%) scored less than the global average of 43.
Singapore is the only Asian country to be on the top-10 performers list. It scored 84 and ranked sixth.
India ranked 81 with a score of 40 while Pakistan ranked 117, scoring 32.
The TI found that almost all journalists killed since 2012 were killed in corrupt countries. In the last six years, more than nine out of 10 journalists were killed in countries that score 45 or less on the CPI.
'NO SCOPE FOR COMPLACENCY'
Contacted, ACC Chairman Iqbal Mahmood said the report of improvement was encouraging.
"But there is no scope for complacency because I personally know that corruption is fact. The level of corruption is so high that it is not possible on the part of the Commission alone to really combat it. Cooperation of all is needed to combat corruption."
He stressed the need for changing people's mindset to curb corruption.
About TIB's allegation about ACC's handling of high-profile corruption, he said, "Corruption is corruption. No corruption is small. We have a strategy that we adopted after talking with all stakeholders and we are combating corruption in line with the strategy."
MA Mannan, state minister for finance and planning, termed the latest report as "good news," but said it was still not satisfactory.
"I personally think that we have a lot more work to do, a long way to go."
There are plenty of laws in Bangladesh to fight corruption, but there is a lax in their enforcement, he said.
"To fight corruption, enforcement of the law must be visible and exemplary," Mannan told this newspaper.
'A BIG MESSAGE' 
The conviction of Khaleda Zia in a corruption case is a" big message", said Iftekharuzzaman.
Asked if Khaleda's conviction had any impact on the ranking, he said the surveys for preparing the index were done before the verdict.
It may have an impact in the next year's index, he added.
"However, one or two incidents are not enough." 
Corruption cases were filed against Sheikh Hasina, now the prime minister, and Khaleda Zia, a former prime minister, during the last caretaker government.
The cases against Hasina were quashed by courts after the Awami League took office.
When a journalist pointed this out, Iftekharuzzaman said, "We want trials to proceed without considering their [accused] identity and status. Those in position should discharge their duties keeping in mind that everyone is equal before the law."