Floods affect over 5 lakh
Scarcity of drinking water, food in many areas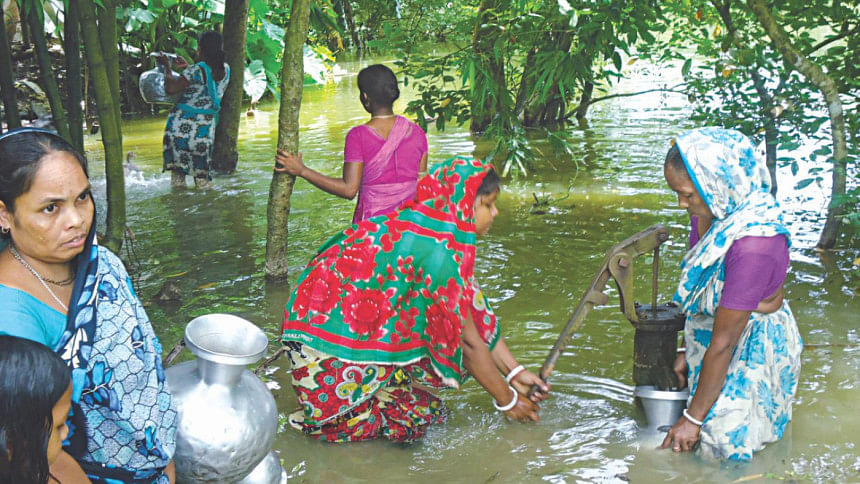 Scarcity of drinking water and food has further aggravated the situation in the flood-hit regions of Sylhet.
Many families were starving.
In Cox's Bazar, heavy shower, flash floods and excessive onrush of water in the Matamuhuri, Bakkhali, and Redu rivers were continuing to inundate low-lying areas, submerging houses and disrupting road communications.
People of 10 upazilas in Sylhet and Moulvibazar have been hit hard with the flood wreaking havoc on agriculture and fisheries, according to the district administrations.
Himangshu Roy, civil surgeon of Sylhet, said 78 medical teams were working in the affected areas to prevent outbreaks of waterborne diseases.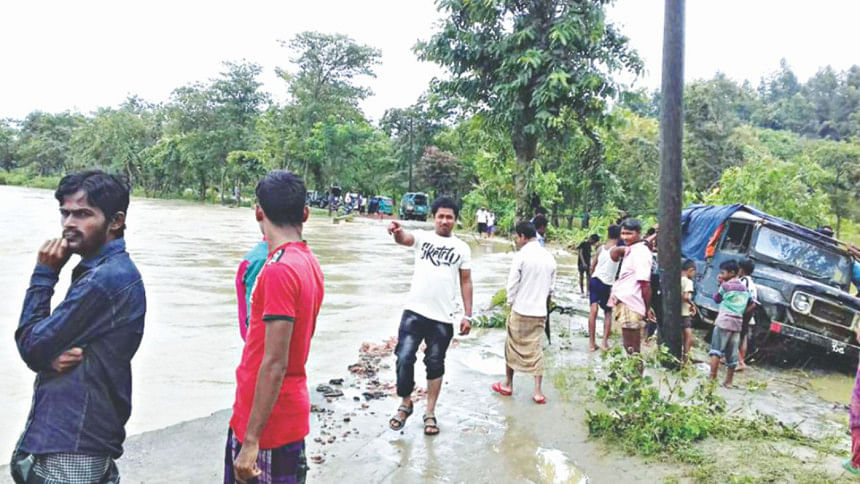 "I've never been so hungry in my life," said Dewntee Malakar, an 80-year-old woman of Tilokpur village in Kulaura of Moulvibazar.
Kuddus Mia, 69, of Kaleshar village in the same upazila, said his sons had been without work for the last three weeks.
"We have no job and no food. We have not received any relief yet," he said.
In some villages, people were struggling due to lack safe water.
"I fear that my two kids may become sick if the water continues to rise and inundates all the tube wells," Sohel Ahmed of Bardal said, adding that the tube wells near his house have gone under water.
Moin Uddin, of Chandpur village in Sylhet's Fenchuganj, said there was knee-high water in his home which forced his family to sleep on a bed placed on a raised platform of bricks.
According to Flood Forecasting and Warning Centre, the water levels of the Surma and the Kushiyara rivers in Sylhet region were dropping.
But the flood water would not recede until the rain stops, said Water Development Board officials.
"There had been excessive rain in the Borak valley of Assam in India recently, causing the Kushiara to swell," said Sirajul Islam, an executive engineer of the Water Development Board in Sylhet, adding that the river was flowing 98cm above the danger level in Sewla point.
Mamunur Rashid, deputy director of Department of Agricultural Extension (DAE) in Sylhet division, said crops on 5,400 hectares of land was damaged.
Rahat Anwar, deputy commissioner of Sylhet said the administration has been distributing relief to the affected people.
Tofail Islam, deputy commissioner of Moulvibazar said 294 tonnes of rice and 49,200 VGF cards have already been distributed among the affected.
COX'S BAZAR
Around 1,000 houses in different villages of Chakaria including Shaharbil, Koiarbil, Kakara, Boroitoli, Demushia were submerged.
Chairman Jafar Alam of Chakaria upazila told our Cox's Bazar correspondent that there were not enough relief materials.
The authorities closed Ramu-Naikkhangchhari, Ramu-Marichha, Eidgaon-Jalalabad roads on Wednesday.
Around 700 houses in Cox's Bazar sadar have been surrounded by water while some 500 houses in five unions of Ukhia went under water.
"The heavy rains are causing serious damage," said Main Uddin, upazila nirbahi officer of Ukhia.
Ali Hossain, deputy commissioner of Cox's Bazar, said a control room was opened and the district administration had allocated rice, money and food for the affected people.
Meanwhile, two kids drowned in Ramu and bodies of two other children were recovered in Ukhia yesterday.
Shaheen, 10, and his brother Fahim, 8, drowned in Uttar Fatekharpul village in Ramu. Their bodies were recovered in the afternoon.
In Ukhia, Samia Akter, 14, a seventh grader, drowned around 7:00pm on Wednesday, said Kay Kislu, an inspector of Ukhia Police Station. Locals found her body in Sonaichhari around 12:30pm, the police official said.
The body of Etun Barua, 13, was found in Chowdhurypara village yesterday evening.