Flash floods hit veg fields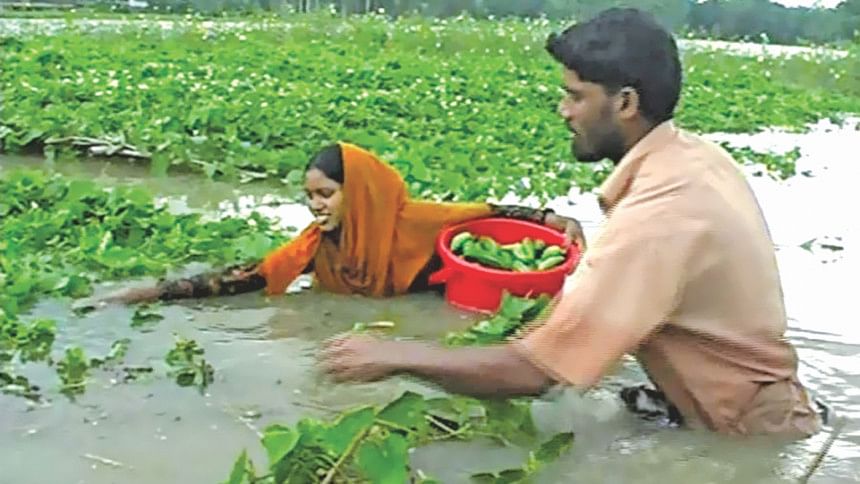 Around five hectares of vegetable land have gone under water in Rajarhat and Sadar upazilas of Kurigram in the last two days as sudden floods hit the two upazilas.
Heavy downpours and the onrushing water from hills have contributed to the rise of water level in the Dharla and Teesta rivers, damaging the vegetable fields along the rivers. 
The Dharla was flowing 25 centimetres below its danger level at Dharla Bridge point in Kurigram Sadar, while the Teesta 178cm below its danger level at Chilmari Ghat point in Kaunia upazila of Rangpur yesterday morning, sources at Water Development Board said.
Local agricultural office sources said water of the Teesta has entered about two hectares of vegetable fields under Gharialdanga union of Rajarhat. Water of the Dharla has flooded about three hectares of vegetable fields under Pachgachhi and Jatrapur unions of Kurigram Sadar.
Amjad Hossain, a vegetable farmer in Kadomtala village under Pachgachhi union, said, "I have cultivated pointed gourd on 1.5 acres of land. But sudden rain and upstream water inundated the field today [yesterday]."
Mojibur Rahman, another vegetable farmer in Jatrapur union, said, "I have commercially farmed vegetables, including pointed gourd and red spinach, on about two acres of land. I will not get profits from the vegetable as the vegetable may be damaged by water."
Mohammad Kamruzzaman, Kurigram Sadar upazila agricultural officer, said, the vegetables might be damaged completely. After receding of water, they would advise the affected farmers to cultivate vegetable again of the short duration varieties to recover their losses.